Potential for NZ dollar to head upwards toward 82 US cents; Hits highest level against British pound since September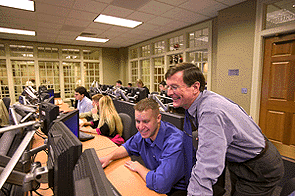 By Kymberly Martin
The NZD gained almost 1% relative to a broadly weaker USD, over the past 24-hours. As opposed to NZ specific factors, the driver was a generally stable tone in markets that allowed for buying of "riskier" assets such as the NZD. The NZD/USD currently trades around 0.8070.
The NZD/EUR showed choppy trading overnight, in a band between 0.6270 and 0.6300. However, it ended the night not far from where it started, around 0.6280. Trading in the NZD/GBP also showed some volatility, though it made some gains. It trades around 0.5230 currently. This is its highest level since mid-September last year, when it failed to break above resistance around 0.5270.
The NZD/AUD made steady gains overnight, climbing from 0.7720 to 0.7750 currently. Australian employment data releases have the potential to knock the cross around today, as do NZ consumer confidence and CPI data.
The NZD/USD broke previous resistance levels last night. This now leaves open the potential for it to revisit late October highs above 0.8200. A solid ANZ consumer confidence release would help in this regard, (previous reading 108.4) though we are a little guarded about the prospects. We expect a slight easing, as already shown in the similar Westpac measure. Today's CPI data (release 10.45 NZ time) should also be important. We expect a 0.3%q/q outcome. The harsh drop from 4.6% to 2.6%y/y that this would represent is largely due to GST distortions 'dropping out'.
Majors
Market sentiment continued to consolidate overnight. The USD has weakened against all its peers over the past 24-hours.
European equity markets closed relatively flat, after initially rallying on a story that the IMF intends to increase its funds for bail-out purposes by $500b. While the US is reticent to contribute, emerging countries such as BRICs, Japan and oil exporters are being targeted as potential contributors. The S&P500 is currently up 0.80%. Our risk appetite indicator (scale 0-100%) has inched up from 44% to 46%.
The USD index was on a downward bias for most of the night. It downshifted from around 81.00 to 80.60 currently. Stabilisation in sentiment has diminished demand for its "safe haven" capacity. US data releases were mixed, but without any very nasty surprises. On the positive side, industrial production grew 0.4%q/q in December, and capacity utilisation has ticked up to 78.1% (77.8% previously). The USD index appears to be testing support around 80.60. If sentiment remains solid today, a break below this level opens the way for a fall back toward the 79.70 level.
The EUR/USD rallied above 1.2860 early this morning before easing off to 1.2850 currently. For now the 1.2850-80 resistance area remains in force. A follow through in Asian equity markets from the S&P500's solid performance overnight, could see this resistance tested today.
The GBP/USD showed some volatility in its trading overnight. However, it managed to make a solid gain. It rose from around 1.5340 to 1.5420 this morning. UK labour market data showed the UK unemployment rate ticked up from 8.3% to 8.4% in November, its highest level since the mid 90s. We appear to be still some way from a positive turn in UK data, and by association the medium term fortunes of the GBP.
The AUD/USD oscillated around a 1.0380 level for most of the night, finding resistance at the 1.0420 level on a couple of occasions. It sits at 1.0410 currently. Aside from general risk sentiment, the key driver of the AUD today will be AU employment data to be released at 1.30pm.