Roger J Kerr says foreign investment inflows into NZ bonds underpins the Kiwi dollar. You agree?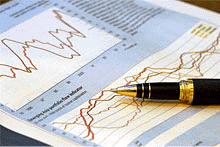 By Roger J Kerr
The movement up in the Kiwi dollar and Aussie dollar last Friday, despite slower growth to 7.6% pa in China, just tells you that the commodity and currency markets had already full priced-in the Chinese data beforehand.
These markets are now more certain that the Chinese will ease monetary policy further, which is positive for global commodities as it underwrites Chinese demand.
The other major factor maintaining the NZD and AUD at elevated levels to the USD is the fact that central banks and sovereign wealth funds in Asia are allocating investment funds in favour of our higher yielding currencies and away from the EUR and USD.
The increase in volumes of NZD's being purchased by these overseas investors to buy NZ Government Bonds is evidenced by the chart below.
The amount of NZD denominated debt issued by the NZ Government has of course increased markedly since 2008 and these foreign investors have purchased most of the increase from $20 billion to above $40 billion.
The Asian investors into our bonds generally do not hedge out the NZD currency risk and therefore their flows have a direct positive impact on the exchange rate at the time of purchase.
As the economy grows over coming years and tax revenue into the Government increases the rate of new borrowing by the Government will reduce; that is, the rapid rate of increase in issuance (and thus foreign buying) seen over recent years will not repeat going forward.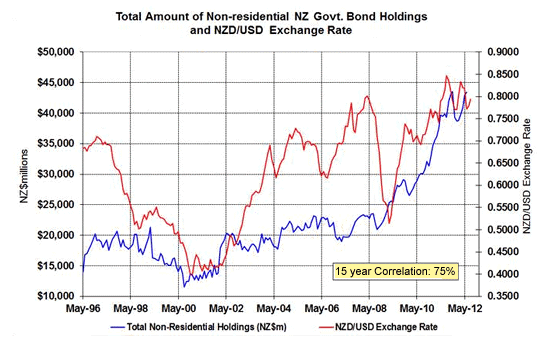 Coupled with positive NZ economic fundamentals of selling food to rapidly growing Asian cities, the allocation of these investment funds to NZD's stands as a major factor as to why we see the NZ dollar as stable in the medium term and stronger in the longer term.
--------------------------------------------------------------------------------------------------------------------------------
To subscribe to our daily Currency Rate Sheet email, enter your email address here.
--------------------------------------------------------------------------------------------------------------------------------
* Roger J Kerr runs Asia Pacific Risk Management. He specialises in fixed interest securities and is a commentator on economics and markets. More commentary and useful information on fixed interest investing can be found at rogeradvice.com