Financial Markets Authority considering prosecuting life insurers over sales tactics; says 'there will be more remediation, more repayments to consumers'; Commerce and Consumer Affairs Minister warns NZ isn't immune from a royal commission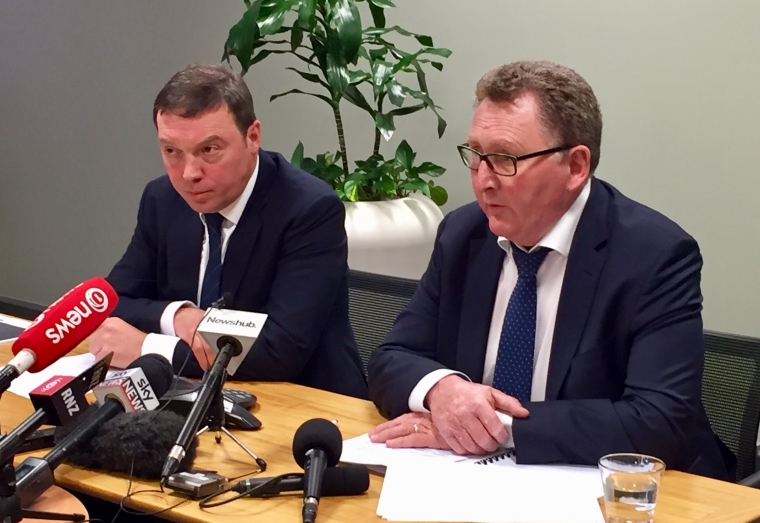 The Financial Markets Authority (FMA) is considering whether to prosecute some life insurance companies over their sales tactics.
FMA CEO Rob Everett told those gathered at the Financial Services Council conference this week that there are ongoing investigations underway over potential misconduct identified in the conduct and culture review the FMA and the Reserve Bank (RBNZ) did into the life insurance sector.
The regulators are not considering taking legal action further to their review into the banking sector.
While Everett reiterated at the conference that the FMA and RBNZ didn't identify systemic issues among banks and insurers, he stressed that the reviews were quick and mostly dependent on what the regulators were shown and told.
"And the somewhat positive conclusion was balanced by finding processes and practices that were sloppy and were not adequately designed to look after customers," he said.
"We saw insufficient focus on the risks posed to customers of poor behaviour whether by deliberate conduct or sloppiness.  
"And in the last few months, the follow up work has continued – firms are reviewing their products and their practices. 
"From what we are seeing, there will be more damaging headlines. There will be more remediation, more repayments to consumers."
Minister Faafoi: If there isn't change, a royal commission could be required 
Commerce and Consumer Affairs Minister Kris Faafoi, in a speech at the conference, said: "We didn't have a royal commission here in New Zealand but the FMA and the Reserve Bank did find that if we didn't make changes we could get into the same territory that necessitated a royal commission in Australia.
"Both you and I too do not want to go there."
Faafoi, Finance Minister Grant Robertson and Prime Minister Jacinda Ardern have previously commented that a royal commission would slow the raft of work underway to address issues in the sector.
When the regulators released their report into the life insurance sector in January, they gave firms until June 30 to commit to removing sales incentives and provide feedback and response plans.
The FMA and RBNZ are yet to report back on insurers' responses.
They in April received responses from banks, and in June confirmed that all 11 had committed to removing sales incentives from frontline staff and their managers.
The plans banks had to provide were around ensuring greater board accountability around conduct and culture issues, prioritising the identification of these issues, accelerating remediation, prioritising investment in systems and frameworks to strengthen processes and controls and strengthening staff reporting channels, including whistleblower processes for conduct and culture issues.
Industry held to standards not yet in law
Everett at the conference said: "I'm sometimes told that New Zealand is different and that the issues seen offshore don't apply.
"Or – 'this is about other companies in the industry, you should focus on them, we're the good guys'.  
"[Or] That high upfront commissions from insurers for sellers of their products are fine.
"Or that they are not fine, but no-one wants to be the first to move. I don't know whether this is complacency or denial but either way it's not good.
"We're also told 'we don't know what you want us to do'.
"Well, we set that out (or at least some clear signals) in a conduct guide at the start of 2017.  
"The lack of significant efforts within some banks to make major change and the failure of most life insurers to read, consider and act on that guide or get involved in the preceding consultation was one of the big disappointments I took from our conduct and culture reviews.
"Good conduct is up to you – the industry – providers and advisers. Given what we've seen in other countries, I have to ask why you are waiting for us to come knocking."
Everett said New Zealand was behind other countries, without a regulatory regime for bank and insurance conduct.
"I acknowledge that the FMA and RBNZ have held the industry to standards that are not yet in the law here. However, these standards are surely reasonable and the fact that the industry has not aspired to them on its own worries me," he said.
"Some of you may simply be hoping we'll shut up and go away or are waiting for a law change to ensure a level playing field with your competitors. Your response is 'we can't or won't change on our own – you need to make us change'.
"I would warn you to be careful what you wish for."
The Government is considering introducing legislation to Parliament to specifically cover conduct and culture.
Currently, the Commerce Act and Fair Trading Act are the main pieces of legislation that protect consumers' interests. General insurer, Youi, was fined for using illegal sales tactics under the Fair Trading Act for example.
The Ministry of Business, Innovation and Employment is considering public feedback on a discussion document it released in April with a wide range of options.
At the most punitive end of the spectrum, it proposed capping commissions insurers pay to the advisers who sell their products, outright banning shonky financial products, requiring insurers to settle claims within certain timeframes and requiring banks and insurers to get 'conduct' licences to operate.
However, MBIE's preference was to use a "principles-based set of duties" to give the law "flexibility". Acknowledging that this could cause uncertainty, it said these duties would need to be accompanied by more prescriptive regulations.
Faafoi is keen on this principles-based approach.
For more on Faafoi's thinking, listen to this episode of the Newsroom/RNZ podcast Two Cents' Worth. Interest.co.nz's Jenee Tibshraeny was on the panel with Faafoi.
*This article was first published in our email for paying subscribers. See here for more details and how to subscribe.