BlackRock Australia's David Griffith says with central banks running out of ammunition, it might be time to think outside the square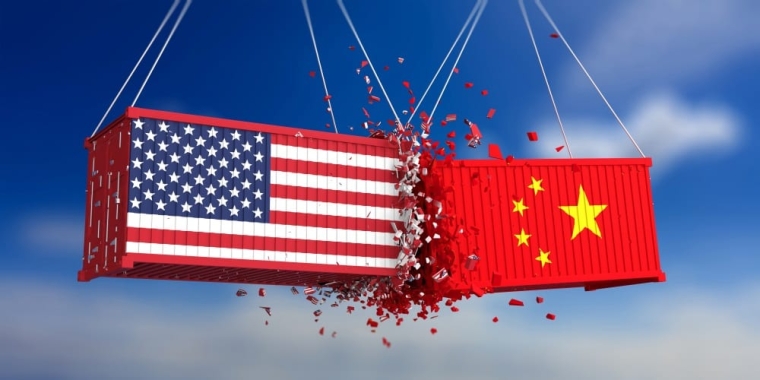 BlackRock Australia's David Griffith says whether US President Donald Trump wins next year's presidential election or not, he may have ushered in a protectionist mind-set that could be around long after he's left office.
Griffith is based in Sydney and is the head of BlackRock's multi-asset investment strategies. BlackRock is an American investment management company. Griffith spoke in Auckland at this week's ASB Investor Conference.
He says the US-China trade war is a major factor driving the current global economic slowdown. 
"This is clearly having a pretty big impact on the sentiments of markets and we're actually now starting to see it having an impact on real underlying economic growth," Griffith says. "You can see growth has really come off the boil in the world's major economies in the last year or so and a big part of that is the US-China trade war and the impact that it is having."
And he says the effects are now extending beyond exports, financial markets and manufacturing.
"Ordinarily without the trade war we would expect equity prices to be higher than where they are based on headline economic growth. The trade war is holding back markets. Even though we've had strong returns from equity markets, trade is starting to have an impact." 
And Griffith says he thinks the protectionism Trump has brought might be around for a while.
"We think it is going to be here to stay for the time being, at least until the US elections coming up in 2020, but it is certainly something we can see extending beyond that."
No recession on the horizon
But despite the global and market uncertainty created by the US-China trade war he's not predicting a global recession. Griffith says since the Global Financial Crisis we have seen one of the longest and slowest economic recoveries in history. Central banks around the world cutting interest rates has had the effect of prolonging the usual business cycle.
"So we think there is still a fair way to go. But obviously it depends on what happens with the trade war and how it escalates and other risks out there. But we still see a positive, modest level of economic growth in the world economy," Griffith says. "Our view is we don't think a recession is on the horizon, at least not in the next year or so."
And despite the daily news of the effects of the trade war on China, Griffith says he can't see the world's second largest economy slipping into a recession anytime soon.
"We're still positive on China," he says. "We don't think China is going to go into a recession with 6% growth."
He says the Chinese government isn't using as much stimulus as it did in 2015 and is taking a more muted response this time to the slowdown.
"The Chinese officials are really doing just enough to offset the negative effects of the trade war."
Central banks lack ammunition
But what happens if there is a global recession around the corner and what could central banks around the world do to lessen the impact?
"We're at historic lows in terms of interest rates. So how much more can the Fed and other central banks cut their rates? It's getting a bit limited," Griffith says.  
"Sure the Fed had increased interest rates about four times from the bottom and now it's starting to cut again, but it doesn't really leave them much room and how much extra stimulus is a 1% cut in interest rates going to have?"
And he says while there has been talk that the Fed is going to cut interest rates by 1% this week he can't see it happening.
"We think they'll cut by 25 basis points later this week and maybe there's room for one more. But we think 1% is just too much in terms of what's been priced into the markets."
While in Europe the European Central Bank (ECB) announced last week that it was cutting its deposit rate to a record low of minus 0.5% and would restart its quantitative easing programme, which will see it buy back €2.6 trillion in bonds.
"Now some estimates tell us that at $20 billion dollars a month they are going to start to run out of stuff to buy. So after three years they won't be able to buy anymore assets. So what happens after that? So really central banks are running out of ammunition. Rates are low and they are using these non-standard policy measures, which is a bit concerning."
Low rates and low yields
Griffith says he thinks low interest rates and low bond yields investors are currently facing around the world are here to stay for the foreseeable future.
"Around 27% to 28% of the world's bond markets are now negative yielding bonds and about 50% are yielding less than 1%."
He says in such an environment the traditional inflation targets used by the world's central banks maybe past their use by date.
Griffith says most central banks are continuing to work to a target of 2% or less inflation. But he says in the current climate maybe it's time to think outside the square.
"We're really in uncharted waters where all the central banks can't get inflation back to that 2% target, so maybe that means we need more non-standard policies, maybe we need more fiscal stimulus, maybe the 2% target isn't relevant anymore?"
And he says with central banks running out of ammunition, talk of Government's using fiscal policy to stimulate their economies is more relevant than ever.
"I would agree and one of the policies central banks and governments are talking about is having more co-ordination between fiscal and monetary policies. We are starting to see more fiscal spending in Australia and infrastructure spending is a big part of it."