Gareth Vaughan takes a look at how and why central banks, including the Reserve Bank of New Zealand, use the stars to help meet, and try to meet, their monetary policy remits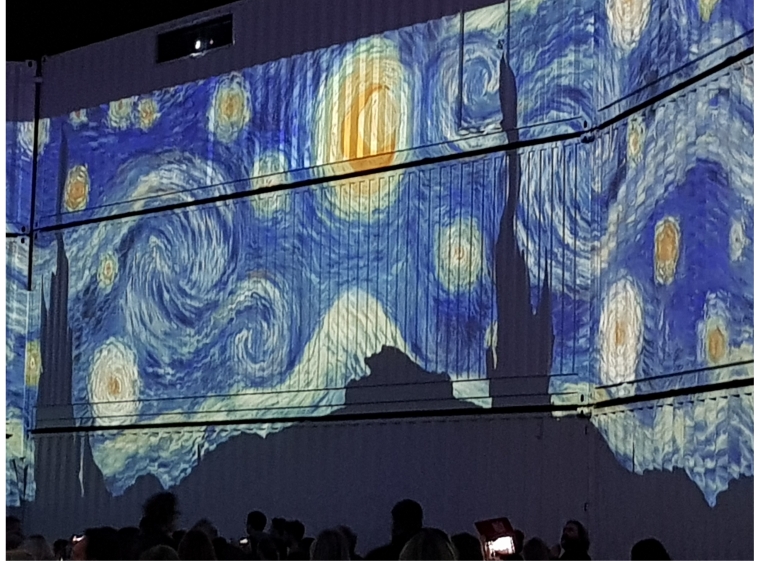 By Gareth Vaughan
What do central banks, including the Reserve Bank of New Zealand (RBNZ), have in common with legendary Dutch painter Vincent van Gogh?
Van Gogh, in a letter to his brother Theo the year before he created his breathtaking Starry Night painting in 1889, wrote; "Hope is in the stars." Central banks also take hope from the stars, albeit not the same stars as those van Gogh painted.
Their stars aren't found in the night sky. Inflation targeting central banks, such as the RBNZ, look to their stars to help them determine how tight or how loose monetary policy is and should be. These stars are economic measures such as the neutral interest rate, the level and growth rate of potential output in the economy, maximum sustainable employment, and the equilibrium real exchange rate. These stars are benchmarks that the setting of monetary policy can be measured against.
Peter Williams, a research analyst at the International Monetary Fund who co-authored a recent working paper on the stars, recently told Bloomberg the stars are useful for policy makers to give them a sense of how much their actions are affecting the economy at any given point in time.
"A good analogy might be driving if you can't see the speedometer in your car. You have some other indicators but you don't really know how fast you're going and if you are actually appropriate for the space around you," Williams said.
"So we can think about the neutral rate and the stars helping give us a bit more context for where we are relative to where we should be based on the rest of the economy. It helps us make sure we're going at the appropriate level and we're not over stimulating the economy."
In a 2017 speech John McDermott, RBNZ assistant governor and head of economics, said to set monetary policy the central bank needed to know where the key macroeconomic factors such as interest rates, output, and the exchange rate are tracking relative to their equilibrium levels, denoted by its stars, which he noted were unobservable and complex to estimate.
"Like the night sky, our stars keep moving. To respond to an evolving macroeconomic environment and set monetary policy appropriately, we keep track of the changes in the underlying state of the economy. Regularly explaining our view of the stars helps financial market participants and others better understand our analytical framework and policy decisions," McDermott said.
'The location of the stars have been changing significantly'
In a 2018 speech US Federal Reserve chairman Jerome Powell noted the stars had been shifting in a changing world, well before Covid-19 came along.
"Navigating by the stars can sound straightforward. Guiding policy by the stars in practice, however, has been quite challenging of late because our best assessments of the location of the stars have been changing significantly," Powell said.
As an inflation targeting central bank the situation has been similar for the RBNZ. The neutral Official Cash Rate (OCR) is the level at which the OCR is seen as neither stimulatory nor contractionary for the economy. As the RBNZ chart below shows, this has been steadily declining for some years now.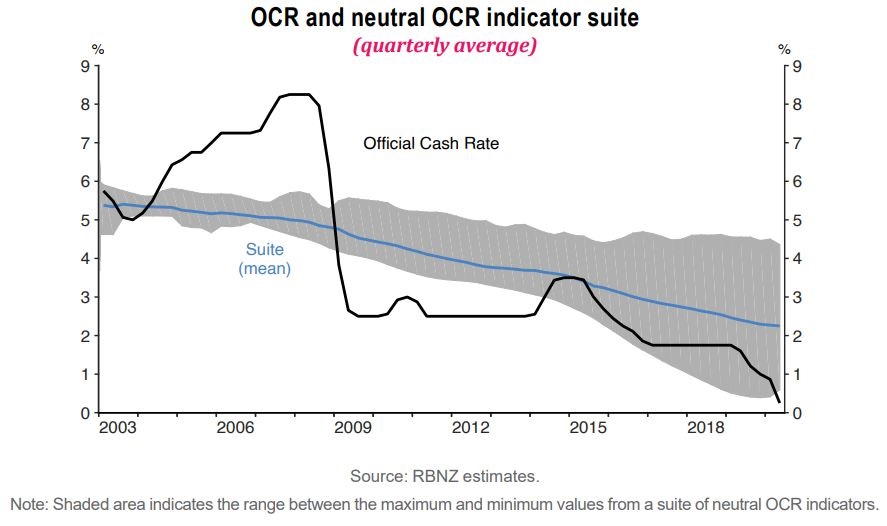 The RBNZ's monetary policy remit is to;
Keep future annual inflation between 1% and 3% over the medium term, with a focus on keeping future inflation near the 2% midpoint; and

Support maximum sustainable employment, considering a broad range of labour market indicators and taking into account that maximum sustainable employment is largely determined by non-monetary factors.
NZ at maximum sustainable employment with 112k unemployed
In its February Monetary Policy Statement the RBNZ said a range of indicators suggested employment continued to rise relative to its maximum sustainable level over 2019.
"Our judgement is that employment is around or slightly above its maximum sustainable level," the RBNZ said.
Statistics NZ data put unemployment at 112,000 as of December last year. This was with an unemployment rate of 4%, and the labour force participation rate at 70.4%.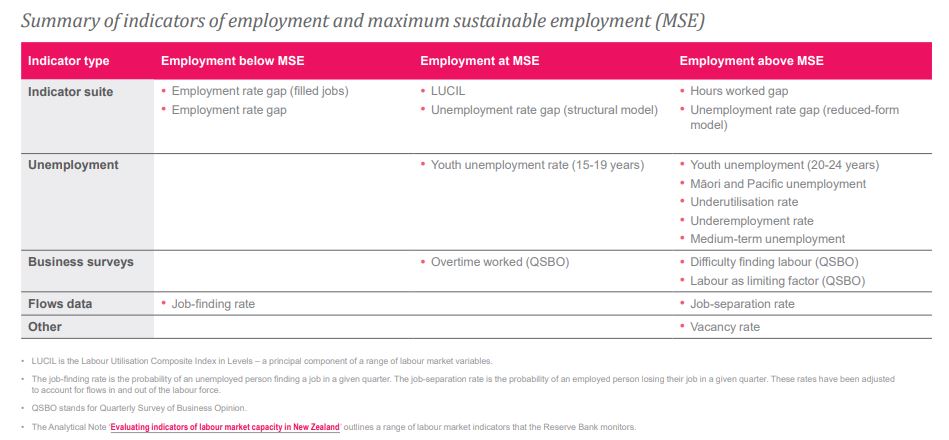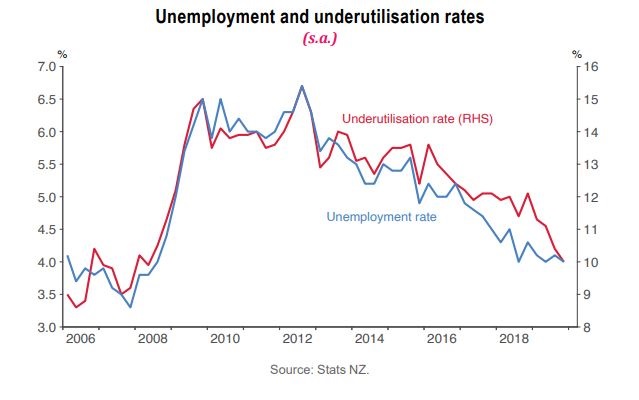 In terms of the dollar, McDermott noted in his speech that of all the prices within the economy, the real exchange rate is one that is not subject to short-run rigidities.
"Indeed, the real exchange rate can and does move rapidly over time, as economic developments such as a rise in the terms of trade – the ratio of our export prices to import prices – are quickly reflected in its relative price. The fast-moving nature of the real exchange rate means it plays an important role in absorbing shocks to our economy. But while part of the movement in the real exchange rate over time reflects persistent fundamental developments, such as structural improvements in the terms of trade or changes in relative productivity, much of the movement in the real exchange rate reflects deviations away from its medium-term equilibrium level. This feature of the exchange rate to 'overshoot' or 'undershoot' its equilibrium stems from the fact that currencies can react to incoming news instantly, while other prices, besides interest rates, are slower to adjust. These deviations may result in mis-allocation of resources between tradable and nontradable goods," McDermott said.
"There are various definitions of the equilibrium real exchange rate, which tend to focus on the drivers of the exchange rate over a given time horizon. The medium-term notion of equilibrium tends to be based on the value of the real exchange rate that would be consistent with internal balance (output at potential) and external balance (the current account sustainably financed). One of the several models that the [Reserve] Bank uses is the macro-balance model, which assesses the degree to which the exchange rate is currently too high or too low in order to stabilise the net foreign liabilities to Gross Domestic Product (GDP) ratio at its current level," said McDermott.
In its February Monetary Policy Statement the RBNZ said potential output growth was assumed to average 2.4% over the projection period to 2022. And with GDP growth rising above this rate by the end of 2020, capacity pressure in the economy was expected to increase.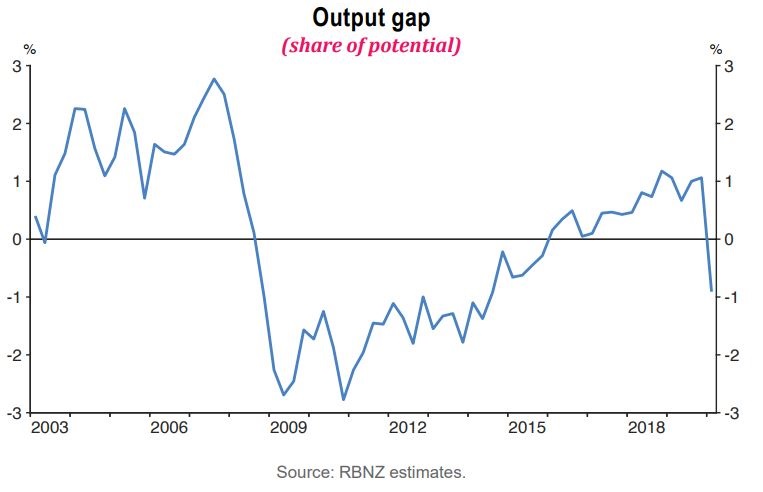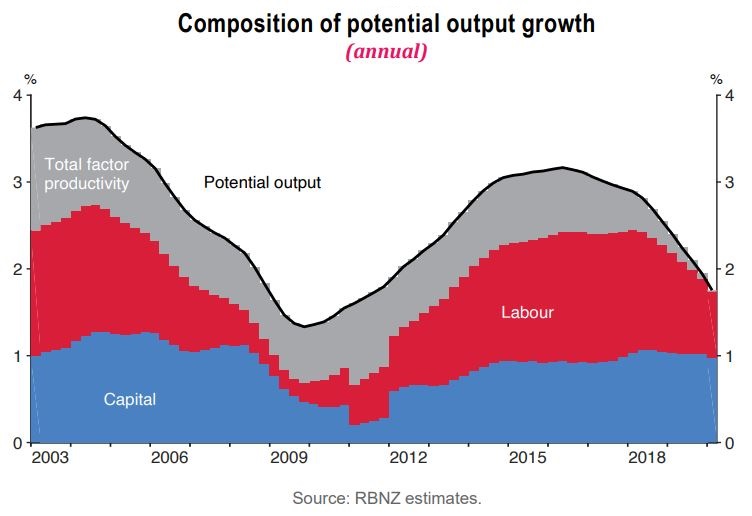 How significant will Covid-19 related changes be?
The Covid-19 pandemic, and accompanying economic fallout, is leading to questions about how many things are done. Could the way inflation targeting central banks use the stars be among these? And with governments around the world making greater use of fiscal policy to combat the impacts of the crisis, could the days of governments outsourcing economic policy to central banks even come to an end?
Neel Kashkari, president and CEO of the Federal Reserve Bank of Minneapolis and a member of the Federal Open Market Committee, recently hit out at economists' obsession with the natural rate of unemployment, and acknowledged the Fed got it wrong by raising interest rates from 2015. Kashkari doesn't have a typical central banker's background having started his career as an aerospace engineer.
"Why is it that economists always assume when there's a recession the natural rate of unemployment ratchets up, and it only falls down gradually over time? And they come up with all sorts of dislocations, fancy words, skills mis-matched, skills diminished. Boy this is an enormously costly error that we keep making. People want to work and that's one of the things that we've learned. And if we just allow the economy to recover I think they will continue to surprise us. And so yes, I do think that me not being an economist has helped me to see that, but that's not to say an economist can't see that too," Kashkari told Bloomberg.
In a second article I'll look deeper into these issues.
*This article was first published in our email for paying subscribers early on Tuesday morning. See here for more details and how to subscribe.