As the labour market continues to produce positive surprises, ANZ economists have tweaked their forecasts and now see unemployment going under 4%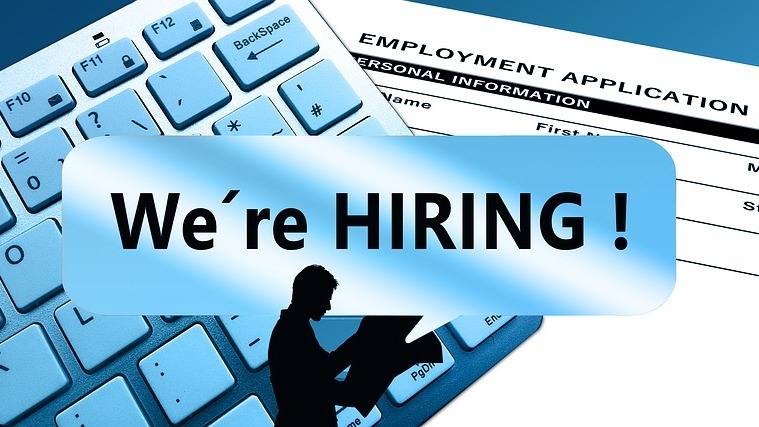 An NZ economy that's continuing to perform way ahead of expectations has prompted economists at the country's largest bank to suggest that we'll now reach "full employment" by 2023.
Specifically, the ANZ economists see the unemployment rate now going below 4% by 2023.
"With the labour market managing to add more jobs than we previously thought, we expect that the unemployment rate will fall faster over the course of this year, reaching 4.5% in Q2, and dropping to below 4% by 2023 (graph below). That brings the unemployment rate back to pre-Covid levels, and to a level that we would consider to be consistent with a labour market that's at full employment," ANZ chief economist Sharon Zollner and economist Finn Robinson say.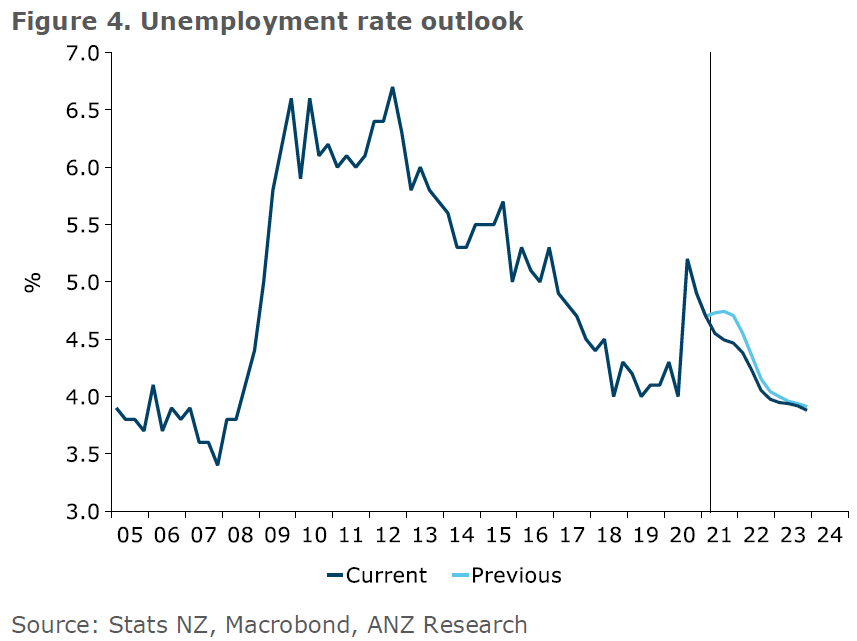 "...It looks like labour demand is only continuing to build. One indicator of this is job vacancies, which have risen way above pre-Covid levels across all the industries and regions tracked in the monthly data (graph below). In fact, overall job vacancies have increased to well above previous record highs. While this may be somewhat 'artificial', insofar as it reflects the border closure (ie firms having to advertise in New Zealand, rather than overseas), the border closure is a real constraint on labour supply that doesn't appear likely to be resolved any time soon – the implied labour market tightness is very much real."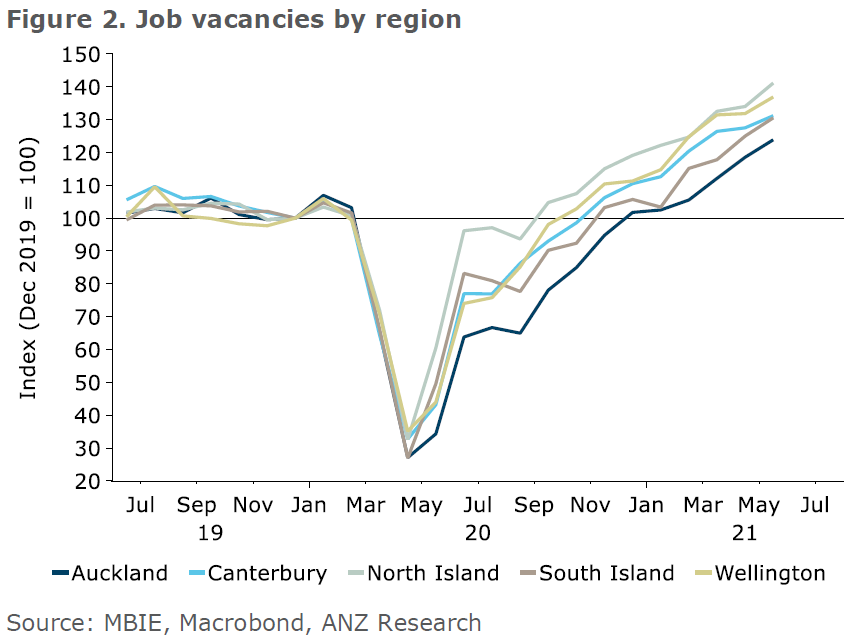 The economists say since they last updated their labour market forecast in May, there had been "a raft" of stronger data from a range of sources.
"Most notably, Q1 GDP massively surprised to the upside, with the economy expanding 1.6% q/q, versus our expectation of a 0.5% rise, and the RBNZ's forecast of a 0.6% contraction. We've seen other encouraging signs directly from the labour market too. Monthly employment data shows that the economy has continued to add jobs at a rapid pace, despite our earlier expectation that matching issues and labour market dysfunction would make it hard for employers to fill vacancies. The number of jobs is now comfortably above pre-Covid levels, and is continuing to rise."
After the GDP figures were released, the ANZ economists changed their call on interest rates and forecast that the Reserve Bank would make its first hike to the Official Cash Rate (currently on 0.25%) in February. In recent days the ANZ economists have, however, said there's a "real possibility" the first OCR move could be as soon as November of this year.
Normally, OCR hikes would be imminent
In the unemployment forecast upgrade, Zollner and Robinson say "in normal times", given their current set of labour market and inflation forecasts, "we would probably be looking at OCR hikes sooner rather than later".
"After all, the RBNZ is a forecast-targeting central bank, ie they typically set interest rates based on where they expect inflation and employment to be in two years' time (ish), rather than where the economy is right now. And based on that criterion, hikes would be imminent, given we're a lot of hikes away from neutral.
"But these are not normal times. Not only is the sustainability of our entire economic recovery contingent on reaching herd immunity from Covid (which likely won't be until the end of the year even if all goes to plan), but the economy is still incredibly distorted."
They say that economic frameworks that central banks "and pretty much all forecasters for that matter", have relied on for decades have proven to be poor predictors of how the economy would respond to an unprecedented pandemic-induced recession.
"We think part of the explanation lies in an initial under-appreciation of just how significant the accompanying supply shock has been, something we outlined in more detail in our latest Quarterly Economic Outlook. The corollary of that is we've seen a lot more inflation pressure than was anticipated."
However, "the bottom line is" that with monetary policy "ammunition" very low, data volatility still present (but gradually settling down), and the housing market (a key driver of economic momentum) still yet to settle following recent policy changes, the RBNZ will likely prefer to continue to wait for sustained strength in the data before concluding that conditions have been met to start lifting the OCR.
'Least regrets strategy starting to look risky'
"Specifically, we'll probably need to see another significant drop (or two) in unemployment, as well as inflation well into the upper half of the target band (or even above) over 2021. And as the May [RBNZ Monetary Policy Statement] was at pains to highlight, it's not all about unemployment – the RBNZ considers full employment from a holistic lens, so they need to see broad-based strength in their suite of labour market indicators before considering the economy to be at full employment.
"However, as we mentioned last week, the RBNZ's least regrets strategy is starting to look risky," Zollner and Robinson say.
"The economy is running hot, the housing market is dangerously strong, household spending has surged, the labour market is well on its way to full employment, and inflation is at risk of rising above the target band, with inflation expectations now well above the midpoint – and rising.
"It may be tempting to wait and see what the data does in coming quarters, but the risks are tilting towards the biggest regret being not reducing stimulus soon enough, rather than monetary policy doing too little.
"A late start could mean more aggressive hikes are required, all else equal, which would increase the odds of a hard landing – particularly for the housing market.
"Though the future certainly remains murky, inaction comes with risks too, and it's increasingly looking like the RBNZ is getting caught between a rock and a hard place."