Revenue Minister David Parker gets himself into a sticky situation, arguing the removal of interest deductibility will dampen house price growth but not economic growth
Revenue Minister David Parker is confident his policy to prevent property investors from writing off interest as an expense when paying tax will dampen house price growth.
Parker is so confident; he believes the policy will result in the Reserve Bank (RBNZ) keeping interest rates lower for longer than would otherwise be the case.
Batting off criticism from National's finance spokesperson, Andrew Bayly, around how much the removal of interest deductibility will cost investors, Parker made the point the cost would depend on the level of interest rate.
Parker has previously made the argument now is a good time to introduce the policy because interest rates are low. Accordingly, the interest expenses investors are writing off are relatively small. So, removing the ability for them to make this write-off won't be as painful as would be the case if interest rates were higher.
However, conventional economic theory suggests if Parker thinks the tax policy will put downward pressure on interest rates, he implies it will dampen economic growth. Central banks keep interest rates low to fire up sluggish economies.
But talking to interest.co.nz, Parker denied the assertion he was admitting interest deductibility would dampen economic growth. He argued it would dampen house price growth, but not economic growth.
His rationale was the economy would grow if some of the scarce capital being poured into housing was directed towards more productive parts of the economy.
Put to him that if this happened, the RBNZ would likely increase interest rates, not keep them lower for longer, he said central banks "put up interest rates for a variety of reasons, including stability of financial markets if they think housing property markets are running too hot".
The RBNZ is required to use monetary policy (IE manage the cost and supply of money) to ensure annual consumer price inflation is between 1% and 3% and maximum sustainable employment is maintained.
In doing this, the law requires the RBNZ to "have regard to the efficiency and soundness of the financial system".
The RBNZ, in its latest Monetary Policy Statement released in May, projected house price growth dropping off completely, due to the Government's tax policy changes, as well as the reintroduction of loan-to-value ratio restrictions, strong residential construction, slower population growth and the "waning impact of interest rates declines over 2019 and 2020".
The RBNZ said: "The extent of the dampening effect of the Government's new housing policies on house price growth and hence economic activity will also take time to be observed."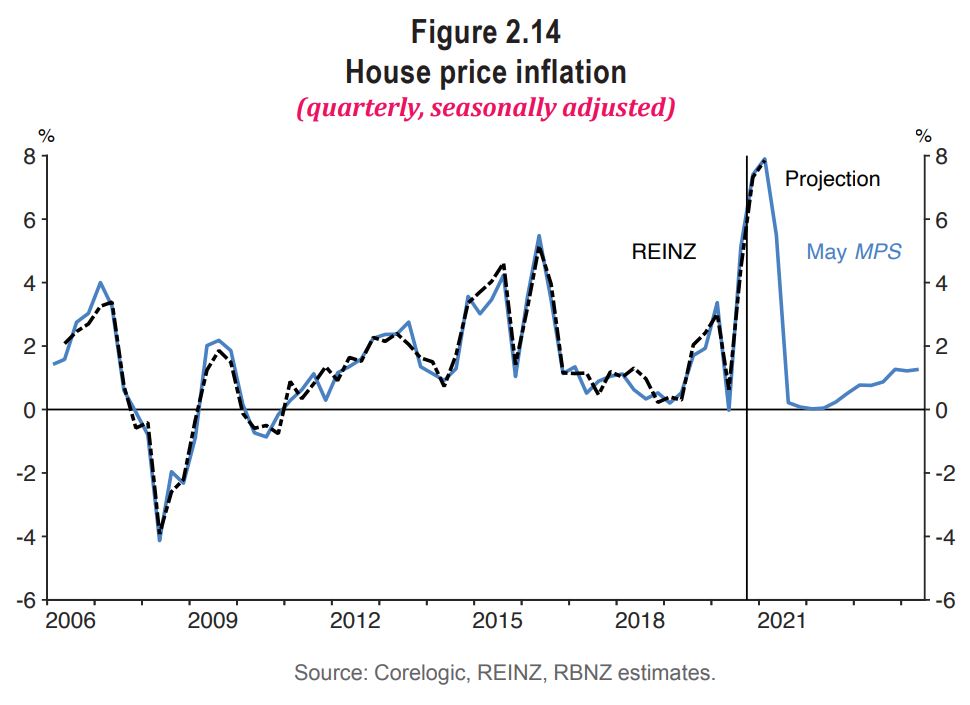 The RBNZ also projected two Official Cash Rate (OCR) hikes from the second half of 2022.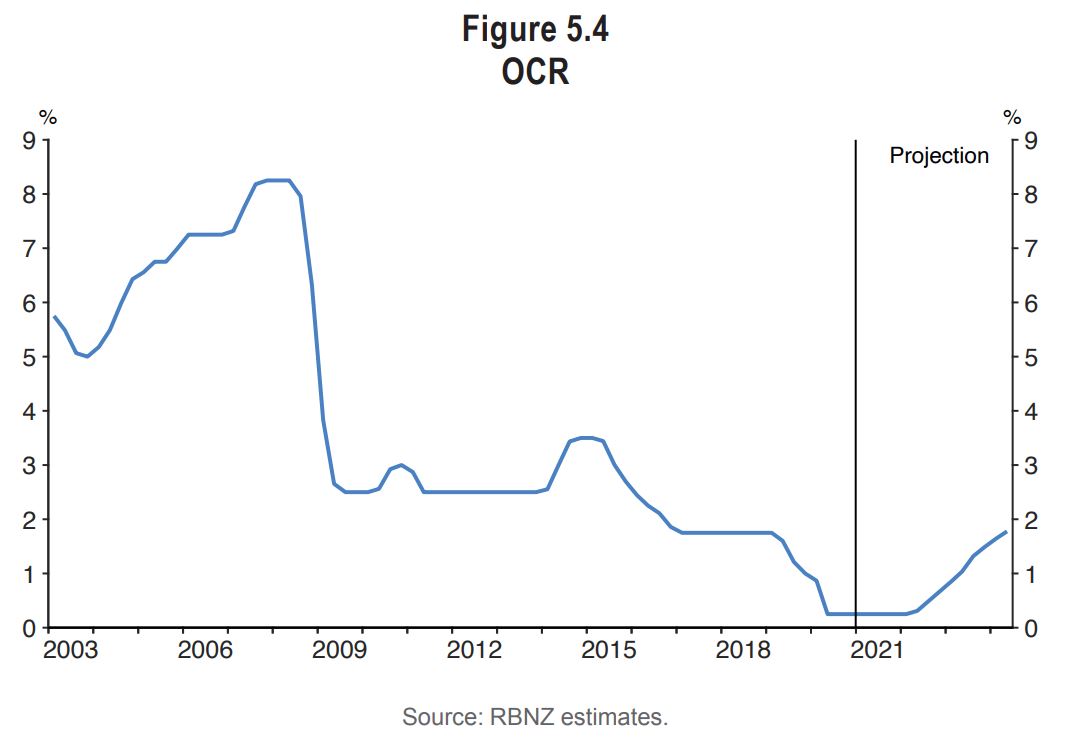 Most bank economists believe the economy is recovering well enough for the RBNZ to raise the OCR sooner than from mid-2022. 
There is still a question mark over whether interest rates will structurally remain low by historic standards in the medium to long-term, as globalisation and technology continue to put downward pressure on consumer price inflation.