Mortgage approvals blip up a bit last week, but down 26% from a year ago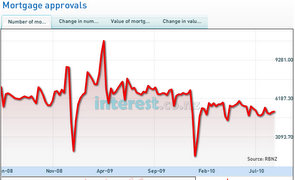 Mortgage approvals in the week to September 3 rose to 5,186, worth NZ$631 million, from 5,157 worth NZ$605.2 million the previous week, Reserve Bank data shows.
This is consistent with a slight blip up in early Spring a year ago, but volumes and values in the 13 weeks to September 3 remain 26% below approvals granted in the same period a year ago.
(Updated to clarify that 26% reduction applies to 13 weeks to September 3, versus the same period a year ago rather than just for the week to September 3 HT John B)
Approvals are only just above the record low for any non-holiday week set in the week to July 16 of 4,818 approvals worth NZ$601 million, although they have been rising for the last 7 weeks in volume terms. Values have been rising by less in recent weeks.
The figures are consistent with both weak demand from housing borrowers and rental investors and relatively subdued supply from banks, which are concentrating their marketing on bringing in term deposits rather than lending out mortgages.
Separate Reserve Bank data shows net new housing lending rose just NZ$110 million in July, the lowest month-on-month growth since July 1998, dropping below even the NZ$112 million increase in June.
Mortgage approvals can be a useful early indicator of where the housing market might head, given it includes data that is less than 10 days old and approvals now can turn into sales in a few weeks or months time.
However there are a few caveats to the data series, which is still labelled by the Reserve Bank has an experimental series.
The data excludes customers refinancing with their own bank or the rolling over of a fixed rate loan. It also excludes business lending against a business owners' home and 'top up' loans on existing houses.
However, it does include the refinancing of other banks' customers, any loan where the security might change (including revaluations or changes in houses) or the borrower might change, including moving assets into family trusts.
The series therefore includes competitive 'poaching' of loans from one bank to another, which may not necessarily signify a new house purchase is coming.