Securitisation, standby bank facilities & bonds to support retail deposit funding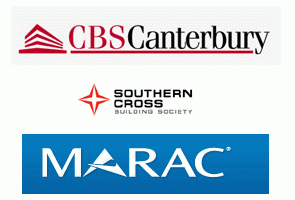 The Heartland Bank will have about NZ$1.5 billion to NZ$1.6 billion of retail deposits in place on day one, with securitization programmes, standby bank facilities and potentially a listed retail bond issue to supplement its funding.
Bruce Irvine, chairman of both Pyne Gould Corporation (PGC) and the establishment board overseeing the Heartland Bank merger plans, told interest.co.nz the primary focus would be on growing the depositor base. This was where the Reserve Bank wanted the focus to be and the three merger partners – PGC, Canterbury Building Society (CBS) and Southern Cross Building Society (SCBS) – hope to apply for a banking licence from the central bank by next July.
"The aim is to supplement that (depositor base) with the other mechanisms and that will be obviously wholesale back up funding lines, securitization programmes and potentially a (retail) bond. But that (any bond issue) is down the track," Irvine said.
PGC chief executive Jeff Greenslade said the merger partners were confident the combined entity could meet the Reserve Bank's core funding ratio which sets out that banks must secure at least 65% of their funding from retail deposits and bonds with durations of more than 12 months. Greenslade said the new group would have about NZ$1.5 billion to NZ$1.6 billion of retail deposits on day one, including about NZ$800 million from Marac. It would also have about NZ$300 million of cash and liquid assets that could easily be turned into cash.
Keen on securitization
Both Marac and CBS have securitization programmes that will be carried into the new entity and potentially expanded. And talks were underway with a group of banks about obtaining a standby bank facility. Greenslade said the plan was for the new entity to securitise motor vehicles and residential mortgages as Marac and CBS, respectively, do now and potentially expand the programme.
"It is something that we're very interested in looking at (expanding securitisation) and we've been pleasantly surprised with the level of interest that has come from a wide range of (potential funding) providers," said Greenslade.
At the May 27 date of its latest investment statement Marac had a NZ$150 million securitization programme run through Westpac and a NZ$200 million syndicated bank facility provided by lead banker ANZ, Westpac, BNZ, ASB's parent Commonwealth Bank of Australia and HSBC.
Meanwhile,CBS revealed plans in July to raise up to NZ$100 million through a funding warehouse and ultimately a residential mortgage backed securities (RMBS) programme to diversify away from its complete reliance on retail funding sources and bolster its lending facilities. The funding programme sees CBS selling residential loans at face value to a Warehouse Trust. The trust is then funded to buy the loans from CBS through a loan provided by Westpac.
The second stage of the programme will see CBS establish further trusts to buy the residential loans from the Warehouse Trust, funded through the issue of debt notes to selected institutional investors.
SCBS discontinued its syndicated banking facilities on June 30 last year.
Greenslade said talks were underway with a group of banks about setting up a standby bank facilities for the new entity worth somewhere in the hundreds of millions. These would be facilities that weren't intended to be used, merely to be there as back up liquidity.
Plans to pay dividends
The new entity says it will have the potential to be able to pay shareholders regular dividends. Irvine said this was based on a "detailed business case" prepared by First NZ Capital for the merged entity, which the establishment board and boards of PGC, CBS and SCBS had received.
"And that indicates, not only a level of adequacy in terms of capital and liquidity, but it does indicate sufficient headroom for us to be positive about the prospect of regular ongoing dividends," said Irvine.
* This article was first published in our email for paid subscribers earlier today. See here for more details and to subscribe.