Kiwibank cuts 2 year mortgage rate to take it below major competitors in effort to spice up demand in quiet market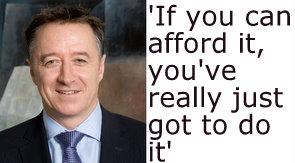 Kiwibank cut its 2 year fixed mortgage rate by 10 basis points to 6.59% 5.59% on Thursday, taking it at least 6 basis points below its major competitors in an attempt to spice up demand in a quiet spring housing market.
ASB's two year rate is 6.7%, ANZ/National is on 6.69%, BNZ is on 6.65% and Westpac's was 6.69%. 
The move sparked an almost immediate response from TSB, which cut its 2 year rate by 10 basis points to 6.58%. And late on Friday, Westpac said it was dropping its two-year rate by 10 basis points to 6.59%, effective from 8.30am Saturday November 20, matching Kiwibank's move.
And on Monday evening SBS Bank also cut, reducing its 2 year mortgage rate by 11 basis points to 6.59% from 6.70% effective from Tuesday, November 23. On Tuesday, HBS Bank, formerly the Hastings Building Society and now part of SBS Bank, said it was cutting its two-year home loan rate to 6.59% from 6.70%. And PSIS said it was dropping its one and two-year home loan rates. PSIS cut its one year rate to 6.40% from 6.45% and its two year to 6.60% from 6.70%.
Last month Kiwibank's new CEO Paul Brock told interest.co.nz that now was the time for first home buyers to take the plunge.
Brock, who recently replaced Sam Knowles as Kiwibank's CEO, said then he would be concerned if people were being put off home ownership. He noted the overall housing market had slowed down "quite a lot" and, although he didn't have the data at his fingertips, there was a feeling that first home buyers might be stepping out of the market.
"That's a bit of a concern really for New Zealand. From my point of view home ownership is really good," said Brock.
"It's one of those things that's both good for the individual to get started towards financial security, I think it's good for the country and it's also good for the community that people are owning their own homes."
"In a way it's almost that rite of passage for New Zealanders, the opportunity to get started and in many cases it is the first step towards financial security," Brock added.
"Making that step is really, really important. So I would be concerned if people are being put off by views on property prices, or views on interest rates."
(Updates add Westpac, TSB, SBS, HBS and PSIS moves).