Standard and Poor's heaps NZ banks in with those from Italy, the US, UK and South Korea
In a move that may pre-empt a downgrade of its AA credit ratings on New Zealand's big four banks, Standard & Poor's (S&P) has downgraded its Banking Industry Country Risk Assessment (BICRA) on New Zealand to group 3 from group 2, placing major local banks in the same group as Italy, the United States, Britain and South Korea.
S&P says its BICRA methodology evaluates and compares global banking systems using economic risk and industry risk factors.
A BICRA is scored on a scale from 1 to 10, ranging from the lowest-risk banking systems (group 1) to the highest-risk (group 10).
The move comes as S&P completes a long running review of its ratings methodology, which it has been anticipated could see New Zealand's ANZ, ASB, BNZ and Westpac have their credit ratings downgraded a notch to AA-, potentially increasing their funding costs.
Any rating change is likely to be announced later this month or in December. See more on this here.
"Our economic risk score of '3' for New Zealand reflects our view of the country's 'economic resilience' and 'economic imbalances' as being 'low risk,' and our view of 'credit risk in the economy' as being of 'intermediate risk,' as our criteria define those terms," S&P said.
"We consider that New Zealand's open, flexible, and well-developed economy, and its relatively high income levels, partly offset the weaknesses associated with its dependence on agricultural commodity exports."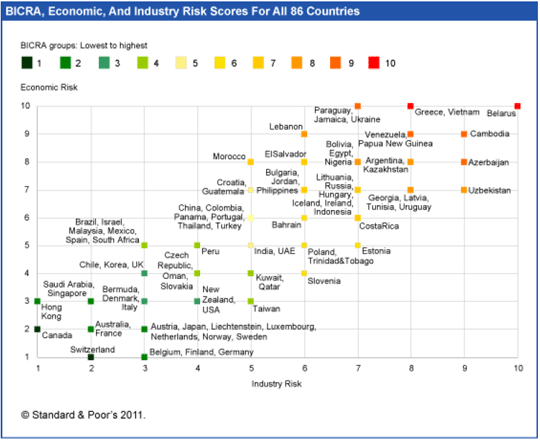 "We believe the economy has favorable prospects for sustained growth given there remains strong demand for agricultural exports. In our view, the New Zealand economy's overall resilience reflects decades of structural reforms and wages restraint. In the recent years there has been some private-sector deleveraging, and an orderly wind-down in the real estate prices, factors that in our view should limit the risk of a sharp correction," the credit rating agency added.
"Nevertheless, we believe that the external imbalances, evidenced in persistent current account deficits and high external debt, could affect the economy. In our view, credit risks in the New Zealand economy are reflected in a high level of private sector debt, at about 150% of GDP, and the concentration of lending to the agricultural sector, including the dairy sector."
S&P goes on to say, however, that it considers these risks are partly offset by conservative lending and underwriting standards, a legal framework that supports creditors, and a strong track record of a low level of nonperforming assets and credit losses compared with elsewhere over the past several years.
Recently both S&P and rival Fitch Ratings downgraded New Zealand's sovereign credit rating to AA from AA+.
Meanwhile, S&P has assigned New Zealand an industry risk score of 4, with the possible ratings also ranging from 1 to 10.
S&P says the industry risk is determined by the quality and effectiveness of bank regulation and the track record of authorities in reducing vulnerability to financial crises, the competitive environment of a country's banking industry including the industry's risk appetite, structure and performance, and possible distortions in the market. It also covers the range and stability of funding options available to banks, including the role of the central bank and government.
"This (NZ) score takes into account our view of New Zealand's 'institutional framework' and 'competitive dynamics' as being 'low risk,' and our view of New Zealand's 'systemwide funding' as 'high risk.' We consider that regulation is conservative compared with international standards, and that the regulators monitor banks closely and frequently," said S&P.
It said the regulator - the Reserve Bank - has a "reasonable track record" of identifying problems early and taking corrective actions, evidenced in very few instances where support has been required. Furthermore, the New Zealand banking industry is supported by "restrained risk appetite."
"In our opinion, the sector has generally been able to prudently price for the risks taken, and has generally not shown tendencies to chase aggressive returns," said S&P.
"Additionally, we note: the absence of the use of innovative, complex, and risky products; very limited high-risk lending; and prudent compensation practices. We consider that there are minimal market distortions due to government intervention or competition from the nonbanking sector."
Nonetheless, the high dependence on net offshore borrowings, which S&P estimates fund about 42% of domestic customer loans, and limited support from core customer deposits, which fund only about 44% of domestic customer loans, weaken New Zealand's banking system.
"We consider that these weaknesses are partly offset by potential funding support from the Australian parents of the major banks and the government and regulator. We regard the government and regulator as responsive and flexible to the changing needs of the banking industry."
"We classify the New Zealand government as being 'supportive' of the banking system, reflecting our expectation that the government is likely to organize or facilitate market-led solution to support systemically important financial institutions should it be needed." S&P added.
See more on S&P's changes in our earlier story here.
(Update adds S&P chart and detail on industry risk scores).