New Westpac NZ CEO Peter Clare says bank adds buffer to cover interest rate movements in high LVR loans, wants to grow rural lending market share
This article was first published in our email for paid subscribers this morning. See here for more details and to subscribe.
By Gareth Vaughan
Westpac New Zealand's new CEO says the bank takes a conservative approach to the mortgages it writes with loan-to-valuation ratios (LVRs) above 90%, incorporating a buffer to cover interest rate movements, and has put around 150 families into their first home over the past six months.
Speaking to interest.co.nz in a video interview after Westpac released its half-year financial results, Peter Clare - who replaced George Frazis as Westpac NZ CEO in early April - said the bank's 90% plus LVR lending was "absolutely" responsible lending.
Westpac, alongside ASB and BNZ, has been growing home loans in the above 90% LVR range in a move that has come under fire from David Hisco, CEO of ANZ NZ. Hisco told interest.co.nz in March that lending customers as much as 95% of the money they need to buy a house may not be the right thing to do and isn't the best use of funds by a bank in a world where banks are paying more for the money they borrow to on-lend to customers.
However, Clare said Westpac was careful about such lending.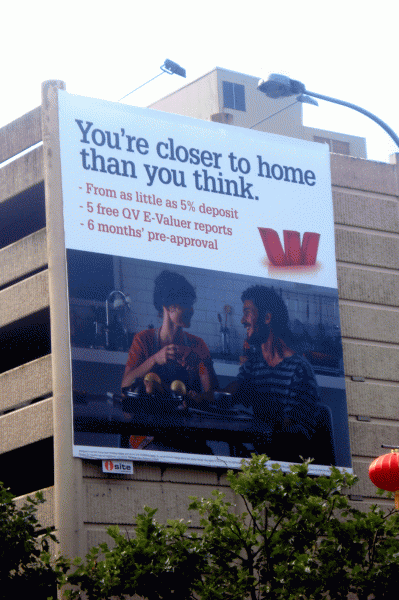 "The way we approach high LVR lending is we take a conservative approach in terms of the customer's ability to service that loan and we add a buffer to cover interest rate movements as well," said Clare.
"I want Westpac to be an organisation that provides financial services to all New Zealanders where it makes sense for them in terms of an affordability sense. Taking a case in point, above 90% LVR loans, we've helped nearly 150 families get into a home in the last six months and I think that's terrific."
He said he was "absolutely" comfortable such customers could meet their repayments.
"It is entirely within our risk appetite because we don't want to lose money and each of these customers have met all of our credit requirements."
Reserve Bank Deputy Governor Grant Spencer said yesterday limits on LVRs was one of four policies the central bank considers "viable candidates" to put the brakes on any future sustained boom in credit and asset prices.
Clare, an Australian whose wife hails from the Hawke's Bay, was previously chief operating officer of Westpac's Australian Financial Services business.
New Zealand results a standout in the Westpac Group figures
Westpac NZ yesterday posted record interim cash earnings, up NZ$64 million, or 24%, from the same period of the previous financial year to NZ$333 million. The half-year figures incorporate profit from about NZ$6 billion worth of assets and around NZ$5 billion of liabilities transferred to Westpac NZ from its Australian parent late last year after the bank took "corrective action" to address  breaches of Reserve Bank bank registration conditions.
Westpac NZ reset last year's interim results to reflect the transferred business, which means cash earnings for the six months to March 31, 2011 increased by NZ$59 million to NZ$269 million from the NZ$210 million reported a year ago. Westpac NZ's latest half-year results saw its net interest margin rise 6 basis points to 2.43%, compared with a 6 basis points drop in Westpac Group's net interest margin to 2.17%. Westpac NZ's return on average assets rose 13 basis points to 1.1%.
See Westpac NZ's full results presentation here.
The New Zealand result was a highlight in Westpac Group's interim results with group CEO Gail Kelly telling analysts' it was an "all around strong performance."
"We achieved at, or above, systems growth in all of the key (lending) categories although of course, systems growth was very, very, very modest," said Kelly. "We've improved our margin within New Zealand. George's strategy has been a Westpac Local lite, if I can call it that, in New Zealand focussing very much on main bank relationships in retail."
Westpac Local is a strategy implemented by Westpac in Australia whereby power is shifted from head office back to branch managers with their names appearing on the front of Westpac branches.
"His (George Frazis') customers with four or more products is up to 49% (from 47.8% a year ago and compared with just 29.9% at Westpac in Australia). In the commercial side he has actually focussed very heavily on the credit skills side and the relationship sales side, relationship management side. And also getting the asset quality to the healthy position it is now. So (after) three years, a real turnaround in our New Zealand business. Peter Clare's there now and he's really stepped into the chair and full steam ahead," Kelly added.
Frazis has moved back to Australia to take the reins at Westpac's St George Bank.
Meanwhile Clare said he had inherited a business with real momentum.
"It has a strategy that's working and in fact I'm in the very luxurious position of being able to say that I intend to keep that momentum going. I don't think I need to change anything radically, just simply hone some of the things that we're doing to improve our performance," said Clare.
Asked to expand on this Clare said he was enthusiastic about Westpac's "My Bank" strategy.
"The My Bank strategy rewards customers for their loyalty, for the depth of their relationship with us on both the consumer and business sides. So I'd like to see some more focus on that. And certainly on the business banking side there are a couple of segments that we are under represented in - agri being one - which I think there's an opportunity for us to gain our fair share of market share there."