ANZ NZ CEO David Hisco hits out at rival banks offering home loans for 5% deposits; questions whether it's the right thing to do or a good use of funds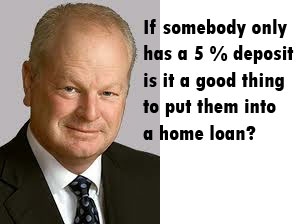 By Gareth Vaughan
Lending customers as much as 95% of the money they need to buy a house may not be the right thing to do and isn't the best use of funds by a bank in a world where banks are paying more for the money they borrow to on-lend to customers, says the boss of New Zealand's biggest bank.
ANZ New Zealand CEO David Hisco told interest.co.nz he was happy to let rivals - ASB, BNZ and Westpac - chase residential mortgage business at the top of the loan-to-valuation (LVR) ratio scale. Figures from the big banks' General Disclosure Statements (GDS) show ASB, BNZ and Westpac growing home loans with LVRs above 90% and ANZ's contracting. This is happening in a housing market where overall lending growth in the year to January, according to the Reserve Bank, was just 1.2% versus highs above 17% in 2004 and double digit growth as recently as April 2008.
"At the end of the day you'd have to ask yourself really whether if somebody has only got a 5% deposit that it's a good thing to actually put them into a home loan," said Hisco.
"So I think there's a debate there around what's the right thing to do," Hisco added.
"And in any case home loans around that level attract an awful lot of capital. So it's not really a sensible thing to do, from a capital usage perspective when funding costs are going up, to use funding on the least profitable business when you've got a question around whether it's the right thing to do anyway."
"We're taking a cautious approach to home loans in that 95% range. We're probably happy to leave those to others if they're keen for that sort of risk."
Cost of money up
ANZ NZ's chief financial officer Nick Freeman said the cost of securing overseas wholesale funding for banks is up about 50 basis points year-on-year, with five-year funding costing about 210 to 220 basis points over swap rates, including the cost of converting the money into New Zealand dollars.
ANZ's December quarter GDS - including the National Bank - shows its residential mortgages with LVRs above 90% down NZ$255 million over the three months to NZ$4.6 billion. In contrast, BNZ's rose NZ$79 million to NZ$2.3 billion and ASB's surged by NZ$490 million to NZ$3.923 billion.
Last month ASB CEO Barbara Chapman told interest.co.nz high LVR residential mortgage lending involved some very high quality customers, notably first home buyers, but was something ASB watched closely. Westpac, which is running billboard advertisements in Auckland promoting home loans from as little as a 5% deposit, increased its residential mortgages with LVRs above 90% by NZ$95 million to NZ$3.4 billion in the December quarter, meaning 8% of its total home loans are on LVRs above 90%.
BNZ's home loans at above 90% LVRs are also at 8% of its total residential mortgage book and ASB's 9.2%. ANZ's are 8%.
In the 80% to 89% LVR range ANZ grew by NZ$163 million in the December quarter to NZ$7.2 billion, meaning it has NZ$11.8 billion, or 21%, of its NZ$57.2 billion worth of home loans at LVRs above 80%. ASB has NZ$8.3 billion, or 19.5%, BNZ has NZ$4.2 billion, or 14%, and Westpac had NZ$9.2 billion, or 22%.
At December 31 Kiwibank had NZ$2 billion, or 18%, of its NZ$11.2 billion worth of home loans at LVRs above 80%. The state owned bank's home loans with LVRs above 90% fell NZ$37 million in the December quarter to NZ$428 million.
'No out of cycle floating mortgage rate hike coming in NZ'
In Australia, ANZ NZ's parent now reviews housing and small business floating interest rates monthly, on the second Friday of the month, independent of the Reserve Bank of Australia's Official Cash Rate (OCR) announcements, which happen on the first Tuesday of every month. Subsequently in February the ANZ Banking Group led an out of cycle hike to floating mortgage rates by Australian banks, who blamed an increase in their own funding costs, despite the Reserve Bank of Australia leaving the OCR at 4.25%.
Asked whether ANZ was likely to mirror either of these moves in New Zealand, Hisco said not at this point.
"Our funding profile is different to our business in Australia (where a big switch from floating mortgages to fixed ones hasn't happened because most customers are already floating and where lending growth has been stronger)," said Hisco. "We don't have any plans, you never say never in what we might be doing in two years time, but I can't see, certainly in the foreseeable future, needing to do that here."
Hisco is the second big New Zealand bank CEO to effectively rule out an out of cycle rate hike, - for now. Earlier this month Chapman told interest.co.nz an out of cycle floating rate hike was "not on our (ASB's) horizon." The banks have recently been lowering their fixed-term mortgage rates with some for six month and one-year terms now lower than their advertised floating rates. See all bank advertised home loan rates here.
IT move to one platform running late but initial target was 'reasonably unrealistic'
Meanwhile, Hisco acknowledged the move to get ANZ and National Bank staff onto one IT platform, eight years after ANZ bought the National Bank from Britain's Lloyds TSB, was running behind the initial schedule. ANZ said in November 2010 the move, effectively shutting down the ANZ IT platform and adopting the National Bank's Systematics core banking system, should be completed by late 2011. Now ANZ's targeting completion by the end of 2012.
"That'll get it done in under two years and these things generally take two to two and a half years," Hisco said. "We needed to mobilise a whole lot of people around getting active and thinking about it so we put a reasonably unrealistic time line on it (initially) to get people moving. But if we get it in by the end of this year, I'd be very happy because it would be done faster than most."
ANZ's 2011 annual results included costs related to the IT project of NZ$111 million. The bank's latest GDS notes the board has approved additional expenditure of about NZ$110 million for completion of the programme, to cover technology and related costs, with testing and integration expected to be completed later this calendar year.
This article was first published in our email for paid subscribers this morning. See here for more details and to subscribe.