ASB home loans with loan to valuation ratios above 80% jump NZ$667 mln in one quarter

By Gareth Vaughan
ASB's strong growth in home loans with loan-to-valuation (LVR) ratios above 80.1% - and above 90% - continued unabated in the December quarter, rising a combined NZ$667 million to reach 19.5% of the bank's NZ$42.584 billion residential mortgage book.
This rise to NZ$8.3 billion worth of home loans with LVRs above 80% at December 31, 2011 is up NZ$667 million from NZ$7.6 billion, or 18.1%, just three months earlier at September 30, according to ASB's latest General Disclosure Statement (GDS). ASB's home loans comprise 81% of the bank's total NZ$52.5 billion worth of loans to customers.
The Reserve Bank has required banks to disclose their LVRs on residential mortgages since March 2008. At that point ASB had NZ$6 billion, or 15%, of its NZ$39.8 billion worth of home loans at LVRs above 80%.
Although some of the major banks wouldn't write home loans with LVRs above 80% at the height of the global financial crisis, they certainly have been over the past year or so. Analysis by interest.co.nz shows a NZ$2.9 billion rise in residential mortgages held by the big five banks with LVRs above 90% to NZ$14.2 billion in the year to September 30 last year. Aside from ASB, the biggest growth came from BNZ and Westpac.
Loans with LVRs above 90% growing fastest
Of ASB's December quarter growth, the bulk came through home loans with LVRs above 90%. This segment grew by NZ$490 million in the quarter to NZ$3.923 billion, outstripping NZ$177 million growth in home loans with LVRs between 80.1% and 90% to NZ$4.386 billion. At March 31, 2008 ASB had NZ$1.5 billion worth of home loans with LVRs above 90%.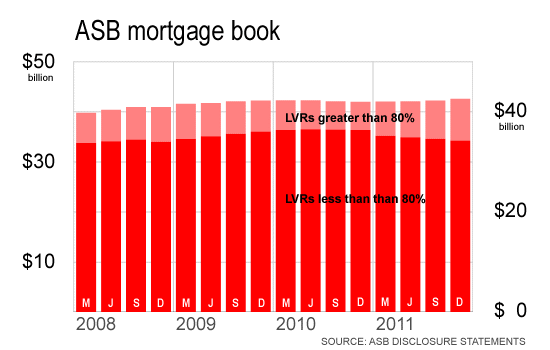 ASB's home loans in all the other LVR categories disclosed - 0% to 60%, 60.1% to 70%, and 70.1% to 80% all fell in the December quarter. The bank's overall mortgage book, based on the LVR disclosures, rose by NZ$366 million.
When ASB released its half-year financial results earlier this month, showing a record net profit after tax of NZ$372 million, CEO Barbara Chapman told interest.co.nz the high LVR residential mortgage lending involved some very high quality customers, but was something ASB watched closely.
"It is an area of the market where there are some very high quality customers, particularly that first home buyers market, so we've got offers in place now and customers definitely are coming to us for that kind of business," Chapman said then.
"I'm comfortable with where it is, we keep a really close eye on it as you can imagine."
Auckland house values at record levels
The growth in ASB's high LVR loans comes with government owned property valuer Quotable Value (QV) saying this month house values in Auckland, where ASB - formerly the Auckland Savings Bank - is heavily exposed, rose 2.1% in the past three months and 5.1% over the past year. Auckland values are above the previous market peak, set in late 2007, by 1.9%. QV says Auckland house values are rising faster than any of the other main centres. As of June 30 last year, 55% of ASB's total credit exposures were in Auckland.
ASB's latest GDS also notes the bank paid parent Commonwealth Bank of Australia an ordinary dividend of NZ$160 million, or 7.12 cents per share, on February 22. No dividend was paid last February although ASB paid an NZ$80 million dividend, equivalent to 4c a share, in the six months to December 2010.
The GDS also shows ASB's December quarter net profit after tax up NZ$62 million, or 47%, to NZ$195 million from NZ$133 million the same period of 2010. The profit growth came as total operating income rose 10%, operating expenses fell 5% and impairments on loans fell to just NZ$4 million from NZ$37 million.  The bank grew deposits from customers in the quarter by NZ$1.7 billion to NZ$39.3 billion.
This article was first published in our email for paid subscribers this morning. See here for more details and to subscribe.