The Co-operative Bank joins fixed-term mortgage rate cutting party with cuts to 6 month and 1-4 year rates
The Co-operative Bank, formerly PSIS, has joined the rush by banks to cut fixed-term mortgage interest rates, dropping its six month, one-year, two-year, three-year and four-year rates by between 10 and 25 basis points.
The cuts, effective from tomorrow, Wednesday May 16, see The Co-operative Bank's six month rate drop 15 basis points to 5.55%, its one-year rate fall 25 basis points to 5.45%, its two-year rate down 10 basis points to 5.70%, its three-year rate fall 15 basis points to 5.95%, and its four-year rate cut 20 basis points to 6.25%.
It has left its 5.70% floating, or variable, rate unchanged.
The bank's new six-month rate is the lowest advertised for that time period by any bank except for HSBC's 5.49% rate, which is only available to HSBC's premier customers, who must have either a minimum of NZ$500,000 in home loans with HSBC, or at least NZ$100,000 of savings and investments with the bank.
The Co-operative Bank's new four-year rate is the lowest four-year rate now advertised by a bank, with no other bank having a rate below 6.50%. However, over one, two and three years The Co-operative Bank's new rates are bettered by other banks.
Separately, the Co-operative Bank also cut the interest rates on some of its savings products, with its one-year "special" term deposit rate cut 10 basis points to 4.50%, and the rates on its two, three and four-year bonds cut 10, 15, and 20 basis points, respectively, to 4.80%, 5.05%, and 5.30%. See all advertised bank term deposit rates here.
The Co-operative Bank's mortgage rate cuts come after an array of mortgage rate cuts by other banks, including the big five of sister banks ANZ and National, ASB, BNZ and Westpac, both this week and last week. The cuts follow the introduction of a 4.99% "special, limited time" offer from Kiwibank on April 26, recent falls in swap - or wholesale - interest rates the banks themselves borrow at, and the expectation from many economists that the Reserve Bank won't be increasing the Official Cash Rate from its record low of 2.5% any time soon.
See all bank advertised mortgage rates here. And see more on the recent bank spate of mortgage rate cuts here and here and here and here and here.
The cuts to fixed-term mortgage rates, dropping some of them as much as 61 basis points below standard advertised bank floating rates of between 5.60% and 5.75%, comes with 62.7% of the NZ$172.178 billion total value of the country's almost 1.4 million mortgages by value floating and 37.3% fixed, based on the latest Reserve Bank data. That's the highest percentage on floating rates since the Reserve Bank began recording the data in 1998.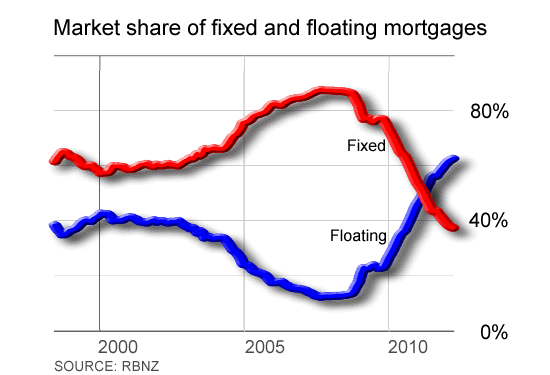 With some of the new two and three year rates on offer below, or in line with floating rates, it'll be interesting to see how many floaters decide to fix.