Here are the key things you need to know before you leave work today.
TODAY'S MORTGAGE RATE CHANGES
There were no changes today although late yesterday, ANZ dropped its 2yr rate by offering a 5.99% 'special'.  Also, we have added a new retail bank to our coverage, ICBC. They are one of the world's largest banks who have opened a branch in Auckland. Don Brash is the chairman of the local unit.
TODAY'S DEPOSIT RATE CHANGES
4.50% is the key number today. Both the Co-operative Bank, and the Heretaunga Building Society have increased term deposit rates today to that level. For the Co-op Bank it is for their 6 mth rate, for Heretaunga it is for their 12 month rate. And we are now covering the ICBC term deposit offers in our tables.
ANOTHER BIG DROP IN DAIRY PRICES
You can read about that here, and about the implications for the payout here. Neither are positive for the economy over the next year.
GREAT JOBS NUMBERS FOR JUNE
... pity about the pay rises. Labour cost pressures remained contained in the June quarter, with the unadjusted labour cost index up 2.9% from a year ago. But unemployment fell much more than expected, with especially good gains for youth unemployment. At 5.6% the overall jobless rate is the best since 2009.
TAME HOME LOAN MARKET
Last week was a bit weaker than the week before for home loan approvals, and they are about -15% lower in volume than the same period a year ago, about -9.4% down in value.
KIWIBANK JOBS TO GO
Kiwibank is to be restructured and this will impact staff as 80 jobs are expected to be shed. A restructuring charge is to be booked.
GUNG-HO FOR IRRIGATION
The Waitaki District Council has decided to invest in the second stage of an irrigation scheme that would water an additional 10,000 hectares of North Otago farmland. The council will also increase its loan to the North Otago Irrigation Company from $12.5 million to $22 million to help fund stage two. It said there is widespread local support for the decisions.
IPHONE 6 MAY GET NFC FEATURE
Apple is apparently going to unveil its iPhone 6 on September 9. This will be watched closely by the financial services sector to see whether Apple incorporates the near field communication (NFC) technology being used in the New Zealand Trusted Service Manager (TSM) mobile wallet project. Currently only Android smartphones have NFC technology.
INSURANCE SETTLEMENTS REACH HALFWAY POINT
The ICNZ today claimed progress now that half the Christchurch earthquake claims have been 'resolved'. Not everyone was impressed, however.
WHOLESALE RATES
Swap rates were basically unchanged today. The 90 day bank bill rate was also unchanged again at 3.71%.
OUR CURRENCY
Following the sharp fall in dairy prices, the NZD sank today. It got no bounce from the relatively good employment numbers. The NZ dollar is now down about 1c at 84.3 USc, is at 90.7 AUc and the TWI is at 79.1.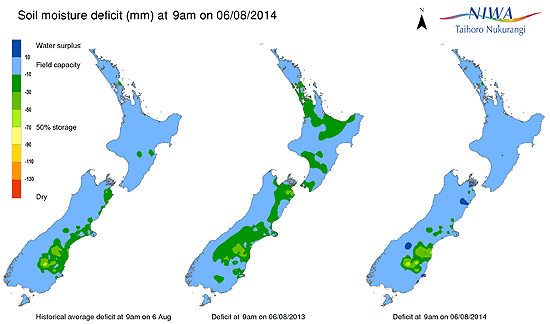 You can now see an animation of this chart. Click on it, or click here.