New package to help about 90,000 lower and middle income first home buyers over the next five years, says Nick Smith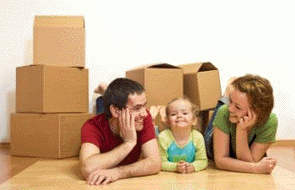 Content supplied by the National Party
The Government is doubling support for first home buyers to help tens of thousands more young New Zealanders into home ownership and encourage the building of more affordable new homes, Housing Minister Dr Nick Smith says.
"This new package will help about 90,000 lower and middle income first home buyers over the next five years. It will ensure more New Zealanders are able to attain the dream of owning their own home, giving families greater security and building stronger communities," Dr Smith says.
The package comprises three changes:
Replacing the KiwiSaver First Home Deposit Subsidy with a KiwiSaver HomeStart Grant, doubling the support for buying a new home and increasing the house price limits;
Enabling larger KiwiSaver First Home Withdrawals by including the member's tax credit (meaning first home buyers will now be able to withdraw all of their KiwiSaver savings except the $1000 kick-start);
Expanding eligibility for Welcome Home Loans by aligning the house price caps with the new KiwiSaver HomeStart Grant.
"We are roughly doubling the number of people receiving a Government grant to buy a first home from 10,000 per year to 20,000 per year, and doubling the Government grant they are eligible for if buying a newly-built home," Dr Smith says.
"The focus of this package is to increase the supply of new housing and to encourage housing companies to build homes in a price range affordable for first home buyers.
"The house price limits for KiwiSaver HomeStart and Welcome Home Loans will be $550,000 in Auckland, $450,000 in Wellington, Christchurch and other similarly-priced housing markets, and $350,000 for the rest of the country."
Currently, first home buyers are eligible for a grant of $3000 after three years in KiwiSaver, $4000 after four years and $5000 after five years. Under KiwiSaver HomeStart, this grant will double to $6000 after three years, $8000 after four years and $10,000 after five years for the purchase of a newly-built home.
The changes to the KiwiSaver First Home Withdrawal in enabling access to the member's tax credit will increase the maximum withdrawal amount by $512 per year for each year a member has contributed.
The KiwiSaver First Home Withdrawal is limited to members buying a first home, who have been contributing for a minimum of three years. The KiwiSaver HomeStart Grant and Welcome Home Loans have additional criteria of people having an income below $80,000 for an individual and $120,000 for a couple, and the house being purchased must be below the regional house price limits.
"This new package extends the help for all first home buyers who are in KiwiSaver although the amount of extra help depends on the amount they earn, the number of years they have contributed, and whether the house they are buying is new and whether it is within the regional house price caps. The support is targeted to people on modest incomes buying modest homes," Dr Smith says.
"The package means a couple in Auckland each earning $50,000 who have contributed to KiwiSaver for five years will be able to withdraw $35,000 and receive a $20,000 KiwiSaver HomeStart Grant, giving them a $55,000 deposit on a new home. With the Welcome Home Loan scheme allowing only a 10 per cent deposit, they will be able to buy a home up to $550,000 in value.
"Home ownership has been in decline since the mid-1980s and census data shows the greatest decline amongst 20-to 35-year-olds. This package is targeted to help this group and enable them to get on to the housing ladder earlier. Two-thirds of the group expected to benefit from KiwiSaver HomeStart are in this age bracket.
"This is the most significant Government support for first home buyers in more than a generation and will come into effect on 1 April 2015. KiwiSaver HomeStart will cost an additional $218 million over the next five years."
The additional expenses incurred in 2014/15 will be a charge against the between Budget contingency established as part of Budget 2014. The additional expenses incurred in 2015/16 and later years will be a pre-commitment against Budget 2015.
"KiwiSaver HomeStart complements our work that is freeing up more land supply, reducing building material costs, reining in infrastructure and compliance costs and investing in sector skills and productivity," Dr Smith concluded.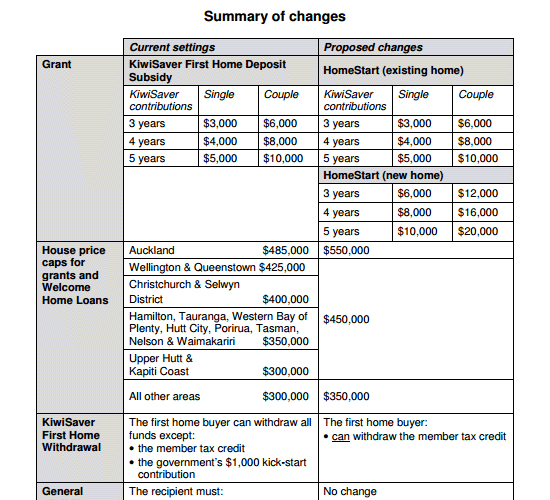 Here is the Labour Party response:
National applies band-aid to housing crisis
The Government's flagship housing announcement is a band-aid approach that will push up prices rather than solve the housing crisis, says Labour Leader David Cunliffe.
"House sales to first home buyers have collapsed as a direct result of the Government's failed housing policies, and now they are offering up a sticking plaster.
"If this is the best they can come up with after six years of denial and delay, they don't deserve to be in government.
"They refuse to actually build the many thousands of extra houses that are needed. And they refuse to tax speculators.
"All they are offering is some help with a deposit for a few thousand extra home buyers, and letting people borrow their own retirement savings, when tens of thousands of Kiwi families are afflicted by the housing crisis.
"That will not even offset the higher deposit requirements under this government's loan to value ratios (LVRs).
"The fundamental problems are lack of supply of housing, planning rules that constrict development, and unrestricted speculation.
"Unmet demand is driving house prices through the roof, and instead of addressing the fundamental problem now National wants to spend $218 million of  taxpayers' money to fuel demand even more. It will drive prices even higher.
"Labour will fix the housing crisis by building 100,000 affordable homes for first home buyers. Labour will also remove the current tax preference for speculators, and issue a National Policy Statement under the RMA directing Councils to increase the supply of new housing," said David Cunliffe.