Wheeler says Auckland housing surge not a factor in OCR decision as RBNZ not seeing same 'wealth effect' on spending, CPI; but still concern for financial stability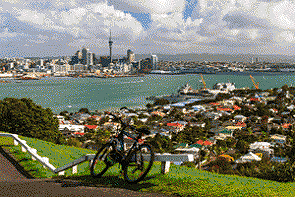 By Bernard Hickey
Reserve Bank Governor Graeme Wheeler has ruled out the resurgent Auckland housing market as a reason why the Reserve Bank did not cut interest rates.
Wheeler told a news conference after the release of the bank's Monetary Policy Statement the bank was not seeing same wealth effects on consumer spending and CPI inflation as was seen during the 2002 to 2007 housing boom when households used their surging home equity as an ATM for a spending spree that pushed up consumer prices.
Wheeler said the pickup in Auckland housing inflation to an annual rate of 13% in the three months to January was not a factor in the Reserve Bank's decision to leave the Official Cash Rate at 3.5%, rather than cut it.
"No. We're concerned about the Auckland house prices for financial stability reasons," he said when asked if the Reserve Bank had not cut rates because of fears about pouring petrol on the Auckland housing price.
"You're not seeing the sorts of wealth effects feeding into consumption that you were seeing in 2006 and 2007. You're seeing quite a lot of consumption growth in the economy, but a lot of that is because of employment growth and strong income growth. We don't appear to be seeing the sort of behaviour we saw in 2006 and 2007 -- strong wealth effects feeding into consumption," he said.
"We're concerned about the Auckland housing market for financial stability reasons, but it didn't affect the way we thought about monetary policy."
The Reserve Bank wasn't seeing the "transmission effects" of wealth to consumption to inflation "at this point in time" as was witnessed in the 2003-2007 period, he added.
Micro-prudential and macro-prudential
Wheeler was then asked if the bank was planning to use any new macro-prudential measures to slow the Auckland housing market, including its announcement last week of proposals to put rental property mortgages into a separate class for capital adequacy purposes that might allow the central bank to require more capital to be held against those loans. He had said in December the bank was not considering any more macro-prudential moves, other than the high loan-to-value ratio (LVR) tool already in use.
"We haven't made any judgement or decisions on macro-prudential," he said, adding there had been discussions internally at the Reserve Bank about the sorts of loan to income multiple tools used by the Bank of England.
He then referred to the Reserve Bank's toolkit of macro-prudential measures in its memorandum of understanding with the Finance Minister, which include the potential for a Counter Cyclical Capital Buffer and a Sectoral Capital Overlay, that would allow increased risk weightings for capital requirements for housing loans.
"We talk about those as possibilities and also look at what other countries have done -- Ireland and England, but we really haven't made any decisions on this," he said.
Breach of Policy Targets Agreement?
Wheeler was then asked if the Reserve Bank was running monetary policy too tight and had breached its Policy Targets Agreement, given annual CPI inflation has been below the mid-point of the bank's 1-3% target range since September 2011 and is forecast to be below 1% for five consecutive quarters until March next year.
He defended the bank's actions, saying he expected inflation to move back towards the mid-point of 2% once the effects of last year's slump in oil prices wash through.
"The main reason why inflation has been below the mid point is primarily because of the high exchange rate and inflation in the traded goods sector. Tradables inflation has been negative now for three years and it's due to many factors, including low overseas inflation. It's due to exporters cutting prices to maintain market shares and its due to falling capital goods prices and it's due to our high exchange rate," Wheeler said.
Wheeler said non-tradable inflation had fallen from around 3% to around 2.5% and he expected it to gradually pick up over time as the output gap is forecast to increase.
"There's sound reasons why we've been below the mid-point, but we see future inflation heading towards the midpoint again as the oil price effects work through the economy," he said.
The Reserve Bank said it was informed about the 1080 threat three months ago and it had no effect on the Reserve Bank's monetary policy decision.
"We're different"
Wheeler said New Zealand's economic situation was different to other advanced economies, including seven that had eased monetary policy in 2015.
"Many of those economies are struggling with low growth or have large amounts of excess capacity or high and rising unemployment," Wheeler said.
"We're in a different situation. We've got an economy that's growing at around 3.25% to 3.5%, and we're projecting it to continue to grow at those sorts of rates over the next two years. We've got a positive output gap. We've got strong employment growth over the last 12 months of 3.5% and record levels of net migration running at 48,000 to 50,000 and record levels of (workforce) participation at around 70%," he said.
"Our situation is quite different to those economies that have eased monetary policy or cut interest rates. The cost of capital here doesn't appear to be a major constraint for business and we still believe monetary policy is expansionary, and we've seen falls in fixed term interest rates," he said.
Wheeler said the fall in the oil price was responsible for a fall in CPI inflation this year of about 0.9%.
"But it wouldn't make sense to try to offset that in any way through monetary policy. It's a relative price effect. We focus on monetary policy in the medium term because monetary policy affects inflation through a 12-18 month lag, and the Policy Targets Agreement recognises that. It directs Monetary Policy to focus on medium term trends in inflation when faced with price level shifts of this sort," he said.
"The key issue for us will be to what extent does wage and price setting behaviour change in the economy. That's the most critical thing," Wheeler said, pointing to a recent fall in inflation expectations to around 2% since 2013.
"The issue will be: will wage and price setting behaviour moderate further, causing inflation expectations to fall. If that did, and we were assessing that to be something that would be sustained over time, then that's something that would affect our thinking on monetary policy."