PM says Government will have to "rip up" RMA reforms and go back to drawing board; says will have to abandon rewrite of sections 6 and 7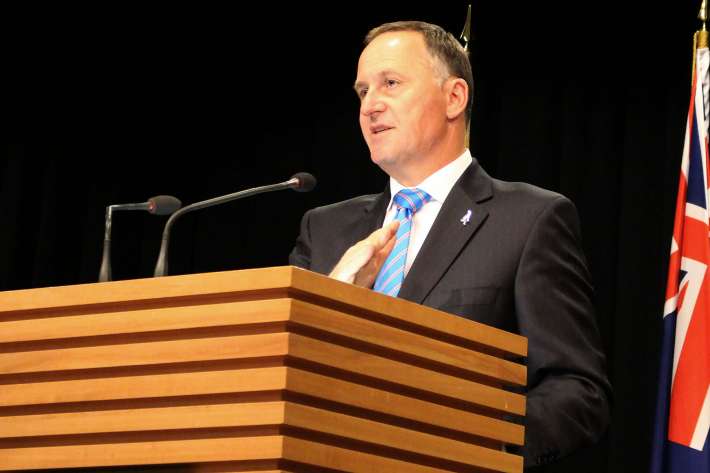 By Bernard Hickey
Prime Minister John Key has abandoned any hope of a substantial re-write of the Resource Management Act (RMA) after the election of New Zealand First Leader Winston Peters as the MP for Northland.
The election of Peters has reduced National's ranks in Parliament to 59, which means it needs the support of either Peter Dunne or the Maori Party to support contentious legislation such as RMA reform. Dunne and the Maori Party opposed a National plan in the 2011-14 term to rewrite sections 6 and 7 of the RMA, which govern its principles around environmental protection. National wanted to introduce other aims such as economic development and affordable housing and Environment Minister Nick Smith had signalled in a speech in January that National wanted to introduce affordable housing into sections 6 and 7.
Key told Morning Report the Government the election of Peters would make governing more difficult, but not massively difficult. It would, however, scupper the Government's hopes for major RMA reform in this term.
"With RMA reform, there's just no question we've got to rip up what we've got now, go back to the drawing board and have another go," Key said.
"There's quite a lot of procedural stuff in the RMA that other parties will support, and Peter Dunne has indicated that he will, but when it comes to the core bit we were wanting to change -- section 6 and 7 of the Act -- Peter Dunne has publicly said he won't support it and I'd be surprised if he would -- so we just don't have the numbers because I can't see anyone else supporting it," he said.
"We can go away and look at it, but there's just no question there'll have to be a rewrite of those (proposals to reform) sections 6 and 7 of the RMA. We're going to have to go back to either the current law or something else that others will agree to, but they won't agree to much change, or any."
The Government had pinned its hopes for speeding up new housing supply on RMA reforms, which are also needed to replace the Special Housing Areas Act, which expires in 2016.
'Key ambitious for Northland'
Key said the Government had to learn from the Northland vote, but the vote had not been normal because it had been a 'two-horse' race once Labour Leader Andrew Little suggested to Labour voters they 'send a message' to the Government and back Winston Peters. The Greens also did not stand a candidate.
"We bled a bit of vote to Winston Peters, but not nearly as much as people think. Generally our vote has stayed with us. It was just we didn't get all the other stuff we pick up and we didn't get the vote splitting that we always get," he said.
Key said he personally thought the Government had represented Northland well, but there were "challenges" and the message he took from the result was: "They're ambitious for Northland and they want it to do better. To do better we have to do a number of things and it will be very interesting to see what role Winston wants to play in that."
He referred to an upcoming Nga Puhi settlement legislation, which he said New Zealand First had not supported in the past.
"What they need up there is more investment from the private sector. That would be easier with RMA reform, but will he vote for that? I doubt it."
'Most will say 'Yeah whatever,' on tide turning talk
Key told Stuff's Tracy Watkins the Government had received a message from Northland, but he denied it was a tipping point for the Government.
Key said the result reflected very localised concerns, rather than any sign of a loss of broader support.
"Unquestionably there's a message from Northland. They want their region to be more prosperous. We need to listen to that message and work on helping them to achieve their ambition for their region. No question about it we accept that message and take that on board," he was quoted as saying.
"But the beginning of the end? Most people will go yeah, whatever."
'Special set of circumstances'
National's campaign manager Steven Joyce would not agree it was a humiliation for the Government, describing the by-election result as a "unique set of circumstances."
Joyce told The Nation he took responsibility for the loss, which he said the Government would learn from.
"We'll be very focussed on learning what needs to be learned and actually making sure that it makes us stronger and tougher in 2017," he said.
However, he denied this showed the Government was facing 'third-term-itis' and it would not over-react.
"It's not a case of being complacent and not listening, but it's also not a case of overreacting in a way that the left obviously want us to."
Winston wants RBNZ reform before RMA reform
Peters downplayed the need for RMA reforms, referring instead to the more urgent need for reform of the Reserve Bank Act.
Peters told Morning Report regional New Zealand was struggling because of high interest rates and a high exchange rate, while the big cities forged ahead on a consumption boom.
"The RMA is now made as the excuse for the lack of progress. It is not the cause of the lack of progress. The central thing up here goes to the heart of the Reserve Bank Act and the fact that people up here in farming and fishing and forestry, as in so many other parts of the country, are trying to compete in circumstances very unfavourable to them, and their incomes are declining," Peters said.
"The RMA has always needed reform. It always would need reform in a modernising economy, but you don't throw the baby out with the bathwater and say that's the reason for the present demise," he said.
"You have a look at the central circumstances where farmers up here face interest rates six, seven times higher than their international competitors, and that's just got to stop. I hope the Government got that message on election night."