Labour says won't introduce Capital Gains Tax in first term; shelves NZ Power plan; Twyford eyes easier rules for medium density housing; targeted rates linked to Council bonds for infractructure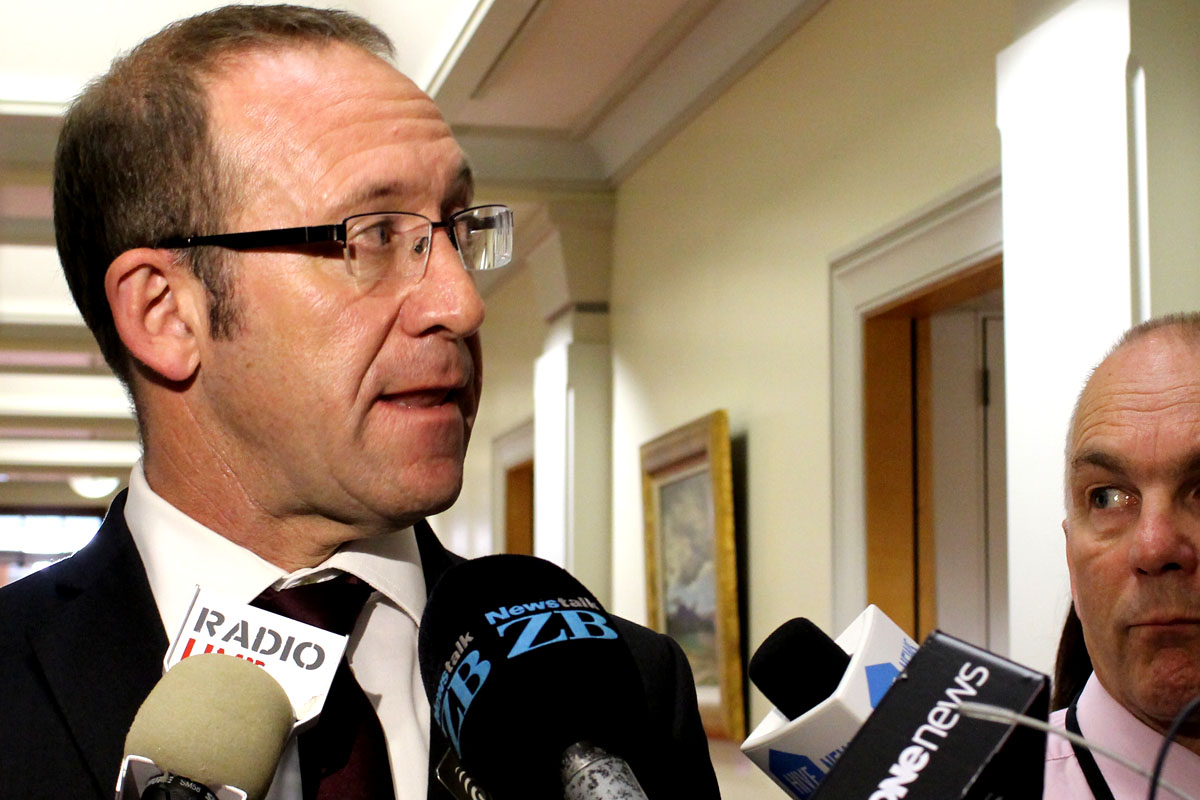 By Bernard Hickey
Labour Leader Andrew Little has formally begun clearing out some of the policies he thinks pushed his party's vote down to record lows last year.
The unpopular policies, which Little signalled he would ditch when campaigning for the Labour leadership in October last year, included a Capital Gains Tax, a delay in the retirement age and a partial nationalisation of the electricity industry.
Little said Labour would not introduce a Capital Gains Tax in its first term and that its New Zealand Power Plan to introduce a Government-owned wholesale buyer of power had been shelved. He also told reporters Labour would not campaign again to extend the retirement age gradually to 67.
Little was speaking around the fringes of Labour's annual conference in Palmerston North, its first since its vote in the September 2014 General election fell to its lowest levels since the 1920s.
"We won't introduce it (CGT) in our first term, and we won't introduce any change that significant to the tax system, any material change to the tax system, without going to the people first and getting a mandate to do so," Little told The Nation on the fringes of the conference.
Little said his advice to the conference was the New Zealand Power Plan, which Labour proposed jointly at the last election with the Green Party, was too complex and should be put on hold.
"We want to reduce power prices, and let's look at the best way of doing that and doing it in a way that we can explain to New Zealanders," he said.
Elsewhere, Finance Spokesman Grant Robertson also said Labour was no longer committed to its 2014 election policy of having a Variable Savings Rate linked to Monetary Pollcy.
"I acknowledge it is actually another complicated policy, and I want to simplify down our monetary policy to be focused in on how we develop jobs, how we make sure work's at the centre of the economy," Robertson told The Nation.
Targeted rates for Council bonds
Elsewhere, Labour Housing Spokesman Phil Twyford said a Labour Government would free up rules on housing density and height controls to make it easier to build medium-density housing, and therefore increase housing supply to improve housing affordability.
He also announced Labour would change the way infrastructure was funded for new housing developments.
"Our new policy will see infrastructure funded by local government bonds, paid off over the lifetime of the asset through a targeted rate on the properties in the new development," Twyford said.
'Super dole and driver's licenses for school leavers'
Also, Robertson said Labour's goal was to reduce unemployment below 4% by the end of its first term in Government.
He also outlined Labour's thinking on policies to emerge from its ongoing Future of Work Commission, including the potential for a higher 'super-dole' to allow job-seekers to retrain between careers and enhanced education so school-leavers have the skills for new jobs. He suggested ensuring all school leavers have a driver's license and be taught computer coding in the early school years. He referred to an NZIER report suggesting 46% of New Zealand jobs were at risk of automation within two decades.
"We urgently need to ensure that young people are equipped with the skills and knowledge to thrive in a rapidly changing world," Robertson said in a speech to the conference.
"Information is now so readily available to us, the real focus of education, and indeed what employers are telling us they want are the soft skills- collaboration, problem solving and critical thinking. But employers also want school leavers to have the basics well covered - a driver's license, digital and financial literacy, entrepreneurial skills and a sense of citizenship and civics," he said.
Later in an interview for The Nation, Robertson referred to a type of 'flexicurity' scheme similar to that used in Denmark where someone who is unemployed immediately gets a higher benefit and goes straight into retraining.
"This is commonplace in countries like Denmark, and as we go into a future of work where we hear that 45% of jobs in the New Zealand economy might be gone in 10 to 15 years, we need a policy that gives people the chance to get the new skills they need for the jobs of the future and have income security while that happens," Robertson said.