RBNZ warns of growing risk of sharp correction in Auckland house prices; says now watching Hamilton, Tauranga too; says dairy debt manageable, but wants banks to do dairy stress tests; RBNZ collecting loan to income multiple data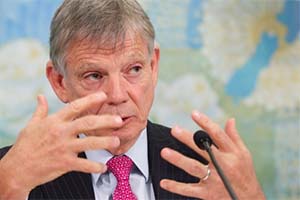 By Bernard Hickey
The Reserve Bank has warned in its half-yearly Financial Stability Report of a growing risk of a sharp correction in Auckland house prices.
It said it was too early to tell if its tougher limits on Loan to Value Ratios for Auckland landlords was reducing those risks. It repeated its estimate of a two to four percentage point reduction in Auckland's annual house price inflation rate because of the measures. It said the new LVR speed limit of 70% for landlords in Auckland was expected to effect 13% of all transactions in Auckland.
"With prices becoming increasingly stretched relative to household income and rents, there is increasing potential for a sharp price correction in Auckland," the Reserve Bank said in the report.
"A correction could be triggered by a range of demand-side factors, such as a deterioration in labour incomes, an unexpected rise in mortgage rates, a reversal of migration flows, or a sudden reduction in investor appetite," it said.
"There is a risk that a downturn could be amplified by a rise in sales by investors, given that investors have more elevated debt to income ratios, and appear to be purchasing on the basis of expected capital gain," it said.
"Falling house prices could in turn weaken economic activity if indebted borrowers attempted to restore balance sheets by reducing consumption."
Now watching Waikato/Bay of Plenty too
Elsewhere, the bank noted house price rises of 18% and 14% respectively in Hamilton and Tauranga.
"While this could be positive for financial stability if it reflects demand shifting from the overheated Auckland market, a prolonged period of rapid house price inflation in these areas could increase financial stability risks," the bank said.
"The Reserve Bank will monitor regional housing markets carefully as the higher LVR speed limit outside of Auckland takes effect," it said.
It also said it had begun collecting data on debt to income multiples and had found 40% of loans were with loan to income multiples of over five, with 60% of landlords borrowing with loan to income multiples of over five.
Governor Graeme Wheeler told a news conference after the release of the report that the bank was not currently considering imposing UK style loan to income multiples or limits on loan serviceability.
Dairy debt modeling
The Reserve Bank also included some new modeling of what might happen to bad loans to dairy farmers if land prices fell as much as 40% and the payout rose only to NZ$5/kg by 2018/19.
It estimated its worst case scenario could see 44% of loans becoming non-performing, with those loans held by 25% of farmers. Eventual loss rates under the scenarios ranged from 2% to 14%, which amounted to losses of around 2-18% of bank before-tax profits.
But overall, the bank said it expected banks to take a medium term approach to dealing with loss-making farmers and it expected the banks to put aside realistic provisions.
"Losses for the banking system as a whole are expected to be manageable, even if low milk prices persist for a number of years," it said.
However, the Reserve Bank said it had asked the five biggest dairy lenders (ANZ, ASB, BNZ, Westpac and Rabobank) to undertake stress tests of their dairy portfolios, "providing an institutional level view of potential losses under similar scenarios." The bank said it expected the results to be returned by the end of the year and would be reported on at a later date.
Although non-performing dairy loans were still low at 1%, up from 0.6% a year earlier, the Reserve Bank said "watchlist loans," that provide a leading indicator of non-performing loans, have increased over the last year and are now running at 5.8%.
Capital review with eyes on Australia
The bank also reiterated that it was reviewing capital requirements for banks over the next year.
"That is motivated, in part, by potential changes to the Basel capital adequacy framework and a likely increase in bank capital requirements in Australia as part of the Financial System Inquiry," it said.
The first stage of the review would deal with issues around the big four banks' internal models approach to risk weighting.
Deputy Governor Grant Spencer said in the news conference the bank did not have a pre-conceived view about the banks needing to put aside more capital, but also said he did not expect banks to need less capital.
"The review is about overall capital adequacy," Spencer said. "We don't expect that capital ratios would be reduced, but it's not necessarily the case that they'll be increased. We do think that we've had a pretty strong set of standards relative to the international norms and we just want to review it again and make sure it continues to be strong compared to international norms."
Economist reaction
Westpac Senior Economist Satish Ranchhod said the Reserve Bank sounded cool on the idea of introducing loan to income restrictions.
"The RBNZ seemed to indicate that it would wait and see how its latest round of mortgage lending restrictions would affect Auckland housing, rather than introduce any new measures to cool the market," Ranchhod said.
"Furthermore, the RBNZ seemed to view the dairy situation as manageable from a banking system perspective," he said.
ANZ Senior Economist Philip Borkin said the Reserve Bank's comments about watching regional housing markets was interesting.
"While changes don't appear to be pending, it suggests to us that the RBNZ would quite quickly re-tighten lending restrictions if these regional pressures were to intensify," Borkin said.
Borkin said the FSR's slightly increased focus on housing rather than dairy must be considered when thinking about monetary policy, but ANZ remained of the view that the next OCR cut would come in March rather than December.
"On the face of it, it makes further OCR cuts much closer calls," he said.
ASB Chief Economist Nick Tuffley said the FSR did not deliver any surprises and had no implications for monetary policy.
"There had been some talk in the lead-up to the FSR that the RBNZ may introduce debt-to-income ratios. However, the practicalities around such restrictions mean that it would be some time before such a measure would be possible, assuming the RBNZ judges the net benefits are worthwhile," Tuffley said.
"For one, there is currently no consistent definition of income across the banks, which would need to be in effect first," he said.
Political reaction
Labour Finance spokesman Grant Robertson said the Government's failure to control the housing bubble was increasing risks to financial stability.
"Graeme Wheeler must be getting sick of sounding like a broken record. In each recent financial stability report he says risks from the dairy and housing sectors are increasing. But each time Bill English ignores him," Robertson said.
"Bill English has failed to fix the Auckland housing crisis. At every step of the way National has ignored warning signs about the housing bubble in Auckland, and now he seems to be paralysed by his fear it will burst under his watch," he said.
"The stark truth from today is Government inaction is fuelling risks to the economy. Graeme Wheeler is the messenger but he is not the solution. Bill English needs to take action now."
Green Finance spokeswoman Julie-Anne Genter said the Reserve Bank's warnings about Auckland house price inflation showed the Government had not done enough to curb property speculation.
"National's failure to take action on housing speculation has left our economy at risk, and is locking out a generation from being able to own their own home," Genter said.
"National finally took a tiny step in the right direction with the two-year bright line test, but the reality is the proposed law before the House has too many loop-holes and is too limited in scope to make a substantial difference in curbing speculation," she said.
"National is continuing to back property speculators making short-term profits, rather than working to unwind the risk to our wider economy that this price bubble is causing."
(Updated with Wheeler saying not considering loan to income limits at the moment and Spencer comments on bank capital review; also comments by economists and politicians)