RBNZ holds OCR at 2.25%; says further easing may be required; notes revival of house price inflation in Auckland; wants lower currency; but NZ$ jumps almost 1 USc to 69.2 USc after decision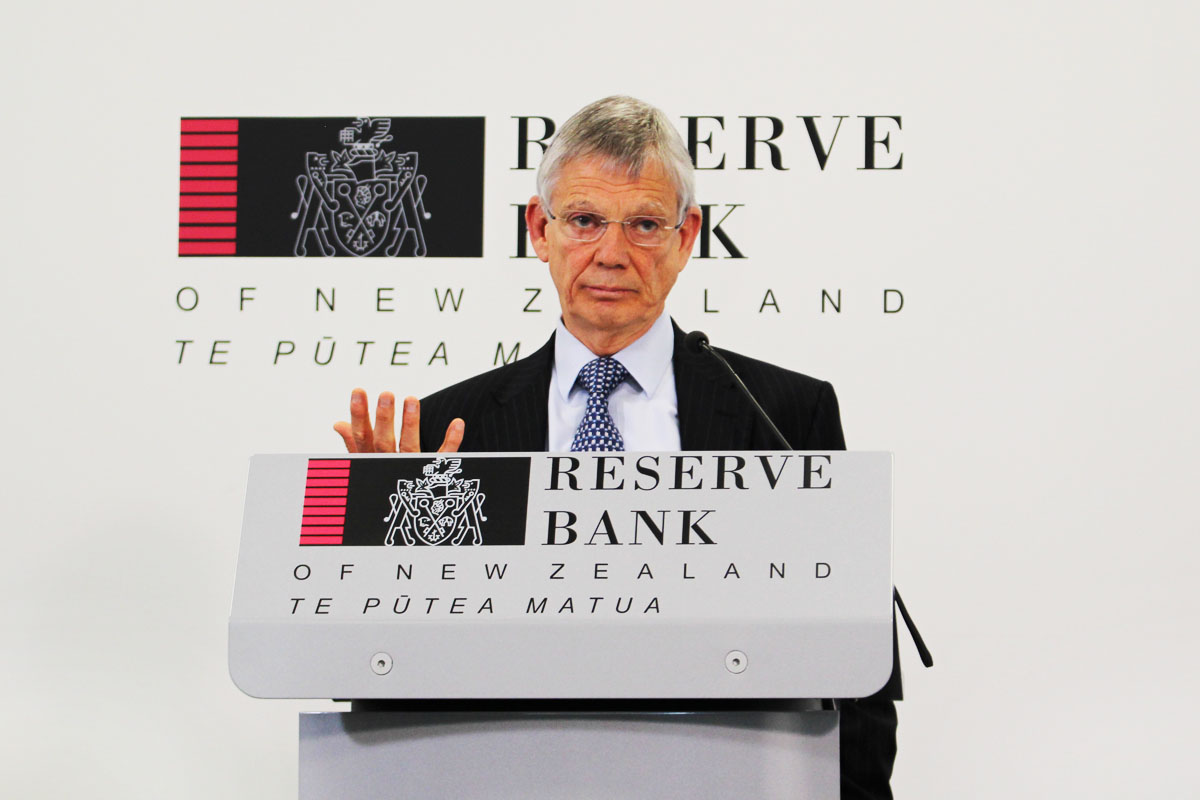 By Bernard Hickey
The Reserve Bank held the Official Cash Rate at 2.25% as broadly expected, but indicated it may lower it again later this year.
However, it warned yet again that it wanted to see a lower New Zealand dollar and it said there were some indications house price inflation in Auckland was picking up.
Only three (BNZ, Kiwibank, AMP) out of 17 economists had expected a cut today, with most expecting the bank to wait until its full June 9 Monetary Policy Statement, which will include fresh forecasts, before cutting to 2.0%. Most economists expect one further cut to 1.75% later this year, although the Reserve Bank itself has only forecast one more cut to 2.0% and today's statement appeared to push back against those expecting a second cut.
Financial market expectations for a cut today were higher than for economists, which meant the decision not to cut triggered a sharp rise in the currency towards 10 month highs in morning trade. Economists also noted the language in the statement was less 'dovish' than expected, which saw two year wholesale interest rates rise 7 basis points to 2.26%.
Financial markets had increased their expectations for a cut to almost 50% from closer to 30% over the last day after much weaker than expected Australian inflation data. The New Zealand dollar rose over 1 Australian cent to a two-month high of 91 Australian cents after the decision, having risen a full cent on Wednesday. Both rises will push the Trade Weighted Index further up beyond the Reserve Bank's 70.9 forecast for the current June quarter. It had averaged 72.7 or 2.5% above that forecast in the June quarter up until yesterday, which will add to deflationary pressures in the non-tradable part of the economy.
"Today's statement suggests that the RBNZ is planning to call time on the easing cycle in the June MPS," Westpac Senior Economist Michael Gordon said.
Governor Graeme Wheeler did not give a specific reason for not cutting, but did point to a heating up of housing inflation.
"House prices remain at very high levels and additional housing supply is needed. Housing market pressures are building in some other regions," Wheeler said in the nine paragraph statement with the decision.
Wheeler referred to uncertainties globally and locally, including "weakness in the dairy sector, the decline in inflation expectations, the possibility of continued high net immigration, and pressures in the housing market."
He said the outlook for global growth had deteriorated over recent months due to weaker growth in China and other emerging markets, although prices for some commodities had picked up, but remained weak.
"Monetary conditions are extremely accommodative internationally, with considerable quantitative easing and negative policy rates in some countries. Financial market volatility has eased in recent weeks, but markets continue to watch closely the policy settings of major central banks," he said.
"Domestically, the economy is being supported by strong inward migration, construction activity, tourism, and accommodative monetary policy. Dairy export prices have improved slightly, but are below break-even levels for most farmers.
Exchange rate warning
Wheeler again commented that he would like to see the currency lower.
"The exchange rate remains higher than appropriate given New Zealand's low commodity export prices. A lower New Zealand dollar is desirable to boost tradables inflation and assist the tradables sector," he said.
The New Zealand dollar jumped almost a full cent to 69.2 USc in the first 10 minutes of trade after the decision.
'Falling short term inflation expectations'
Wheeler said annual core inflation remained within the 1-3% target range and long-term inflation expectations were "well-anchored" at 2%, although he noted there had been a material fall in shorter term inflation expectations.
"We expect inflation to strengthen as the effects of low oil prices drop out and as capacity pressures gradually build," he said.
"Monetary policy will continue to be accommodative. Further policy easing may be required to ensure that future average inflation settles near the middle of the target range. We will continue to watch closely the emerging flow of economic data."
Economist reaction
Westpac's Gordon said the Reserve Bank retained its March comment that "further policy easing may be required".
"We had expected this to be strengthened to something like "further policy easing is likely", wording that the RBNZ has frequently used throughout this easing cycle to signal impending rate cuts," Gordon said.

"We had expected a stronger easing bias from today's statement, based on two factors in particular: the NZ dollar is tracking about 3% higher than the RBNZ's last projection, and higher bank funding costs meant that the March OCR cut wasn't fully passed through into mortgage rates. But the language on the NZD in today's statement was no firmer than it was in March, and mortgage rates were conspicuous by their absence," he said.

"On balance, we still expect another 25bp OCR cut in June - indeed, the market's response actually increases the pressure on the RBNZ to do so. But today's statement suggests that the RBNZ is planning to call time on the easing cycle in the June MPS."
ANZ Chief Economist Cameron Bagrie said a clear easing bias had been maintained, as he had expected.
"At the margin, the tone of the statement was a touch less dovish than in March, although to be fair it was difficult for it not to be," Bagrie said, adding the statement had something for everyone.
"The door to a June OCR cut remains open, and that remains our forecast for now. But we see this as very much a line-ball call (we see the odds of a cut at about 60%)," he said.
"Yes, reasons for cutting exist (dairy, NZD strength amidst currency games from other central banks, low inflation expectations, funding cost pressures, and the likely return of global financial market turbulence). But when weighed against a domestic economy that is still operating near trend, evidence that core inflation is stabilising and capacity pressures intensifying, re-leveraging behaviour evident and housing markets booming, we remain of the view that additional easing may not be in the best interests of the economy."
ASB Chief Economist Nick Tuffley said he still expected the Reserve Bank to cut in June, in line with the central bank's own forecasts.
"The statement, however, gives little added urgency relative to that of March's, and no hint that the RBNZ is currently anticipating a need for the OCR to drop below the 2% level the RBNZ's forecasts currently imply.  Nonetheless, we still see downside risks to the inflation outlook and expect the RBNZ will cut the OCR to 1.75% by August," Tuffley said.
"It is increasingly apparent that the housing market was gathering momentum around the country even before the March OCR cut.  Further OCR cuts will give the market even more of a boost and bring the RBNZ's financial stability mandate into more conflict with the price stability goal," he said.
"It is increasingly likely that, if the RBNZ cuts the OCR further, it also expands its current lending restrictions.  However, as the past few years have shown, these restrictions only have a temporary effect when demand and supply are fundamentally out of balance."
BNZ Economist Craig Ebert, who had forecast a cut today, said he was glad the Reserve Bank had not cut and had issued a less dovish commentary than in March.
"This represents yet another inter-meeting shift of tone and emphasis from the RBNZ, which continues to frustrate us," Ebert said.
"That being said, we are pleased with the way the Bank pushed back a bit today, with, ultimately, a more balanced view on the challenges it faces," he said.
Political reaction
Labour Finance Spokesman Grant Robertson said Government complacency had left the Reserve Bank with little room to move.
"Graeme Wheeler has made it clear he has concerns over the international economy, increasing house prices in Auckland and other regions, and low milk prices. But with no action from the Government on any of these issues the Reserve Bank has few options but to stick with the status quo," Robertson said.
"Bill English's complacency has put the economy in a holding pattern. Inflation is non-existent, the exchange rate is stubbornly high and growth per person has been described by economists as 'sluggish'. On the other hand house prices are skyrocketing again and the Governor has warned the housing boom is spreading from Auckland to other regions. Unaffordable housing will be a blow to regions trying to encourage business and workers to move there," he said.

"Mr Wheeler can't do it all on his own. The Government needs to take action on multiple fronts – that will make it easier for the Reserve Bank to do its job. There must be action to diversify the economy away from reliance on dairy and substantive policies to rein in the housing market."
Green Finance Spokeswoman Julie Anne Genter said the Government's failure to fix Auckland's housing market had forced the Reserve Bank to hold the OCR, which was hurting exporters and jobs.
"The Bank clearly blamed runaway Auckland house prices and the lack of adequate housing supply as one of the key reasons for its decision to keep the OCR unchanged today.National needs to introduce strong measures that will contain house price inflation in Auckland instead of leaving it all up to the Reserve Bank to manage with one tool — interest rates," Genter asid.
 "Higher interest rates are keeping the New Zealand dollar higher, suppressing exports and contributing to the largest annual trade deficit since April 2009," she said.
"The responsible policy from Government would be a comprehensive capital gains tax (excluding the family home) to remove the unfair tax incentive to invest in property. A ban of foreign buyers would also help reduce excess demand for Auckland houses.If the Government is serious about dealing with Auckland supply constraints, it should be building more homes, especially affordable homes to help first home buyers rather than property investors."
(Updated with more market and economist reaction, and chart)