Reserve Bank cautious on further LVR controls; only says 'closely monitoring developments to assess whether further financial policy measures would be appropriate'; tells Govt to worker harder on housing supply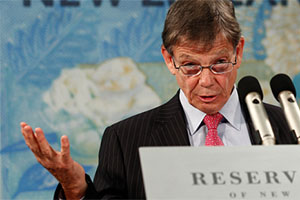 By Bernard Hickey
The Reserve Bank has pushed again for the Government and Auckland Council to do more to increase housing supply as it grapples with an Auckland housing market that is heating up again and worsening the outlook for financial stability.
The bank released its half-yearly Financial Stability Report (FSR) this morning, including a vague comment about assessing the need for further financial policy measures, but Governor Graeme Wheeler was much more specific in a subsequent news conference, saying the bank was actively considering introducing debt to income multiple limits or toughening existing Loan to Value Ratio controls, possibly for all of New Zealand as well as Auckland. See more from the news conference here.
Earlier in the FSR, the bank stopped short of signalling new Loan to Value Ratio (LVR) controls, saying only that it was 'closely monitoring pressures returning to the market' that had increased the risks to the financial stability outlook and was assessing whether 'further financial policy measures would be appropriate' -- without specifying those measures.
Instead, the bank called on the Government and the Auckland Council to do more to increase housing supply.
"The Bank remains concerned that a future sharp slowdown could challenge financial stability given the large exposure of the banking system to the Auckland housing market," Governor Graeme Wheeler said in a statement released with the bank's half yearly Financial Stability Report (FSR).
"Further efforts to reduce the imbalance between housing demand and supply in Auckland remain essential. This includes measures such as decreasing impediments to densification and greenfield development and addressing infrastructure and other constraints to increased housing supply," Wheeler said.
Deputy Governor Grant Spencer said in the statement with the Report that the moderation in house price inflation after the Reserve Bank's second round of LVR controls in November last year had been transitory, but the two rounds of controls had substantially reduced the proportion of risky housing loans on bank balance sheets and improved financial system resilience.
"The Reserve Bank is closely monitoring developments to assess whether further financial policy measures would be appropriate," Spencer said.
Banks may need to borrow NZ$40 bln offshore
The Reserve Bank included a detail discussion of the international environment and the financial risks to the New Zealand economy and its financial institutions in the half yearly report.
It said credit growth had accelerated across the household, agricultural and business sectors over the last 18 months to the point where aggregrate credit growth was now outpacing deposit growth.
"This may induce banks to compete more aggressively for retail deposits, or to increase their reliance on long-term wholesale funding, either of which could place upward pressure on bank funding costs," the bank said, adding that higher funding costs would keep lending rates up relative to the OCR and short-term wholesale rates.
The bank noted a 50 basis point rise in offshore funding costs over the last year, relative to domestic wholesale rates.
In particular, the bank noted that banks may have to raise up to NZ$40 billion in longer term wholesale debt offshore over the next three years to meet their Core Funding Ratio (CFR) requirements if they kept growing lending at currently high rates.
"Bank lending is growing more rapidly than deposits. If this trend is maintained, banks may lower their CFRs from current levels. Alternatively, banks may choose to protect their CFRs by issuing longterm wholesale funding to fund new lending and to replace long-term funding as it approaches maturity," the bank said.
"It is estimated that locally incorporated banks will need to issue around NZ$40 billion of long-term wholesale funding in the next three years to maintain CFRs if lending and deposit growth persist at current rates," it said.
"Banks could also maintain their current CFRs by competing more aggressively for deposit funding, or by reducing the rate of lending growth."
Australian policy changes worsens funding pressures
The bank also noted that funding pressures may be worsened by a new policy imposed by the Australian Prudentual Regulatory Authority (APRA) on the big four Australian-owned banks' parents in late 2015.
"Funding pressures for the Australian-owned New Zealand banks may also be exacerbated by changes to requirements imposed on parent banks under APRA's Prudential Standard APS 222," it said.
"These changes give Australian parent banks five years from the start of 2016 to reduce non-capital exposures to their New Zealand operations to less than 5 percent of Tier 1 capital. In addition, banks that had non-capital exposures to their New Zealand operations in excess of the 5 percent limit at end-June 2015 must reduce the percentage excess by at least one-fifth each year over the fiveyear transition period," the Reserve Bank said.
"The Reserve Bank understands that the affected New Zealand banks have plans in place to accommodate these new requirements and transitional arrangements."
See more on this from Gareth Vaughan on March 12.
High interest-only lending noted
The Reserve Bank did not discuss what financial measures it might be assessing to respond to the revival of the Auckland housing market and the spreading of the 'Auckland halo' to the rest of the country, but it did highlight the growing use of interest-only loans by investors in particular and a rise in debt-to-income ratios.
"Credit growth is likely to exceed income growth in the near term, resulting in higher debt relative to incomes. Low mortgage interest rates have helped to contain debt servicing costs but the household sector would be vulnerable to an increase in interest rates or an economic downturn. While a large increase in mortgage rates seems unlikely in the current global environment, a relatively small increase could put pressure on some borrowers," the bank said.
"There are signs of a build-up in risk among new borrowers. For example, a large share of new lending is extended at high debt-to-income ratios. With gross housing lending flows remaining strong at around 35 percent of the outstanding stock, this is being reflected relatively quickly in banks' overall portfolios," it said.
The Reserve Bank noted that housing credit growth had risen this year to 8%, its highest rate since 2008.
"New housing commitments are also elevated at around 35%  of outstanding housing debt. This suggests that the characteristics of new commitments will be reflected relatively quickly in banks' overall portfolios. This increases the risks associated with the high share of lending being undertaken on interest-only terms or at high total debt-to-income multiples," it said.
"There is a risk that strong house price growth could result in a further stretch in household debt-to-income. While low interest rates have helped to contain debt-servicing ratios (DSRs) for New Zealand as a whole, high and rising debt levels leave households vulnerable to an increase in mortgage rates or a deterioration in economic conditions," it said.
"A large increase in mortgage rates is unlikely in the current global environment, barring a significant deterioration in the cost of bank funding. However, a relatively small increase in interest rates could place pressure on some borrowers, especially those with high debt-to-income ratios. This is particularly the case in Auckland, where DSRs for new buyers are elevated, even at current low interest rates. If interest rates returned to the 10-year average of 6.7 percent, DSRs for the representative new buyer in Auckland would significantly exceed the pre-GFC peak."
'Pressures returning to the market'
The bank said its November 2015 LVR controls had a bigger impact than expected because of the associated disclosure and 'bright line' test measures taken by the Government in October, with annual inflation in Auckland falling from 27% in September to 12% in March, but the impact appeared to have been transitory.
"It is likely the housing-related government tax changes, together with an apparent reduction in offshore demand due to global financial market volatility and more rigorous enforcement of capital controls by Chinese authorities, also restrained housing demand over this period. The fact that ex-Auckland house sales also declined, despite looser LVR restrictions, reinforces this view," the Reserve Bank said.
"While this is a positive development, Auckland prices are still very high relative to both incomes and rents, and near term indicators suggest pressures may be returning to the market," it said.
"A resurgence of house price inflation in Auckland would be of real concern, given that prices are already very stretched relative to incomes and rents."
It also warned it was watching housing market inflation that was rising outside of Auckland.
"Housing market pressures have been particularly pronounced in the areas immediately surrounding Auckland, but increasingly these appear to be spreading to other major centres. To some extent this reflects a shifting of demand, which may be helping to alleviate some pressure from the Auckland market," the bank said.
"House price-to-income ratios are generally lower in these areas than in Auckland, and housing supply is likely to respond more rapidly, which could act as a brake on further house price appreciation. However, there is a risk that house prices outside Auckland are driven to levels that pose a financial stability risk," it said.
'Supply not meeting demand'
The Reserve Bank warned that continued market pressures could further stretch house prices in Auckland, given the supply shortfall was still growing.
"Auckland house prices picked up strongly in the February and March months and house sales have lifted from recent lows. Market participants also report an increase in auction clearance rates relative to late 2015 levels. There remains a risk that continued market pressures lead to further stretch in house prices," it said.
"The shortfall of available housing stock is expected to increase this year as population growth outstrips the supply of new housing. Net migration into Auckland remains strong, with more than 30,000 migrants moving to the city in the year to March. Although building consents have also risen, to 9,600 annually, the supply of new housing is insufficient to match the increase in demand arising from migration and natural population growth," he said.
"Continued house price growth in excess of income growth could present a risk to financial stability as household balance sheets of new borrowers become increasingly stretched. Concerns would be raised if high house price inflation was sustained across New Zealand, or if price growth was accompanied by rising investor activity and expectations of significant future capital gains."
Scenario shows dairy farm prices could fall 19% to 63%
The Reserve Bank spent part of the FSR discussing the risks to dairy lending and repeated much of its dairy stress test work published earlier this year, noting that banks were supporting farmers.
"There have been relatively few forced sales to date which, alongside low interest rates and a positive medium-term outlook, has provided some support for farm prices. Nevertheless, prices have fallen 13 percent over the past year and there is a risk of further price declines if cash flow pressures result in more forced sales," it said.
It also included a discussion on how over-valued farm prices might be in Box B. That included modelling of two scenarios that could see farm prices fall anywhere from 19% to 63%.
Banks pass new stress test
The FSR's Box C included the results of a new stress test of banks by the central bank, which was slightly less detailed than a full stress test in 2014.
The stress test assumed real GDP fell by 6 percent, unemployment rose to 13 percent, and dairy incomes remained at low levels. It assumed residential property prices fell by 40 percent nationally and by 55% in Auckland, while commercial property values fell 40%.
"Finally, the 90-day interest rate fell by about 3 percentage points due to monetary policy easing, although banks typically assumed a partially offsetting increase in funding spreads above risk-free rates. Banks were asked to simulate the impact of this scenario on loan portfolio performance, and to trace through the implications for their balance sheet and profit and loss statement," the bank said.
"The cumulative hit to profits averaged around 4 percent of initial assets, which is a similar outcome to phase 2 of the full regulator-led exercise conducted in late 2014. About 30 percent of total losses were related to mortgage lending, with half of this due to the Auckland property market. SME and rural lending accounted for most of the remainder of financial system losses. Loss rates for mortgage lending were around 2 percent, significantly lower than the 5 percent loss rate observed for most other sectors," the bank said.
"The underlying profitability of banks – earnings from core activities, prior to accounting for bad debt expenses – is a first line of defence against rising loan losses. On average, banks assumed a moderate decline in net interest margins during the scenario, reflecting rising defaults reducing interest income and the assumed increase in funding spreads. However, in line with the experience of the GFC, banks expect to be able to maintain net interest margins at around 2 percent by eventually passing on higher funding spreads to customers (rather than reducing mortgage rates by the same amount as the OCR). As a consequence, underlying earnings during the scenario were of a similar magnitude to reported credit losses, so that return on assets averaged around zero," it said.
The bank said that although projected credit losses were largely absorbed with underlying profitability, capital ratios were expected to decline throughout the scenario because of a rise in average risk weighting.
"Although remaining well above the regulatory minimum, the average Common Equity Tier 1 (CET1) capital ratio declined from 10.3 to 8 percent as a result. The total capital ratio came under more pressure, due to smaller initial buffers to the regulatory minimum. As a result, the average bank reported falling into the upper end of the capital conservation buffer in the final year of the test, which would trigger restrictions on dividend payments to shareholders."
(Updated with links to tougher comments in news conference)
You can receive all of our property articles automatically by subscribing to our free email Property Newsletter. This will deliver all of our property-related articles, including auction results and interest rate updates, directly to your in-box 3-5 times a week. We don't share your details with third parties and you can unsubscribe at any time. To subscribe just click on this link, scroll down to "Property email newsletter"and enter your email address.