RBNZ Governor to talk about his concerns over the new Trump Administration; Kiwi dollar drops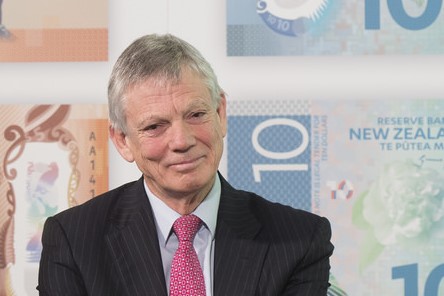 By David Hargreaves
Reserve Bank Governor Graeme Wheeler is worried about the potential impact of the new Trump administration.
He's apparently so concerned about this, that he's taken the most unusual step (for him) of giving a public interview just a day before he's going to give a speech on the matter tomorrow (Thursday).
The New Zealand dollar, which has hovered around or above the US72c mark for the past week has dropped sharply, by about three-quarters of a cent today to US71.5c.
Wheeler, who is to stand down later this year when his five-year term ends, has been interviewed only infrequently in his term as Governor, and gave just two on-the-record public speeches last year.
Wheeler's speech tomorrow is titled: "Some thoughts on the balance of risks around the Reserve Bank's monetary policy setting."
In an interview with veteran political journalist Richard Harmon, Wheeler gave an advance preview of the content of the speech, by saying that the greatest source of uncertainty for New Zealand concerns the new Trump Administration's  'America first' policy platform.
"Although a substantial US fiscal stimulus could be positive for growth in the global economy, the prospect of a marked increase in protectionism – coming at a time when global trade is growing slowly, and trade disputes are increasing – would have sizeable impacts on the global economy," Harmon reports Wheeler as saying.
Wheeler says increased protectionist measures "would represent a negative global supply shock".
He cites recent simulations conducted by the OECD, which estimate the potential impact of a general ten percentage point increase in trade costs imposed by the major trading economies – the US, Europe, and China.
"Such an increase could have a major impact, especially on the countries introducing these restrictions: their GDP could fall by 2% to 3%; imports by 5% to 10%, and exports by 10% to 15%, with the US the worst affected.
"And the rest of the world would suffer too from falling GDP, imports, and exports."
Wheeler says that as far as NZ is concerned, Even if our exports of goods and services to the US—currently over $8 billion - were not directly subject to higher tariffs, we would be hard hit by a downturn in the global economy, including among our main trading partners, in response to the direct and indirect impact of protectionist measures.
"We would experience lower global demand and weaker commodity prices.
"Our exporters would also experience efficiency losses and increased costs if they faced disruptions to established supply chains.
"We would also experience spillovers as foreign producers' diverted trade in response to tariffs and more general trading conditions.
"World financial conditions would also change as heightened uncertainty and a rise in global risk aversion would likely lead to higher external funding costs even as global growth slows.
"In such a situation portfolio flows may shift to larger more liquid financial markets and our exchange rate could fall, placing upward pressure on domestic prices and eroding real incomes."