RBNZ Governor Graeme Wheeler says there's equal probability the next official interest rate movement is either up or down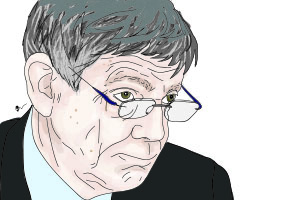 By David Hargreaves
Reserve Bank Governor Graeme Wheeler says there's an equal probability that the next official interest rate movement is either up or down.
Speaking to Craigs Investment Partners' Investor Day in Auckland, Wheeler said the RBNZ's February Monetary Policy Statement included a neutral bias with an unchanged Official Cash Rate (which stands at 1.75%) track until late 2019.
"Risks around future Official Cash Rate movements are equally weighted, reflecting balanced risks around inflation."
The New Zealand dollar moved up very slightly from about US71.4c to US71.6c after the speech was published.
This is the first public on-the-record speech by Wheeler this year and since he revealed he will be standing down later this year when his five-year term ends.
The normally public speaking-shy Wheeler, who made just two on-the-record speeches last year, took the unusual step of pre-advertising some of the content of this speech with an on-the-record interview, which highlighted his concerns about the new Trump Administration's 'America First' policy.
In the actual speech today Wheeler said: "In effect, there is an equal probability that the next OCR adjustment could be up or down.  We consider the balance of risks for the global outlook to be downside.  For the domestic economy, there is some potential upside for output growth if migration and commodity prices turn out to be stronger than forecast, but the risks around inflation look balanced."
'Housing imbalances'
Wheeler said the possibility of worsening imbalances in the housing market remains a major risk with continued low interest rates and strong migration, and rising construction cost inflation reflecting increasing resource pressures. 
"There are upside risks in respect of our migration projections.  Although departures remain low, arrivals have continued to increase with arrivals by migrants on work visas being particularly strong in recent months."
New Zealand house price indicators (such as the growth in real house prices, house price-to-income ratios and house price-to-rent ratios) are "very high internationally and historically".  
"At a time of heightened uncertainty, households are particularly vulnerable to a correction in house prices given the large rise in household debt since 1990.  Household debt is now equivalent to around 165% of household disposable income, up from 100% in 2000 and 60% in 1990.
"Households are also exposed to a normalisation in mortgage rates given the short interest rate duration of the mortgage market (with 89% of mortgage loans re-pricing within two years). In addition, the share of lending at debt-to-income ratios of over 5 and 6 has increased steadily for all borrower groups since September 2014."
If the economy were to develop in line with the RBNZ's economic projections then the OCR would remain at its current level over the next two years, Wheeler said. 
"However, small open economies such as New Zealand are hit by multiple shocks and the Bank assesses whether these, or a combination of them, warrants a change in monetary policy."
Wheeler said that domestically, there were several uncertainties around the economy, including the future path for commodity prices, the exchange rate, migration, the housing market, and household saving. 
"The greatest source of uncertainty currently lies around the housing market and the possibility that imbalances in the housing market might deteriorate.  Fortunately, house price inflation has moderated substantially in recent months, but it's too early to say whether this moderation will continue.
"Another risk is that the exchange rate remains higher than projected in the MPS, suppressing tradables inflation and net exports.  As we indicated in the MPS, whether monetary easing would be required to offset this would depend on the factors driving the exchange rate (e.g. weaker global growth, higher commodity prices) and how domestic capacity pressures were changing."
US fiscal stimulus
Wheeler said it was too soon to be specific about the nature and size of fiscal stimulus in the US under the new administration. 
"However, the possibility of a significant US fiscal stimulus represents an upside risk for New Zealand.  A significant stimulus would boost economic demand in the US and spillover to other countries. New Zealand would benefit through higher commodity prices and increased exports to the US and to our other trading partners experiencing higher growth as a result of the US stimulus.
"Modelling within the Bank suggests that a fiscal expansion that boosts US GDP by 1% would increase New Zealand's GDP by around 0.3% after 18 months. This increase in GDP results from higher commodity prices and expanded trade with the US and other regions benefiting from the US stimulus.
"In the absence of offsetting changes, the Federal Reserve would likely need to tighten monetary policy more quickly than currently expected and the expectation and implementation of increases in the Fed Funds rate would put upward pressure on the US exchange rate.  US long term interest rates would be expected to rise given the increased Government debt issuance.
"In New Zealand, our long-term interest rates would be expected to increase and flow into higher mortgage rates, but the tightening in monetary conditions might be offset by some weakening in the NZ dollar exchange rate."