Bill English doesn't want Winston Peters anywhere near NZ's monetary policy settings but can't rule him out becoming Finance Minister - says that's up to voters to decide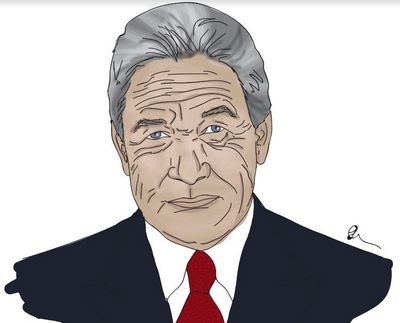 By Alex Tarrant
Prime Minister Bill English says he doesn't want New Zealand First leader Winston Peters anywhere near monetary policy post-election, but can't and won't rule him out becoming Finance Minister.
Speaking to a live Herald interview Tuesday, English was asked if he could calm 'the market' by ruling out any influence on New Zealand's monetary policy settings from Peters if National formed a government with New Zealand First after 23 September.
While he responded initially that "we certainly wouldn't want Mr Peters around monetary policy," when pushed English said he could not completely rule out Peters ending up as Finance Minister as voters might "put us in that position".
The line "voters will decide that" is increasingly being used by National when it comes to questions on dealing with Peters after the election. Technically it's up to the National Party on who it turns to regarding coalition deals and Cabinet positions for MPs from other parties. But it's a good line that no doubt English (and probably Jacinda Ardern) will keep repeating as they try to win back voters from the fringes.
Peters wants New Zealand to shift from its current monetary policy model of using the Official Cash Rate (OCR) to influence short term interest rates to a Singaporean model, where currency intervention is used as the tool to target price inflation; the Monetary Authority of Singapore (MAS) does not set a base interest rate like the OCR. Former RBNZ economist Michael Reddell has critiqued Peters' monetary policy designs in depth over at Croaking Cassandra.
New Zealand dollar and bond traders are closely watching the election outcome for what signals it might send on interest rate and currency settings here after 23 September.
Labour has announced it would give the Reserve Bank a dual mandate of price inflation and maximum employment. Its finance spokesman Grant Robertson initially said Labour would not tell the Bank which mandate to favour at any one time and that he would not set a numerical maximum employment target.
However, in his Labour Party Congress speech in May, Robertson promised that a Labour-led government would ensure a headline unemployment rate of 4% by the end of its first term in 2020 – a setting that could well be inflationary, particularly if the OCR had been set lower-than-usual to influence a fall in unemployment/rise in employment. He has also said Labour would continue with the Policy Targets Agreement for the RBNZ to target CPI inflation of 1-3% on average over the medium term.