Acting Governor Grant Spencer says upcoming review of RBNZ's macro-prudential tools should add 'carefully designed' debt to income or debt servicing tool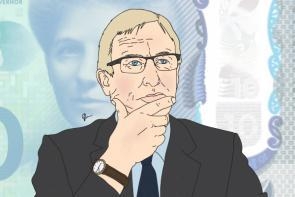 The upcoming review of the Reserve Bank's macro-prudential toolkit should give serious consideration to adding some sort of debt servicing ratio, says the Reserve Bank's Acting Governor Grant Spencer.
The Reserve Bank's five year-old macro-prudential toolkit will be reviewed this year with Treasury as part of the Government's review of the Reserve Bank of New Zealand Act. Spencer, who is due to hand over the reins to Adrian Orr later this month, says he'd like to see the four tools currently in the toolkit retained, with a debt to income (DTI) or debt servicing instrument added.
"You will recall that the [Reserve] Bank consulted on including a DTI instrument in the toolkit last year. That process was overtaken by the general election and a decision on inclusion or otherwise was deferred to the upcoming macro-prudential review. The DTI is a natural complement to the LVR [loan-to-value ratio tool], focused on reducing the risk of borrower default. Many macro-prudential authorities overseas view some form of debt servicing ratio as a key anchor and safeguard for macro-financial stability. The review should give serious consideration to adding such an instrument to the toolkit," Spencer said.
His comments came in a speech to the Institute of Finance Professionals New Zealand (INFINZ) in Auckland. Spencer said the views expressed were his own, and not a formal Reserve Bank position.
The four tools currently in the Reserve Bank's macro-prudential toolkit are LVRs, the counter cyclical capital buffer, the core funding ratio, and sectoral capital ratio. Restrictions on high LVR residential mortgage lending have been in place since 2013. None of the other tools have yet been implemented by the Reserve Bank in a macro-prudential context. (See background on the four tools here).
Whether the Reserve Bank could get the government backing it requires for a DTI ratio tool remains to be seen. When in opposition last year Finance Minister Grant Robertson said Labour didn't support DTI ratios for first home buyers. 
Meanwhile, last year Spencer described a DTI ratio above five as "pretty high."