Ex-PM & ANZ NZ chairman John Key tells Mike Hosking of rising loan delinquencies & problems ahead for the global economy. Finance Minister Grant Robertson & ANZ respond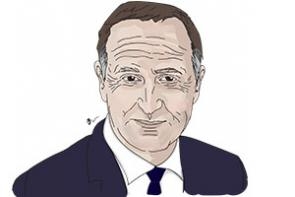 Fresh from attending the National Party's annual conference on the weekend, ex-Prime Minister John Key has detailed a gloomy prognosis for the global economy in an interview with Newstalk ZB's Mike Hosking.
Despite starting with a cheery "morning Mikey" Key's message was a sobering one. Now chairman of New Zealand's biggest bank, ANZ New Zealand, Key said ANZ's seeing rising loan delinquencies, albeit off a low base.
He noted the June quarter 4.1% Gross Domestic Product growth recorded by the United States was "tremendous," but suggested the way it was delivered wasn't. "Very, very large" budget deficits of about 7% of GDP were behind the US growth, Key told Hosking.
"The point isn't that the US has a problem today, but it will have a problem down the track owing the better part of $20 trillion," said Key.
"If you look across to Australia, and to a degree we're seeing it in New Zealand at ANZ, you have had a big build up of private sector debt. Households have borrowed a lot over the last decade or so and that is absolutely slowing down. You're starting to see an increase in [loan] delinquencies - people who are not making their payments on investor properties off a very low base, but [it's] starting to rise."
As of March 31 its latest disclosure, ANZ NZ had $562.3 million worth of non-performing loans, equivalent to 0.4% of its $126.8 billion of total loans.
Asked about Key's comments, an ANZ NZ spokeswoman told interest.co.nz: "Sir John Key, who also sits on the ANZ Group Board out of Australia, was mostly referring to overseas trends. As Sir John said, in New Zealand overall mortgage lending growth has slowed in recent years. There has been some seasonal increases in delinquency rates for investor properties but overall these remain at record lows. This is considered a normal part of the credit cycle."
Key also told Hosking that on a recent trip to China, for the first time when he has visited, some "big names" were privately telling him they've been surprised by the amount of corporate collapses.
"The Government there [China] can't allow any more credit growth because that has been phenomenal in the private sector over the last decade. So they're really saying 'look, you've got to grow without credit growing' and there's real concerns about that and land prices," Key said.
And you go to Europe and you've got a situation where you're starting to see, in Southern Europe again, a return to some of the concerns we had back in 08 when I became Prime Minister."
"I don't know when the correction is coming I'm just saying to you that if you look out on the horizon there are some troubled waters out there," Key told Hosking.
He then moved onto the NZ economy.
"If you look at what has driven a lot of New Zealand's demand in the time I was Prime Minister from 08 to 16 [2008 to 2016] it was a significant increase in migration, a very strong housing market, a lot of confidence running around in the business community, what was very low interest rates, and over time globally a capacity for governments to spend a lot of money," Key said.
"Add in to all of that a China that was very, very strong and growing and spending enormous amounts of money."
"And what I would say is if you look at what's happening at the moment in the New Zealand economy most of those factors that drove that very strong economy are either being taken off the table or are reducing. That's the right of the Government. I'm not criticising that, I'm just simply saying that if you want to continue to stimulate the New Zealand economy the question is what replaces those factors and that's the question the Government ultimately needs to answer," said Key.
Finance Minister Grant Robertson responds 
Newstalk ZB also sought a response from Finance Minister Grant Robertson. He told Hosking that as a small, open exporting nation New Zealand always needs to be very aware of what's happening globally.
"And there's no doubt that particularly the trade war between China and the US is starting to put some pressure on the Chinese economy. There are obviously issues in Europe, with Brexit as well," Robertson said.
"That's why we've been cautious in keeping the debt levels relatively low and having that surplus for the classic rainy day."
Robertson also defended the Government's stance on foreign investment.
"We're talking about [stopping foreign] investors speculating on the housing market. If there are investors that want to come in and add to the productive economy, who want to build houses, who want to build hotels, we're open to that and we continue to need foreign investment in our productive economy to give us the standard of living that we want," Robertson told Hosking.
"We've got a policy programme, we're rolling it out. I've done over 20 interactions with the business community right around the country since the budget and actually there's a high degree of optimism about people's own activity. [But] business confidence levels sadly do tend to track who is in government as opposed to being linked to GDP growth. The last time Labour was in government business confidence levels were even lower than they are now and we had average growth of 3.2%."