ASB cuts one rate to 3.95% but raises two others as the sub 4% rate level embeds in the current home loan market; only three stragglers to go now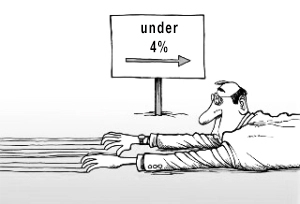 Yes, ASB has joined the under 4% mortgage rate party. But it feels like they are following reluctantly.
ASB, which is the second largest mortgage bank in New Zealand, has adopted the 3.95% one year fixed price point.
But the bank has taken the opportunity to raise rates for two other fixed terms, one of which ASB was market-leading on.
Its 'special' rates only require customers to have a minimum of 20% equity; that is, an LVR of 80% or less.
ASB is raising its 18 month 'special from 4.15% to 4.29%. That will leave Westpac on 4.15% and HSBC Premier is still offering 3.85% for 18 months fixed.
And ASB is raising the hot three year rate of 4.39%, which was market-leading, up by +10 basis points to 4.49%. That is a level adopted by just about every bank.
ASB's changes are all effective on Wednesday, November 14.
So far today (Tuesday), wholesale swap rates are moving very little, with just a hint of weakness for durations of three years and above.
After today's shift by ASB, only three banks are not offering a sub 4% fixed mortgage rate; Kiwibank, Co-operative Bank and TSB.
As at June 2018, ASB had 64.9% of its loan book in mortgages. That is the largest proportion of any of the big Aussie banks operating in New Zealand, and of the majors is only higher at Kiwibank which has 88.9% in housing loans. The bank with the most balanced loan book is BNZ with 47.3% in housing loans and therefore the only bank that can't be called a mortgage bank.
Update: The Co-operative Bank has trimmed its one year rate from 4.19% to 4.15%.
Kiwibank earlier had a sub 4% rate, but that has since expired.
See all banks' carded, or advertised, home loan interest rates here.
Here is the full snapshot of the fixed-term rates on offer from the key retail banks.
In addition to the above table, BNZ has a fixed seven year rate of 5.95%.
And TSB still has a 10-year fixed rate of 6.20%.