David Chaston looks at the changes in average loan size for new lending for first home buyers, owner occupiers, and housing investors to try and locate the stress points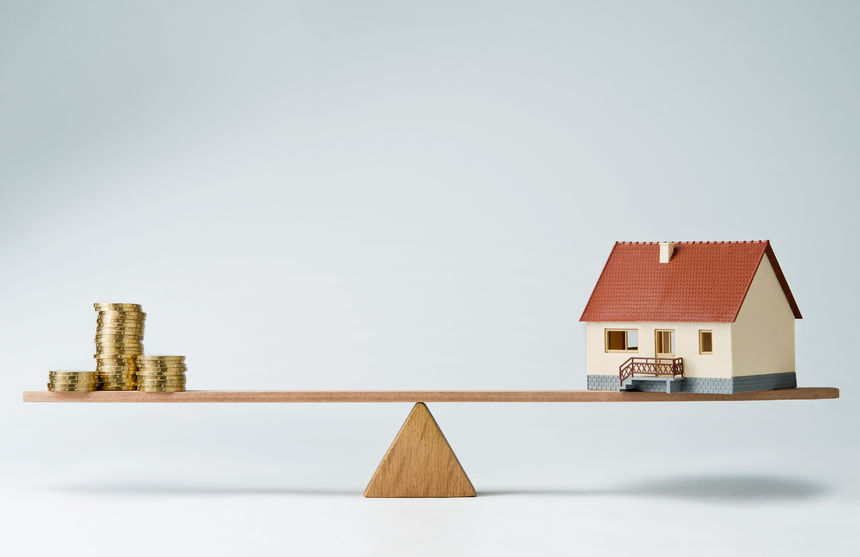 By David Chaston
Is the average new mortgage getting larger or smaller?
Does the average home loan size track house prices?
How pervasive is the use of mortgage debt capacity as an ATM for household spending?
These and many others are questions fundamental to understanding the risk borrowers are taking, not only for themselves, but for our overall financial stability as well.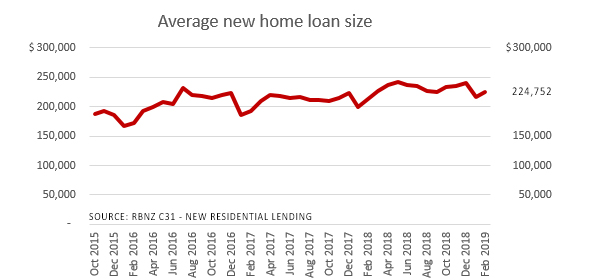 While these questions are actually hard to answer definitively, the Reserve Bank (RBNZ) does publish data on the value and volume of new mortgage lending, and this gives some insights. The chart above is from the RBNZ series C31.
Before we get into what this data shows, you should note a difference between the charts used in this story and the related tables. In the charts, the rate of change is from the current three months compared with the same three months a year ago. In the tables the 'change %' is a strict change from the listed month compared to the same month a year ago. When charted, the month-vs-month view is quite volatile, so the three-month-vs-three-month view smooths out that volatility.
Another point to note is that we don't have anything but national data for C31. This is an issue when trying to make sense of the averages and growth because the Auckland market is overweight in 'value'. Readers will need to draw their own assumptions about what this means and we have supplied both national and Auckland regional house price data in all the following tables to help give a sense of what that might be.
All properties
Average
loan size
 
Median
house price
 
Average
LVR
 
change
change
 
$
%
$
%
%
Feb 2015
178,660
 
430,000
 
41.5%
Feb 2016
172,275
- 3.4%
450,000
+4.7%
38.3%
Feb 2017
192,112
+11.5%
496,000
+10.2%
38.7%
Feb 2018
212,532
+10.6%
530,000
+6.9%
40.1%
Feb 2019
224,752
+5.7%
560,000
+5.7%
40.1%
The RBNZ C31 data series can break this down by types of borrowers. And from that data we can derive averages over time for first home buyers, owner occupiers, and residential investors.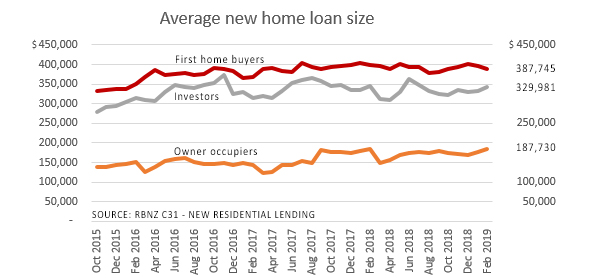 While there is a clear separation between the averages of each type, it is harder to ascertain borrower behaviour from this chart. To do that, we have tracked year-on-year changes. That gives noisey results, so the following are rolling three-month results and the trends stand out more clearly that way.
First home buyers
It should not be a surprise, but this data clearly shows that first home buyers are not increasing the size of the obligations they are taking on, in national aggregate at least. Household affordability gives the upper limit.
There may also be a geographic shift embedded in this data however. As first home buyers retreat in the high-priced Auckland market, it is possible that the averages here are being helped by fewer Auckland transactions, more regional transactions and thereby moving the weight of transactions to less expensive properties on lower priced markets.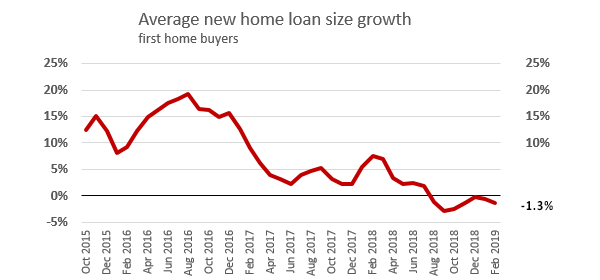 Over all of 2017, the total volume of loans to first home buyers decreased. From 2018 onward they have been increasing. Without regional data it is not possible to know the impact of the non-Auckland mix variance, but that does correlate quite well with poor Auckland home loan affordability data we have.
The following table offers loan size comparison data matched against both the New Zealand national house price, and separately against the Auckland house prices. We have chosen to do the comparison at the lower quartile level because this is the more likely entry level for first home buyers.
This data doesn't make a lot of sense nationally with the effective loan-to-value ratio (LVR) looking like it is more than 100%. Clearly, this is a result skewed by the Auckland factor. And for Auckland alone, LVRs lower than 60% seem unlikely as well. So it is clearly somewhere between, likely above 80%. The tell-tale is that the 2019 data in this table suggests a slight relief and it might be a reasonable guess that this is more to do with the mix moving away from Auckland than anything else. Certainly this data shows Auckland first quartile house prices are not declining - just as they aren't nationwide. But those Auckland prices are more than 70% higher than the national average. NZ-excluding-Auckland prices will be lower again.
First home buyers
 
Average
loan size
 
NZ
lower quartile
house price
 
AKL
lower quartile
house price
 
NZ avg
LVR
AKL avg
LVR
 
change
change
change
 
$
%
$
%
$
%
%
%
Feb 2015
310,462
 
292,000
 
510,000
 
106.3%
60.9%
Feb 2016
349,704
+12.6%
300,000
+2.7%
600,000
+17.6%
116.6%
58.3%
Feb 2017
367,081
+ 5.0%
332,000
+10.7%
630,000
+ 5.0%
110.6%
58.3%
Feb 2018
399,231
+ 8.8%
360,000
+8.4%
668,000
+ 6.0%
110.9%
59.8%
Feb 2019
387,745
- 2.9%
391,000
+8.6%
680,000
+ 1.8%
99.2%
57.0%
The data doesn't allow us to be definitive, but it helps us focus on better questions.
Owner occupiers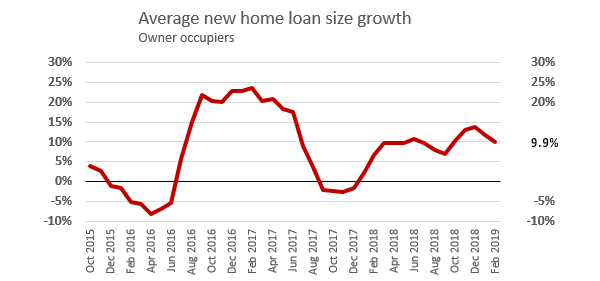 What stands out here is that the average loan size for owner occupiers is still rising, and rising currently at about a +10% pa rate.
These are 'new loans' for borrowers who already own a property. 'New loans' are defined that way as 'new to the bank'. To be a 'new loan' that must mean the borrower has changed banks. Or they are trading up. To be increasing so solidly, such borrowers must be upping their leverage, prior capital gains as a deposit on a new 'better' house, or are using their home as an ATM.
And it has been going on, on average, for a while. It was only in the shadow of the Global Financial Crisis that real deleveraging took place.
But remember, the great bulk of owner-occupier borrowers are not doing this. The data only captures the ones who are.
We don't actually know how many homes have mortgages. In fact, things are more complicated than that. Many homes may have more than one mortgage. Borrowers may split their borrowing between fixed and floating, or a range of fixed terms. That all adds to the number of 'loans' against which 'new loans' are counted. About the only thing we can say is that there will be fewer houses than loans, but we just don't know how many fewer. You might assume that the ratio of loans-to-houses is pretty constant, and if you accept that then the trends from the data can be useful. But we actually have no way to test that the loans-to-houses relationship is stable.
Owner occupiers
 
Average
loan size
 
NZ
median
house price
 
AKL
median
house price
 
NZ avg
LVR
AKL avg
LVR
 
change
change
change
 
$
%
$
%
$
%
%
%
Feb 2015
139,265
 
430,000
 
687,000
 
32.4%
20.3%
Feb 2016
126,546
- 9.1%
450,000
+4.7%
770,000
+12.1%
28.1%
16.4%
Feb 2017
155,233
+22.7%
496,000
+10.2%
827,000
+ 7.4%
31.3%
18.8%
Feb 2018
173,185
+10.9%
530,000
+6.9%
855,000
+ 3.4%
32.7%
20.3%
Feb 2019
187,730
+ 8.4%
560,000
+5.7%
850,000
- 0.6%
33.5%
22.1%
About three quarters of all new home loans are to existing owner occupiers - as they switch banks or raise their leverage. That may seem like a high percentage, but it is actually likely to be a low proportion. The last time the RBNZ disclosed the number of housing loans in 2004 there were 1.1 million of them. This new C31 data shows that in the past year there were only 17,200 owner-occupier borrowers, suggesting an annual churn of about a bit over 1%. That is very low.
These few borrowers have been raising their leverage as house prices rose. But it is clear that their ability to do that in the next few years will be curtailed.
These types of borrowers are unlikely to threaten financial stability with this type of behaviour. With about 98%+ of borrowers not doing this, they are very much the outliers. In the past year, their 'new loans' amounted to just 15% of all mortgages, and the house-as-ATM factor is probably about 1.5%. (Of course, it will be more than this, because redraws with the same bank that don't require new loan documents are not captured in the C31 data.)
Investors
Residential housing investors seem much more restrained than owner occupiers. For at least the past three years the average loan size has changed very little. This suggests these borrowers take out the initial funding, then set and forget it.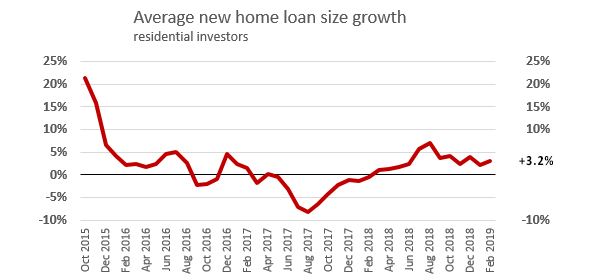 The data also suggests that there are affordability limits for investors as well, limits that are pretty strictly adhered to. In five years the average new loan size has only grown by +7.5%.
If rents have been reasonably stable until recently, debt levels would have had to remain restrained as well for the commercial side of the investment to remain in balance.
Residential housing investors
 
Average
loan size
 
NZ
lower quartile
house price
 
AKL
lower quartile
house price
 
NZ avg
LVR
AKL avg
LVR
 
change
change
change
 
$
%
$
%
$
%
%
%
Feb 2015
306,595
 
292,000
 
510,000
 
105.0%
60.1%
Feb 2016
315,749
+ 3.0%
300,000
+2.7%
600,000
+17.6%
105.2%
52.6%
Feb 2017
310,585
-  1.6%
332,000
+10.7%
630,000
+ 5.0%
93.5%
49.3%
Feb 2018
316,916
+ 2.0%
360,000
+8.4%
668,000
+ 6.0%
88.0%
47.4%
Feb 2019
329,981
+ 4.1%
391,000
+8.6%
680,000
+ 1.8%
84.4%
48.5%
Having said that, rents have started to rise more quickly in 2019, and that might be behind the recent lift in average loan values.
The main takeaways
This data doesn't deliver a clear conclusion. But it does help frame better understanding of new mortgage level trends.
My key takeaway is what it it doesn't show. It doesn't show pervasive irresponsible borrowing. In fact, you can hardly see any evidence of borrowers splurging with debt. Sure, there may be a few outliers who use their mortgage as an ATM for conspicuous consumption, but that does not show up in the data at all. Loan growth on average is quite restrained.
And this data shows we need it regionally because the twist the large Auckland market gives to the national figures can't be separated here. It should be. The risks to financial stability might be growing in the Auckland market under the cover of national averages. Who knows? (Well, hopefully the RBNZ knows.) If we guess that they might be, then the rest of New Zealand needs policy decisions that isolate the remedies to where the problems are. Only with regional data can we discuss this more intelligently.
The restraint of both first home buyers, and also investors, is good to see. It suggests borrowers are making sensible financial decisions. First home buyers aren't ignoring affordability risks and investors aren't ignoring sensible commercial settings.
And finally, it is surprising and reassuring that the churn implied by the level of owner occupied borrowing is very low indeed.
C31 is a helpful resource. Let's hope that the RBNZ plans to include regional data.
*This article was first published in our email for paying subscribers early on Thursday morning. See here for more details and how to subscribe.