Chris Trotter catches up with Roger Douglas and can't help comparing and contrasting his strong vision and transformational policies with the current government's lack of these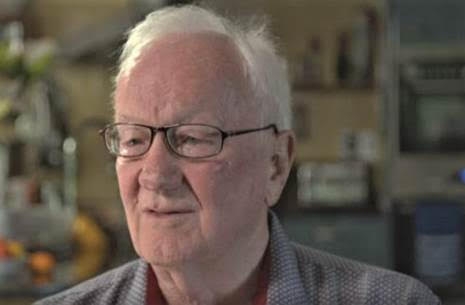 By Chris Trotter*
It says much about the health of our democracy that such a thing should come to pass. That two men holding radically divergent views were able to meet and drink coffee together without descending into loud and rancorous disagreement. That one of those men was Sir Roger Douglas says even more.
To say I was surprised that the architect of the economic changes which transformed New Zealand between 1984 and 1990 wanted to meet with me would be to understate the case considerably. For most of my adult life I have, one way or another, fought and criticised what came to be called "Rogernomics". Not just privately, down at the pub with my lefty mates, but publicly, in print and on the airwaves. I even helped to form, and stood as a candidate for, NewLabour – the political party whose whole raison d'être was to roll Rogernomics back. And yet, here was Sir Roger Douglas on the other end of the line, inviting me to assess his latest ideas for improving New Zealand – kanohi ki te kanohi – over coffee.
It is not my place to summarise or in any other way represent those ideas, Sir Roger has his own plans for that. Suffice to say that they extend and elaborate upon ideas foregrounded in his books Towards Prosperity and Unfinished Business. What I can do, however, is report upon my response to the man – and to make some comparisons.
It is a common refrain, among the under-50s, that Rogernomics is the most enduring legacy of the Baby Boomer generation. Not true. Sir Roger Douglas was born in December 1937, nearly two years before the outbreak of the Second World War. His earliest experiences were not of post-war prosperity, but of the hardships and austerity of wartime and its immediate aftermath. In cultural flavour, Sir Roger is more Frank Sinatra and Patti Page, than Bob Dylan and the Beatles. In political terms, Sir Roger's experience was of National Party governments cruising to victory on the strength of Labour Party achievements and ideas. He thus came to understand early that ideas matter, and that some legacies can last too long.
That ideas still matter to this spry 81-year-old was obvious from the moment we settled into a quiet corner of the Orvieto Café on Auckland's Mt Eden Road. He had brought with him an impressive stack of papers – each containing page-after-page of carefully calculated figures. And the way he argued from those figures swept me back more than 30 years to the "Great Economic Debate" initiated by Labour Party president, Margaret Wilson. That debate had become an urgent necessity as it began to dawn on Labour's membership that the government of David Lange and his frenetic Finance Minister was going to be remembered for something more than declaring New Zealand nuclear-free.
This is how I described Sir Roger's defence of his new Goods & Services Tax at the Otago-Southland regional conference of the Labour Party in April 1985:
"Douglas is messianic. He scrawls figures on the blackboard with violent energy, barking out his arguments like a Parade Sergeant. There is an aura of absolute conviction about the man that is taking its toll on the waverers. Will they hold?"
Well, we all know the answer to that question. Labour's GST is internationally famous for being the only value-added tax that left the government responsible for its introduction as – if not more – popular after its implementation than before.
And he's still got it. As I listen to Sir Roger take me through his ideas on superannuation, education, health and housing, I feel that same nagging doubt; that same fear that I and my comrades may simply not have what it takes to break the man's spell. Just as in the mid-1980s, it is not a matter of whether or not Roger Douglas is right, but of whether or not his opponents have the ability to persuade a majority of voters that he's wrong.
It is precisely in this area that the present government is so woefully deficient. Neither in Labour's ranks, nor NZ First's, nor the Greens, is there a "policy aggressor" remotely equal to Sir Roger. Jacinda Ardern is every bit as effective as David Lange at conveying emotion – better even. But, just ask Jacinda to set forth a compelling case for "transformational" change in any of the policy areas dear to her heart: child poverty; affordable housing; climate change; and she is reduced to ums and ahs and buzzwords. It's embarrassing.
Nowhere near as embarrassing, however, as the vapid presentations of her Finance Minister, Grant Robertson: a man for whom the expression "conventional wisdom" might have been invented. Is there anyone, in the New Zealand business community, I wonder, who'd be willing to wager that Robertson has ever sat down to privately crunch the numbers underpinning a comprehensive economic agenda of his own devising? Or, that he has ever seen an orthodox idea for which he was not willing to jeopardise his own government's popularity? Or, that there has ever been a new and transformational policy presented to him upon which he was not happy to heap the scorn of his advisers?
I could go on – but why bother. There is simply no one in Jacinda's Cabinet to match Roger Douglas, or his back-up band of Richard Prebble and David Caygill. And, could anyone honestly describe the hands of New Zealand's current Deputy-Prime Minister as being the equal in safety to those of Geoff Palmer's?
Perhaps that is why, before allowing Sir Roger to begin his presentation, I made one of my own. Because I simply could not miss this strange opportunity to tell him that although we have been on opposite sides of the crucial economic and political debates of the past 35 years, it would be remiss of me not to thank him for showing people like myself that it really is possible to transform a society. That a group of politicians, possessed of a strong vision – backed up by policies for which they have made themselves the most persuasive of advocates – can make the most astonishing changes. Not only that, but that such politicians can defend those changes with sufficient passion and skill to secure their re-election.
Thinking about the way Jacinda has become so fond of ruling-out the "Big Change" tactics of Rogernomics, I simply had to tell him that. Because, whatever else may be said about Sir Roger, New Zealanders are forever in his debt for demonstrating with "absolute conviction" that ideas matter; that some legacies can last too long; and that radical change is possible.
---
*Chris Trotter has been writing and commenting professionally about New Zealand politics for more than 30 years. His work may be found at http://bowalleyroad.blogspot.com. He writes a fortnightly column for interest.co.nz.