How to think about savings safety and returns. We build a template to help you think about alternatives to term deposits before you talk to a professional adviser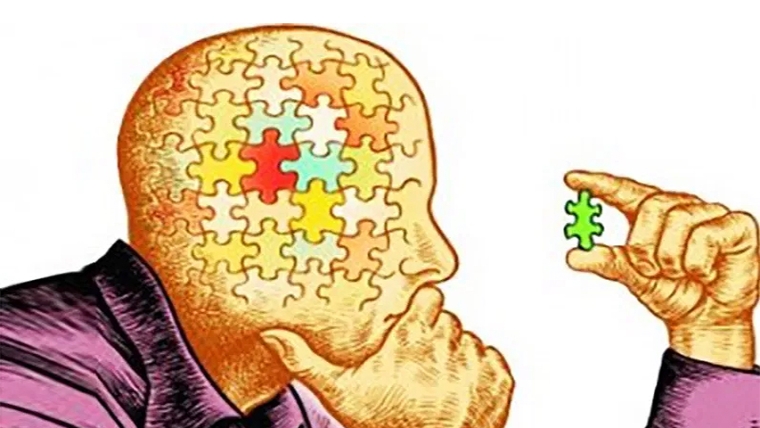 Term Deposit interest rates are very low. And they may go even lower.
So, what alternatives are there?
A year ago we posed that question, and since then term deposits returns have fallen relentlessly, shoved lower by monetary policy.
But as returns have evaporated, savers' attractions to them have increased. Amounts on deposit have risen regardless.
That is not to say savers are happy about the situation, but the point remains, they are a key focus of savers all the same.
In the past week, a deputy governor of the RBNZ has voiced what others have suggested; if you are not happy with the returns, looks for alternatives. Put your money elsewhere.
There are many options. But we still seem reluctant to shift to any of them.
The reluctance is understandable, especially for savers who are at or near the end of their income earning careers. The fear of the risk of loss far outweighs the prospect of additional gain. There are few oppotunities for these savers to oversome mistakes or unfortunate events. Liquidity risk weighs heavier too.
Some savers are seeking out higher returns and prepared to accept elevated risks.
But if you are a term deposit saver, you and your fellow savers have shown little enthusiasm for alternatives.
I want to suggest a framework for thinking about alternatives.
For increased returns you need to face up to the risk to your capital sum, and the liquidity risks of many alternatives. Investments that don't have functioning markets make it problematic to get your money back either before the stated maturity date (commercial property funds are one example), or perhaps ever (and investments in SMEs are examples here). They can offer good returns when things go to plan, but if unrelated 'events' intervene, you can be stuck with poor to no options.
So we need a framework to think about options. The only reliable advice is to use a professional who understands you personal objectives, and risk tolerance. This article is not investment advice and does not replace it.
But when you do talk to a professional, you need to have done some homework so that what you agree with them has some considered input from you.
What follows is a template that might start you off. The positioning of the alternatives will need to be moved around until you are happy, and appear realistic and reasonable to you. It's a starting point only, one that should help you get your own thoughts together.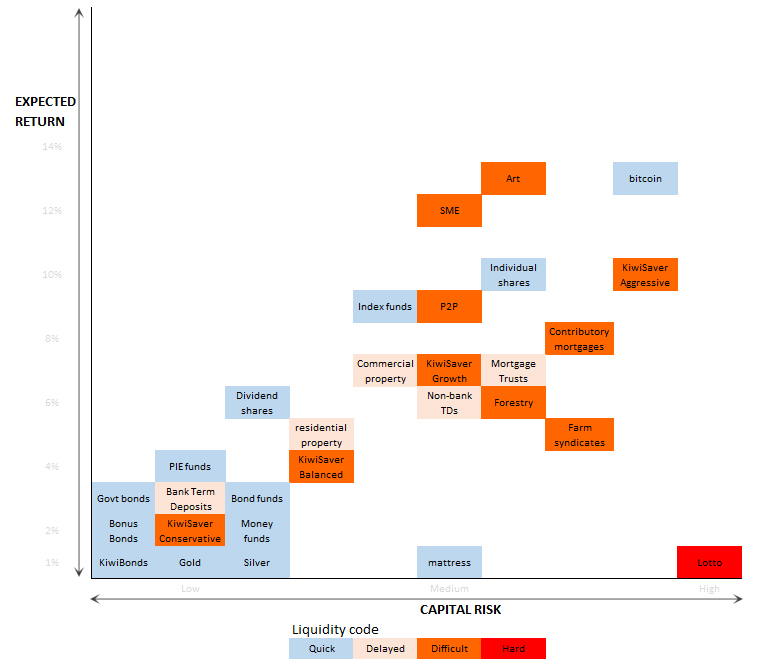 Don't use this template as a recommendation or even a best-practice suggestion. It is only a starting point for you to develop a matrix foir your own personal situation. We strongly recommend to work with a qualified professional.
One of the key words in that template above is the word "expected". The only way to assess future returns is by making judgements about what to expect, and as we all know, in the short term at least, expectations can be buffeted by the unexpected. You need an intermediate or long term focus to be able to look past the fear of the unexpected. You need patience.
The key points to become clear about, are your tolerances to:
- risk of capital loss
- liquidity risk
High-risk takers usually talk up the advantages of leverage, but remember, leverage cuts both ways ... no matter how many people try to tell you "you can't lose with property". Gamblers in CFDs talk the same game.
Options in New Zealand are skewed compared to options available in other larger countries principally because we don't have deep capital markets, or in fact many functioning markets at all, that price and clear many of the options that are available. But some markets are developing and it is worth seeking them out.
One final point. Most of the categories above deserve finer splits. As you hone your analysis in favoured areas, your next task is to delve deeper into specific alternatives and specific options.