Kiwibank chief economist Jarrod Kerr on economic forecasts in this Covid year, transaction data, the housing market's resilience, concerns over another extended lockdown & lower for longer interest rates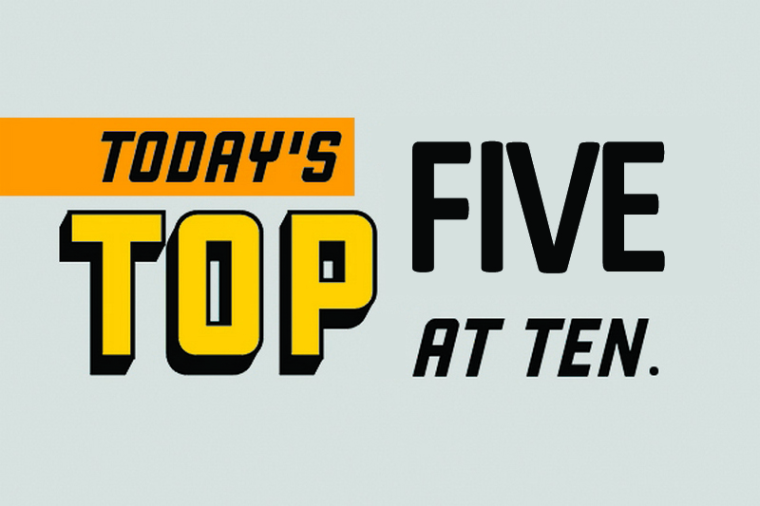 This week's guest Top 5 comes from Jarrod Kerr, chief economist at Kiwibank. 
As always, we welcome your additions in the comments below or via email to david.chaston@interest.co.nz.
And if you're interested in contributing the occasional Top 5 yourself, contact gareth.vaughan@interest.co.nz.
1: The V for victory led us all to upgrade our initial lockdown forecasts.
A few weeks ago, we took the opportunity to upgrade our forecasts. We have been surprised at the economic resilience. We're currently on a V shaped recovery. Albeit a V that looks like it was drawn by a 5-year old. Outsized fiscal and monetary policy responses have helped. Nevertheless, damage was done during the initial lockdown, and we continue to see unemployment rising above 9%. Forget the unbelievable employment stats of last week.
One thing we have learnt, is businesses are adapting fast and we're entering this new lockdown with better 'know how'.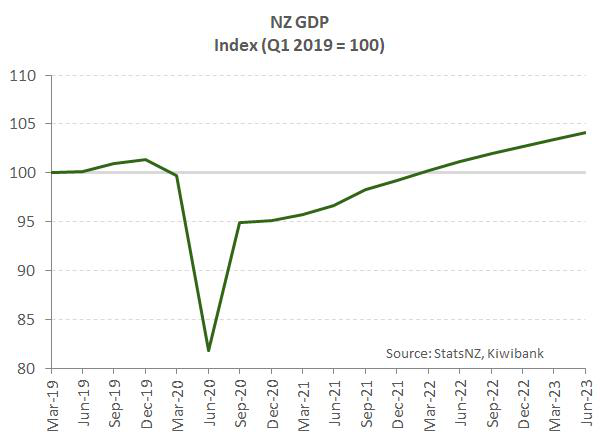 See Icy climb: our forecasts are tweaked higher on a whiff of optimism.
2: Our transactional data remains elevated and above pre-Covid levels in many areas.
Our internal (transactional) data has given us reason to be more upbeat on the rebound into the third quarter (see our data insights). Our initial lockdown was bookended by spikes in spending. Lines snaked outside supermarkets as we stocked up, ready to bunker down. During lockdown we spent less, and average bank balances started lifting. Once out of lockdown, the data shows a clear release of some pent-up demand (and spending of lockdown savings). In fact, the level of spending is roaring with most categories of spend above pre-Covid levels. And we have clearly embraced technology. Online shopping has seen a structural shift (an acceleration in an already well defined trend) higher. And we're using cash less, and contactless cards more. We expect to see a similar pattern around spending if the current (Auckland) lockdown is extended. We will isolate, then come out swinging.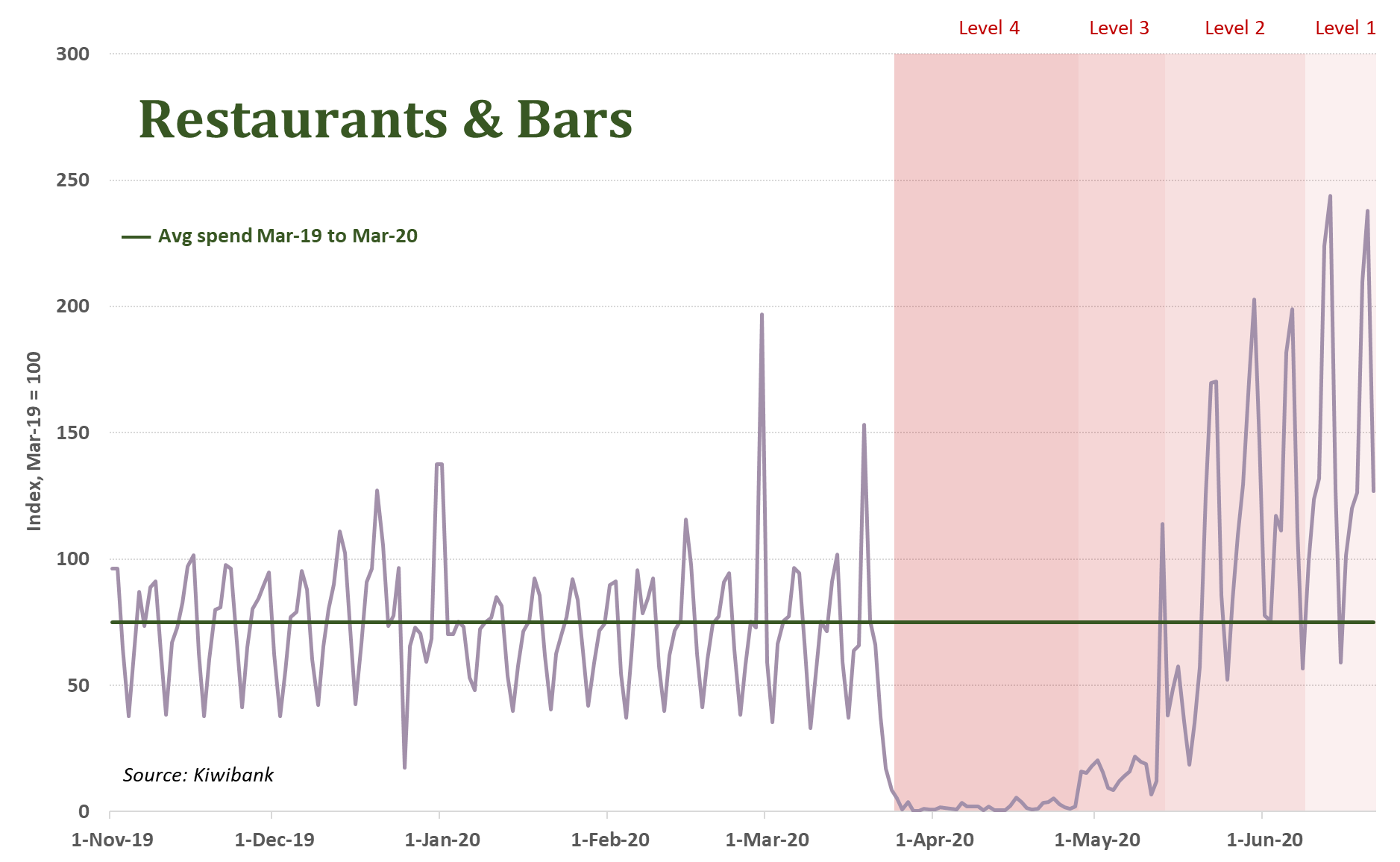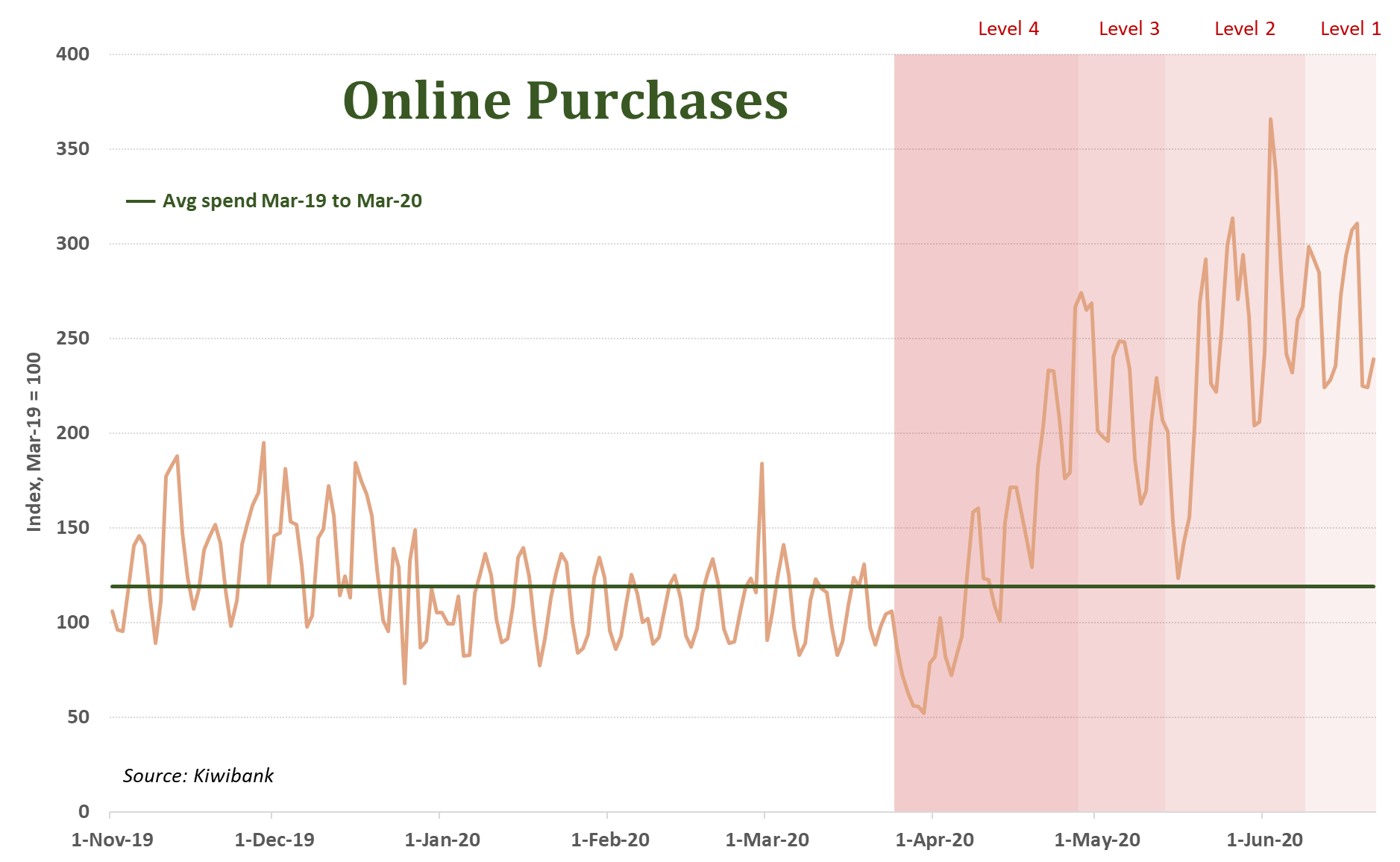 3: The housing market has proved to be remarkably resilient, with record low rates.
We now expect a shallower correction in house prices of 6%, down from 9%. With short supply persisting, our projected house price falls should meet strong resistance. The regions have fared far better than expected. Covid lockdowns barely affected farming, and the 'working from home' trend is fuelling demand.
There are 3 strong foundations supporting the housing market:
The housing market has a chronic shortage;
Mortgage rates are at record lows;
Population growth will continue, after the disruption.
Annual house price growth has already returned to the pre-Covid rate of +9% year-on-year. That's an amazing bounce back. The +6,000 house sales were the highest tally for a June month in four years. And realestate.co.nz recorded a whopping 20% year-on-year spike in listings in July.
A regional breakdown shows some regions are faring better than others. Because measures taken to combat Covid-19 have had a disproportionate impact on the economy. Farming was considered an essential service. And farmers have fared well with strong output and solid prices in dairy, meat and other essential products. Regions of the "old economy" have weathered yet another storm (and drought).
Whanganui/Manawatū, Wellington and Canterbury are the star performers coming out of lockdown. Each region recorded surprisingly strong rebounds in house sales and prices. Waikato, Taranaki, Christchurch, Bay of Plenty, Hawke's Bay, Gisborne and Northland are also doing remarkably well, all things considered. Whereas Queenstown, Rotorua and Auckland are more affected by the locking out of international tourists.
Interest rates drive investment decisions. The big attraction of the regions, for investors, is rental yield. Deposit rates have tumbled well below 2%, and mortgage rates have fallen well below 3%. In a lower for even longer interest rate world, rental yields play a greater role in the decision to invest in property. The regions typically offer a higher yield to the major cities, with Whanganui, Gisborne, and Invercargill conspicuously above 4%. Most of the regions sit comfortably above 3.5%, and compare nicely to Auckland's 2.6%. Queenstown is going through a difficult adjustment. Rents are falling. Previously lucrative Airbnb accommodation is now offered for long-term rent, and at a time when tourism-related employment is in doubt. Corelogic's latest data show a sizeable drop in rental yield to just 2.1%. House prices are falling, but rents are falling faster.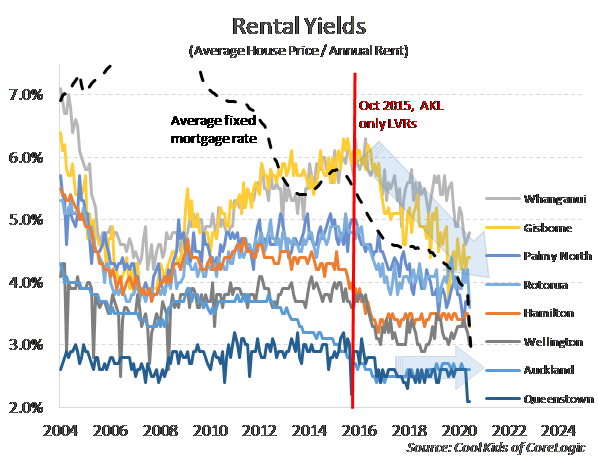 The supply of homes has increased sharply. But we're still falling short to the tune of 80,000 houses. The impact of Covid-19 casts a long shadow over the construction industry into 2021. Commercial property looks likely to bear the brunt of the adjustment.
2020 Property Insights: The Covid correction may cure, as the chronic shortage continues.
4: But another prolonged lockdown could see a double dip W, actually an unflattering U.
Auckland is in lockdown, level 3. The rest of the nation is in level 2 but feels like level 2.5. As economists, we spend a fair amount of time presenting at conferences. Unfortunately, the Build NZ conference was cancelled immediately, and other conferences over the next few weeks have also been postponed or converted into webinars. We're all erring on the side of caution. We've also heard of conferences and events being canned in the capital. Anecdotes from restaurants and bars, outside of Auckland, have customers cancelling bookings. Resorts and tourism operators in the regions next to Auckland (Northland, Waikato, BoP, Gisborne), have told us they're losing bookings for this weekend and next week. Aucklanders are preparing for a few weeks of level 3 (or 4).
All our forecast assumptions had excluded another lockdown. Another prolonged lockdown is clearly a downside scenario. A 3-day lockdown would have a limited impact on Auckland, and therefore national, activity. But another lockdown of 2-4 weeks is likely to have a significant economic impact. The need to adapt, work from home or move online, will again be thrust upon businesses.
We all love using V shape recovery versus a double dip W terms, but... Due to the timing of the current lockdown, it will impact our third quarter rebound (after the massive second quarter decline). That's the second half of the V, or middle part of a W. So, we're actually more likely to get a rather unflattering U-shaped recovery (not a W).
Based on some loose assumptions around a 4-6 week lockdown (from now), our current V shaped recovery turns into a U and it takes us another 6-9 months to fully recover into 2023 (currently estimated for 2022).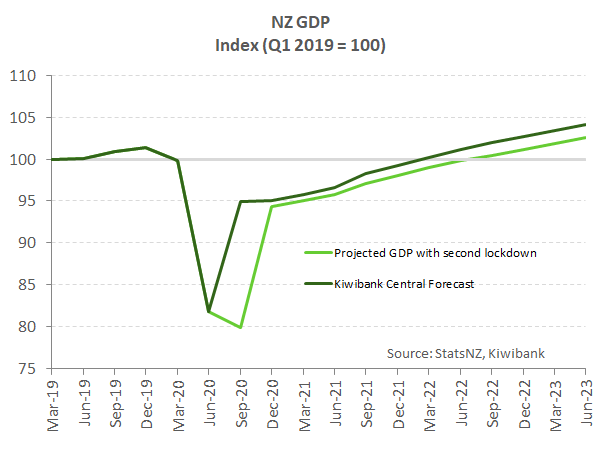 So what do policy makers do now? Well the Government simply extends and ramps up existing measures. That spare $14 billion will be soaked up quite quickly. And depending on the length and severity (of which we have no idea), increase its response fund. The fund will involve more debt issuance. And the RBNZ will keep buying the Government's bonds to ensure interest rates are negligible – or even negative! Yes, the RBNZ has flagged negative rates and term lending to banks. 
5: Interest rates would be slashed as the RBNZ would cut the cash rate into negative territory.
We have long argued that the next best option for the RBNZ is a Bank Term Lending (funding for lending) programme. A term lending facility would be a sure-fire way to reduce all retail rates (deposit and lending). We were surprised, however, to see the RBNZ push the idea of a "package" deal with a negative OCR. "Combining a negative interest rate with lower lending rates to banks… to lower all retail rates" - Christian Hawkesby. Wednesday's RBNZ MPS positioned a negative OCR alongside term lending to banks as a package to fight downside risks.  At face value, a negative OCR (say -25 basis points or -50 basis points) could see a term (wholesale) funding rate for banks below 0% from the RBNZ. In such a world, retail rates would NOT fall negative, but closer to 0%. We could conceivably see retail deposit rates well below 1% (and closer to 0%), and mortgage rates closer to 1%.
Given the RBNZ's willingness to go negative, the risk of negative rates increases every day we're locked down.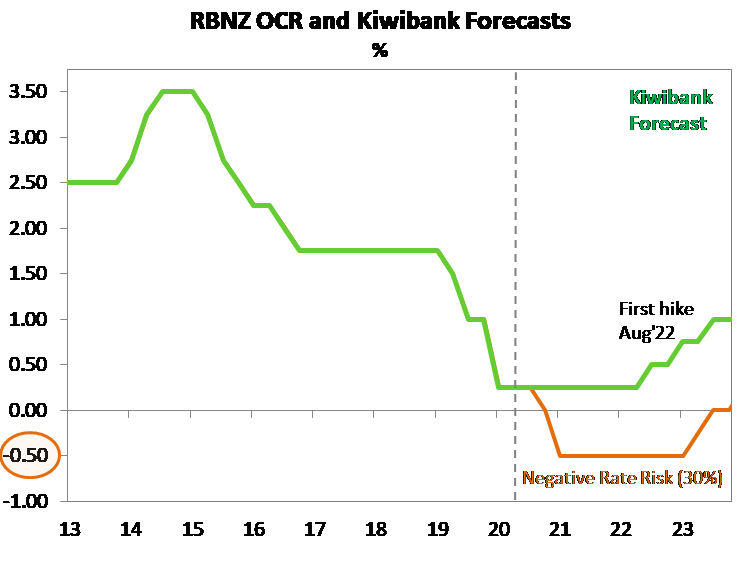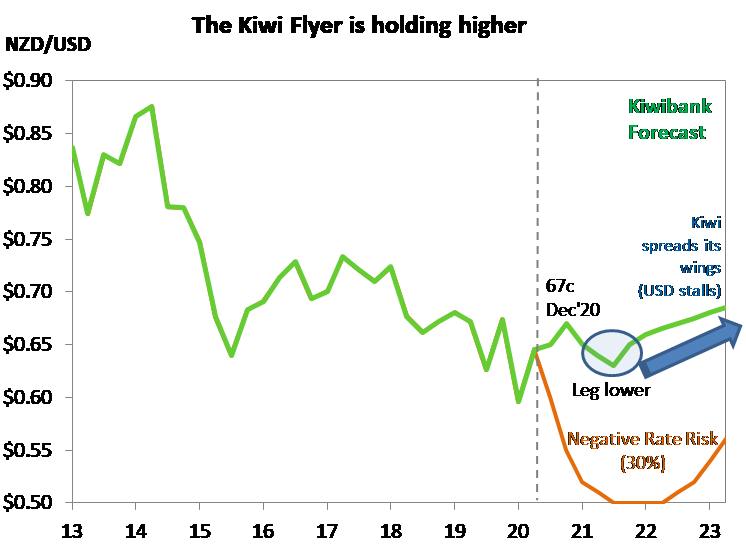 In the process of smashing interest rates expectations to, and now through, 0%, the Kiwi currency took a welcome hit, and would continue to decline if implemented.