Jenée Tibshraeny argues in a changing world the Government needs to balance out the RBNZ's quantitative easing with a bottom-up approach to ensure the most needy don't miss out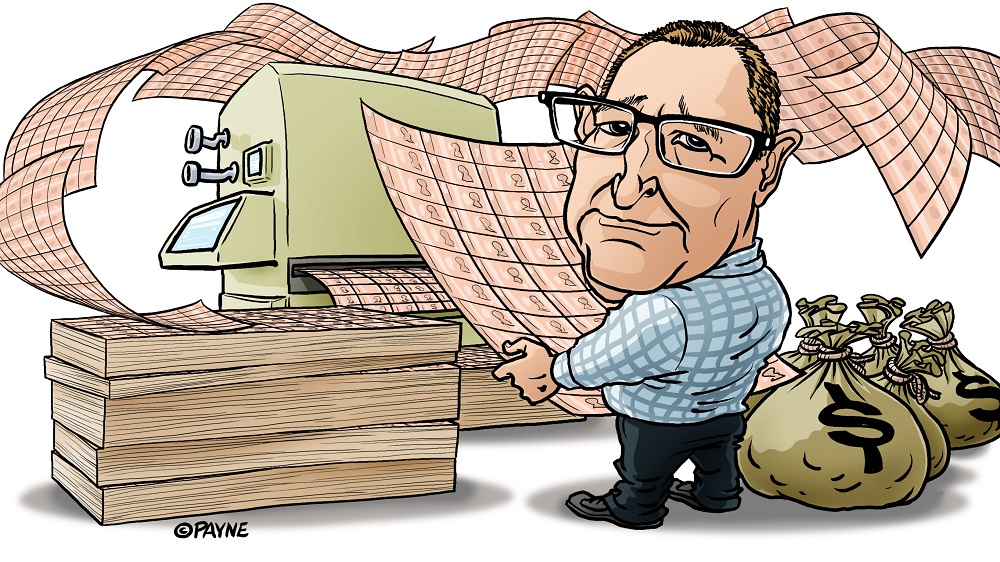 By Jenée Tibshraeny
We live in "unprecedented times" and need to adjust to the "new normal".
We all know it, but the country's two largest political parties are refusing to acknowledge it when it comes to one kind of major situation - the billions of dollars figuratively being printed by the Reserve Bank (RBNZ).
As the debate in Parliament tirelessly rages over James Shaw's poor judgement pushing his ministerial colleagues to allocate $12 million towards a "shovel ready" "green" private school, there is zero conversation around the implications of the RBNZ's monetary policy, literally worth several thousand times that sum.
The RBNZ, along with other central banks around the world, is working to lower interest rates by doing quantitative easing (worth $100 billion) and signalling further cuts to the Official Cash Rate (OCR) in a bid to keep inflation and employment buoyed. It's mandated to do this by law.  
However, RBNZ Governor Adrian Orr, in a speech delivered on Wednesday, explicitly said: "We acknowledge that lower interest rates inflate asset prices."
He was open about the fact the RBNZ actually wants asset price inflation.
"Higher house prices, for example, make people feel wealthier, more inclined to spend, which supports the economy," he said.
Employment front and centre
Orr said he and his colleagues had thought "a lot" about high asset prices "widening the wealth divide".
However, "It's high and persistent unemployment that keeps me awake, not house prices," he said.
He believed it was more important for the RBNZ to continue loosening monetary policy to try to prevent people losing their jobs, than for it to hold back in fear of the side-effects of such policy.
"Job security and a predictable household income has the most immediate and beneficial impact on economic wellbeing. Unemployment worsens economic wellbeing and underpins income inequality," Orr said.
"The biggest contribution we can make right now to economic wellbeing is to improve New Zealanders' job prospects through lower interest rates."
RBNZ's remit: look at the system as a whole
However, Orr said: "We want to understand and make sure that any unintended consequences, or consequences that we just know are going to happen, are managed…
"We as a central bank need to be aware: are those asset prices being unnecessarily inflated? Are they going beyond any sense of fair value? And what would a sudden adjustment in those asset prices… [mean] for the financial system as a whole?"
Orr noted the RBNZ could restrict bank lending against houses using loan to value ratio (LVR) restrictions, which require borrowers to have certain sized deposits. It could also require banks to hold more capital, as it is, to make them stronger.
However, these actions must work to bolster the banking system "as a whole".  
"We can't help individuals or make decisions for them," Orr said.
"They need to invest soundly and the financial system needs to make sure that they're not selling undue risk to individuals."
Orr acknowledged the RBNZ could also draw the Government and industry's attention to some of the risks associated with it working to lower interest rates.
But he concluded: "That's not our role, to influence in any direct meaningful sense, income equalities or wealth inequalities.
"That is a far more complex task around broader government policies, whether it's welfare, taxation, education, health, all of those very critical, important components that allow everyone to have equal opportunity for wellbeing."
In other words...
So in essence, Orr is saying, 'We get it - we're helping people with mortgages. We're reducing their debt servicing costs, and increasing the value of their houses, which gives them more equity to leverage off to borrow more for other investments. We're also boosting the value of people's share portfolios. We know all this makes wealthy people wealthier.
'But we trust the environment we're creating will stimulate the economy as a whole. This is better than people losing their jobs, which would hit the most vulnerable the hardest.
'We'll make sure asset prices don't inflate to the point they destabilise the banking system. But we'll leave it to the Government to deal with the distributional impacts of what we're required to do by law.'
Orr made no secret of the situation, setting it out in a slightly less direct way on Wednesday.
Tax and welfare reform required
One could argue the model central banks around the world use is flawed, as it's predicated on using debt to drive growth, even when households and governments are already heavily indebted and don't necessarily see more debt as a pathway to growth… if in fact growth should be the ultimate economic goal. Big existential questions, too large to tackle in this article.
But if we accept the Government isn't going to let the RBNZ experiment with even more unconventional "unconventional monetary policy", then the Government needs to ensure its policies factor in the effects of the gigantic levers the RBNZ is pulling.
Put bluntly, the tax and welfare systems need tweaking.
The RBNZ's stimulus (low interest rates) has a trickle-down effect through the banking system. The Government needs to balance this with a bottom-up approach to ensure the most needy don't miss out.
Finance Minister Grant Robertson's initial economic response to the Covid-19 crisis, including the flagship wage subsidy, has been good.
But now's a good time to pull out those Tax Working Group and Welfare Expert Advisory Group reports. Their recommendations are even more pertinent than they were pre-Covid. 
Pragmatism not ideology
This pitch isn't rooted in some sort of socialist ideology. It's rooted in the view the world is evolving, so policies and mindsets need to evolve accordingly.  
The "new normal" is a society with higher unemployment, as Orr pointed out, disproportionately affecting people with lower skills or more transitory attachment to the labour force (young people, women, Maori and Pasifika).
It's also one where low interest rates are prompting people to seek yield in property and equities at a time their prices are already inflated. 
Narrow thinking, which says 'Labour supports workers' rights, a strong state and wellbeing' or 'National is a pro-business party that advocates for low taxes and less regulation', is outdated and redundant.
Politicians need to show some leadership and reframe their thinking. They are closer to the RBNZ at number 2 The Terrace than the public is, so have a moral duty to tackle the tough issues bubbling away pre-emptively, rather than reacting once it's too late.
If you're stuck on left/right liberal/conservative political framing, consider the fact the largest economic intervention underway under this "centre-left" government is one that provides a form of welfare to the wealthy.
And before "free-marketeers" grumble over the suggestion those on Jobseeker Support should receive more than $250 a week, they should consider how much less their mortgage repayments are, or how much their KiwiSaver balances have grown, through no doing of their own or "market forces", but through the interventions of central banks.
*This article was first published in our email for paying subscribers. See here for more details and how to subscribe.