University of Auckland postgraduate student Connor Sharp explains why he has launched a petition calling on Parliament to implement a capital gains tax on residential property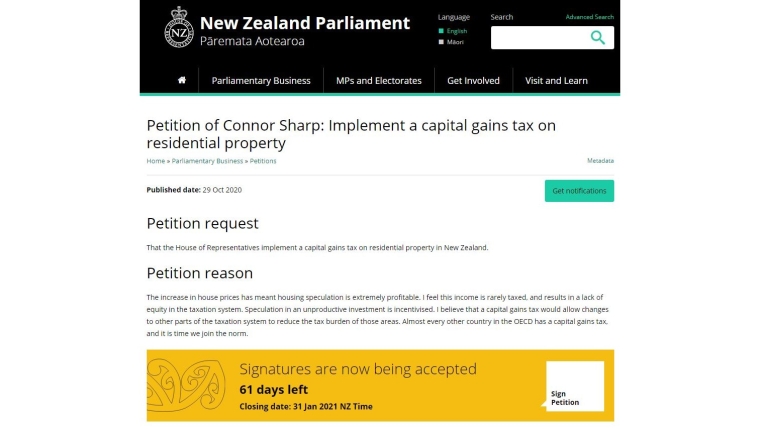 By Connor Sharp*
Housing affordability is by no surprise a hot topic at the moment, with soaring prices having brought it back into the limelight after a pandemic that dominated headlines.
It's something I have been thinking about over the last few years, how do I achieve affordable housing in this current environment?
I, by most means am privileged in this regard, fortunate enough to have access to "the bank of mum and dad." In my case it is even lacking many of the strings that can occur with this type of help. I'm also educated, and have paths to well paying jobs. Yet even I have to pause and think "How do I get on the ladder?" 
So if this is currently the reality for young people in extremely privileged positions, what on earth does it say about the situation for those with less privilege?
Housing affordability has been a growing problem for years. I remember in 2017, my first election, deciding on who I wanted to govern New Zealand. Around that time, a shift occurred in the Labour Party with a fresh approach and a promise of change. Bold promises were made; 100,000 affordable houses to be built, and a CGT(capital gains tax) to bring equity into our taxation system. But above all a change from the National government which had done its best to ignore the housing issues in this country.
These were lofty goals that needed to happen in order to fix the mess that is housing. Yet Kiwibuild fell flat at the starting line, and the CGT was quashed by NZ First. That was not what put me off Labour though, it was after this when that party that once promised transformation began ruling out change after change. It began with the CGT, then the wealth tax until it culminated into ruling out everything bar the marginal increase in the upper tax bracket, which in the grand scheme does nothing to help any of these issues.
All I've seen is backtracking on the bold promises that were made, the changes we need to fix this situation, both on the demand and supply sides of housing. However when we needed extreme measures for our nation's Covid-19 response our government sold them to us. Yet housing has been a problem for decades now. It's on such a scale that the United Nations is calling it a human rights crisis. All we see now are minimal efforts that maybe scrape at the surface of the problem.
So why did I launch this petition, one that calls for a CGT on property, for a government to implement something they have ruled out?
I did it because we need to shift our culture and society away from the attitude of treating housing like an investment opportunity and instead move those investments towards productive parts of the economy. I understand there are problems that people have surrounding a CGT, but the idea is to coalesce the support for change around something.
People know what a CGT is, and while it most certainly will not fix housing by itself, it is an important first step in creating equity in our tax system by treating the capital gains in housing as we would any other income.
A CGT is no silver bullet however. There are other solutions to the crisis that need to be implemented; intensification, infrastructure investments, downsized/affordable housing, change in planning, professionalising landlords, and even long term rental agreements are important in addressing this crisis.
Every year without that change our system becomes more and more entrenched. Thousands more will experience instability and the consequences to society will ripple out for generations. Eventually it will break. Those who are cut out of the ladder will eventually outnumber those who remain.
The PM recently came out and said that the public bears some responsibility for the housing crisis around their failures for implementing taxation change. While this is blatant political deflection, it is true in the sense that we the public need to force our politicians to actually implement the policy recommendations they receive. The most important thing you can do in a democracy is to vote. The second is to speak out. While our chance to vote has just passed, we still have an opportunity to push for change that will reduce the inequalities in our taxation system. It just requires us to speak up.
Here's a link to Connor Sharp's Petition calling for the implementation of a capital gains tax on residential property.
---
*Connor Sharp is a masters student in geography at The University of Auckland, and is passionate about planning, politics, and creating affordable and livable cities.