Why the banks are ignoring the RBNZ's MPS ... so far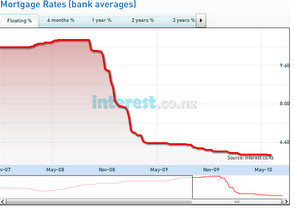 By Roger J Kerr
The Monetary Policy Statement came and went last week and the wholesale interest rate swap curve is virtually unchanged, therefore the RBNZ are seeing the future pretty much the same as what the markets have been pricing in over recent months.
(Updated with ASB putting up its mortgage and call account rates shortly after this piece was published)
A continuation of the sideways movements in two to five year swap rates seems more likely over coming months than any other rate movement scenario.
I would see GDP growth this year being less than the RBNZ's +3.5% forecast, however the 2011 GDP growth is looking more likely to be above the RBNZ's +3.5%.
It will take NZ household consumers a little longer to re-balance their balance sheets to lower debt levels and start spending again than what the RBNZ are predicting.
However high export commodity prices always leads to stronger rural incomes and ultimately stronger spending as the provincial uplift filters into the large cities 12 to 18 months later.
A number of media commentators were predicting last week that floating mortgage lending rates will increase by 2.5% to 3.0% from the current 6.0% level as the RBNZ take the OCR from 2.5% to 5.0% over the next 12 months.
That extrapolation has a number of flaws.
The banks do not fund off the OCR and they have been paying considerably above OCR/90-day wholesale rates for both retail and wholesale money for many months.
Sure, the banks may use the OCR increase as an excuse to raise lending rates, but in an environment of very weak mortgage lending demand they will be thinking twice about doing so.
My estimation is that over the next 12 months the banks' funding costs will increase by 1.5% to 2.0%, thus floating rate mortgage rates not going much above 7.5%.
--------------------
 * Roger J Kerr runs Asia Pacific Risk Management. He specialises in fixed interest securities and is a commentator on economics and markets. More commentary and useful information on fixed interest investing can be found at rogeradvice.com