By Roger J Kerr
The trend upwards in medium and long term interest rates took something of a breather last week as the US Treasury Bond market awaits the next developments with US jobs number this Friday and the Federal Reserve response in the third week in September.
There is nothing to suggest that swap rates from two to 10 years will reverse back downwards again.
The NZ economy remains strong with the RBNZ being forced to up their GDP growth forecasts for 2014 and thus lift their inflation forecasts as a result.
Economic data in the US generally continues on a stronger trajectory with the debate no longer about when the Fed will commence tapering of bond buying, however speculation now as to whether the direct link between monetary stimulus levels and the unemployment rate reduction will be tweaked.
The big picture view on just where our short-term and long-term interest rates will settle at after the post-GFC stimulus anomaly is removed will always be based on sustainable inflation levels.
On the basis that US inflation remains around 2.00% over coming years, the US Treasury Bond yields still have much further to increase to 3.5% to 4% (refer chart below).
As our 10-years swap rates will remain 2% above US 10-year bonds, then our swap rates can easily return to above 6% over the next 12 months.
For our short-term interest rates the NZ annual inflation rate is more relevant.
An important determinant of demand-pull inflation pressures here is house prices.
The second chart below plots the two-year swap interest rates against the REINZ house price changes (three-month average).
On this correlation, the two-year swap rate can easily increase to 4.50%-5.00% over the next 12 to 18 months.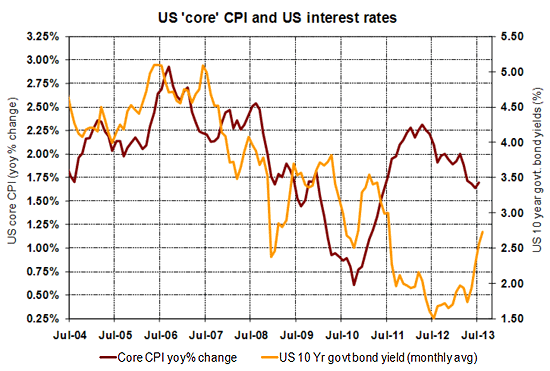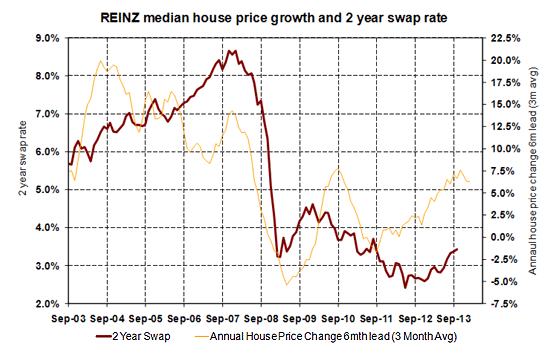 -----------------------------------------------------------
To subscribe to our daily Currency Rate Sheet email, enter your email address here.
Roger J Kerr is a partner at PwC. He specialises in fixed interest securities and is a commentator on economics and markets. More commentary and useful information on fixed interest investing can be found at rogeradvice.com