Opinion: The Reserve Bank might have just passed up its best opportunity to remove restrictions on low deposit lending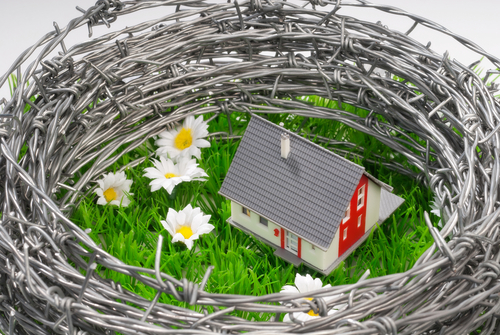 By David Hargreaves
Time will tell, but it may be that the best opportunity for removal of the 'speed limits' on high loan-to-value lending has just been passed up.
When the LVR restrictions were put in place as of last October many people in and around the banking sector were extremely doubtful they would ever be removed.
The Reserve Bank, however, said at the time they would be temporary. That message was reiterated, perhaps even reinforced by Deputy Governor Grant Spencer in a speech in Hong Kong in late March.
Now, it could be argued that following the speech some people might have got ahead of themselves a bit. Westpac economists particularly were of the view that a raising of the 10% limit was imminent. I very much agreed and suggested that an increased limit of 15% was likely to be announced this week, with complete removal of the restrictions to happen later in the year.
In his speech from last week Spencer has now given some clearer indications of the current RBNZ thinking. And of course he's saying that they won't begin to move toward removing the restrictions till late this year at the earliest. I reckon the best way to interpret the deputy governor's latest utterances is to presume that the central bank will first look at relaxing the limit - perhaps to 15% - before looking at removal of it altogether.
So, the putative timetable is that possibly there will be a relaxing of the limit late this year (and I suspect that probably means December) and then the RBNZ will start afresh next year and consider the total removal.
Nuanced affairs
RBNZ speeches can be notoriously nuanced affairs. The central bank generally prefers to lead the market into a way of thinking rather than explicitly saying what will happen.
So, when one is looking for clues, misinterpretations can occur. Is that what happened here?
I took what Spencer said a little over six weeks ago to indicate that a relaxation and even removal of the limit was under serious consideration right now, though I'm aware that others did not see the speech that way.
So, was Spencer's latest speech simply putting the record straight and more clearly enunciating the RBNZ's thinking? Or has the bank actually had a bit of change of mind in the past six weeks?
I think the latter. And I do think now that the LVRs will be with us for the next three years at least, which is a complete reversal in my thinking. Why do I think that? Because I believe the RBNZ has had a 'window of opportunity' to remove the LVRs that is going to be slammed shut. I will gradually explain my reasoning on this.
LVRs 'not permanent'
In his March speech Spencer had the following quote: "The Reserve Bank stated from the outset that the LVR restrictions are not intended to be permanent. They will be removed once housing market pressures have moderated and when we are confident there will not be a resurgence in house price inflation." All of which seems quite straight forward.
The speech then went on to address how the "exit" from the LVRs should be co-ordinated with the expected interest rate tightening cycle, which is now under way. Three factors were given, including: "Factors that might affect the potential for a resurgence in house price inflation following the removal of the LVRs, such as the dampening effect of increased housing supply and mortgage rates, and the stimulatory effect of higher net immigration flows."
So, we have, on the periphery, consideration of immigration.
Fast forward to last week's speech and this is the key passage:
"Before removing the LVRs, however, we will want to be confident that the housing market is responding to interest rate increases; and that immigration pressures are not causing a resurgence of house price pressures. It will take some time to gain this assurance. At this stage we consider the earliest date for beginning to remove LVRs is likely to be late in the year."
The bold emphasis is mine. Yes, suddenly we have immigration as an issue shouldering itself right into the middle of the LVR considerations. I think it's eminently reasonable to infer from this passage that the RBNZ has become a lot more bothered about immigration and its potential impact on the housing market since that March speech.
And there would be a reason for that. Figures released publicly by Statistics New Zealand on April 23 showed that for the March month New Zealand experienced its second-highest net migration inflow (3800 people on a seasonally-adjusted basis).
The monthly numbers are continuing to surprise on the upside and they are exceeding RBNZ expectations. The RBNZ had been picking a peak for inbound net migration of about 30,000 (see table below). Already we've seen annual net immigration hit nearly 32,000 as of the year to March and for the past three months the seasonally-adjusted inbound numbers have been running at an annualised rate of around 42,000, which would see New Zealand getting close to all time highs if continued through the year.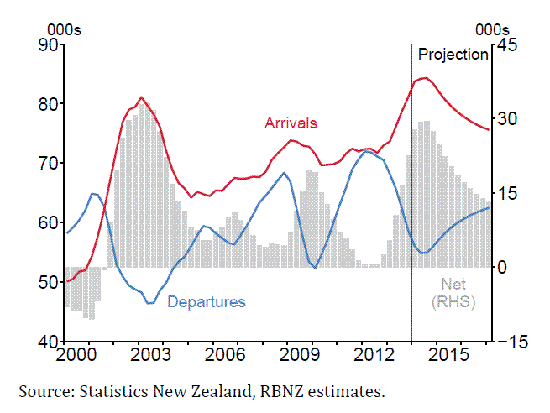 In its March Monetary Policy Statement the RBNZ said this: "Following the strong increases over the past 18 months, net immigration is expected to ease gradually over coming years, as economic conditions in other economies, particularly in Australia, improve. Though easing, net immigration will continue to add to demand over the projection, including for housing, and make some contribution to labour requirements for the Canterbury rebuild. The increased supply of labour as a result of net immigration contributes to stronger potential growth in the economy."
Well, it ain't happening like that so far.
Economists and indeed the RBNZ boffins have focused largely on the fact that fewer Kiwis are heading overseas as being the reason for the increased net immigration numbers. And that is true to a significant extent.
Flying the nest
For example, looking at non-seasonally-adjusted figures, you have to go back to 1991 to find a March month (traditionally a big one for flying the coop) in which fewer than the net 1343 Kiwi citizens who departed in March 2014 left.
However, the net 4240 non-Kiwi migrants that came into the country in March was the most for a March month since Statistics NZ started recording the data in the current form in 1978.
So, it's not entirely correct and a bit glib to be talking about the current migration boom as all about Kiwis staying at home. Yes, they are, but high numbers of non-New Zealanders are migrating here as well.
To switch to seasonally-adjusted figures, the number of non-Kiwi net migrants has exceeded 4000 in each of the past six months. The last time there was a stretch like that was when the figures exceeded 4000 for 21 consecutive months from October 2001 to May 2003. It was during this period that the all-time net migration high for a 12 month period of 42,500 was reached.
Building in Auckland
The interesting thing about that 2001 to 2003 period is what was going on with house construction at the time. Bear in mind that usually about half of all migrants settle in Auckland.
In 2001 Auckland consented building of 8000 new homes. Then between 2002 and 2004 the number of consents went from 12,000 to 11,000 and back to 12,000. It's probably worth noting also that in 1999 before the big migrant boom, Auckland consented 11,000 new homes.
But as we know, it has been lean pickings for building activity in Auckland more recently. In each of the years between 2009 and 2011 there were fewer than 4000 new homes consented, rising to 4600 in 2012 and 6300 in 2013. In the first quarter of this year there were just under 1500 consented, so the pace has been increasing but not electrifyingly so. The Government and the Auckland Council have committed to the Auckland Housing Accord, which is targeting 39,000 homes/sections approved in three years. But whether and when that equates to 39,000 homes actually built is a moot point.
Migration boom
What is clear is that this new migration boom is exploding upon us when our biggest city is far less well prepared for it in terms of new housing supply than it was back in the early 2000s.
And this is obviously worrying the RBNZ, which also has the complicating factor of a stubbornly high Kiwi dollar, which is threatening its planned timetable of interest rate rises.
Put this all together and we've now got a central bank that wants to 'wait and see' with the LVR policy.
It's by no means clear what magnitude the impact of all the new migrants will be on the housing market. So, in one respect the RBNZ can't be criticised for wanting to see how things pan out.
But personally, I think the bank's missed its chance.
Staying home
I reckon for the moment Kiwis are going to keep staying put. Our economy's roaring ahead, jobs are being created. In Australia things are far more uncertain.
So, for the next six months at least, I believe the numbers of Kiwis leaving the country will stay relatively low. As for inbound migration, there's no reason to suppose it will weaken.
If I'm right then as we get toward the end of the year we may well be pushing beyond 40,000 migrants and possibly a new 12-month record in excess of 42,500. If that is the case then there's no way the RBNZ will be considering shifting those LVRs.
In the meantime the banks are likely to get more 'efficient' in how they deal with the LVR limits and first time buyers are probably gradually going to find more ways of getting finance. The investors are not affected anyway and maybe a fair few of the new migrants won't be either.
Over time therefore the strong impact we've seen on the housing market - at least in terms of sales volumes if not yet definitively on prices - will be watered down.
Use as a threat
Arguably the LVRs could be at their most effective when not actually in place, but threatened. If the RBNZ removed them now it could actually put them back in place with just a couple of weeks notice. That's a considerable stick to be able to wield at the banks.
But of course the longer something's actually in place the more people get used to it and don't feel threatened by it. My expectation is that through fear of what happens if the limits are removed the RBNZ's going to now leave them on and then find its really stuck with them.
So, I reckon we've now got them for the foreseeable future and the only way they will be lifted ultimately is if/when the RBNZ decides they are no longer having any positive impact at all. I would say three years at least.
Which will be a shame.
An opportunity lost for a weapon that could have been valuable in the arsenal if just taken out of the gun cabinet occasionally and selectively.