Auckland's housing market faces a perfect storm of rising demand and supply shortages. A flood of investment from China into new homes could do the trick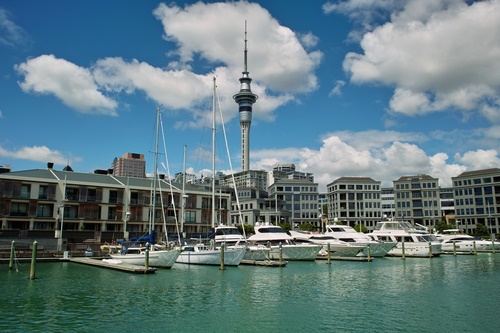 By Bernard Hickey
This week's news from Auckland's housing market must have terrified first home buyers and delighted property owners.
Firstly, Statistics New Zealand reported a record high 48,266 migrants arrived in Auckland in the year to May. That's over 130 new people arriving every day and turning up at a real estate office to either rent or buy a property.
Net migration to Auckland of 26,565 in the year to May was up from just 4,687 in the year to May 2013. The explosion in new arrivals was supposed to tail off this year, but has instead just kept on accelerating higher. A surge in student arrivals from India and China is at least partly responsible and followed a change in policy in October 2013 to allow English language students to work part time. Indian student visas almost tripled to 10,134 in the three years to May, while student arrivals from China rose 47%.
Secondly, the prospects for significant new house building helping to soak up the demand look as remote as ever. Auckland Council has stopped approving new Special Housing Areas in Greenfields areas because it wants the Government to help pay for transport and other infrastructure. The Government is also no nearer to agreeing a Transport Accord with the Council to kick-start new investment in road and rail projects. And the Government's hopes of opening up tracts of its own land for housing developments looks are clouded by disputes over Treaty provisions.
The Productivity Commission produced forecasts showing Auckland's current housing shortage of 25,000 homes will balloon to 60,000 by 2020, even with the most optimistic forecasts. The supply outlook looks bleak given the divisions within the Auckland Council over rates increases, debt levels and new infrastructure spending plans, and the continued opposition by the most politically active ratepayers to more dense housing developments near the city.
Thirdly, banks slashed their mortgage rates to under 5% after the Reserve Bank's rate cut earlier this month and very weak GDP growth figures last week that suggested the Governor Graeme Wheeler could cut interest rates by a full 100 basis points by Christmas. Any property investor borrowing 70% of the purchase price of an average priced house can afford to pay NZ$160,000 more for that house when mortgage rates drop from 6% to 5%.
The final dollop of rocket fuel to be poured into the mix came with the release of a report from real estate listings service Juwai.com this week. It estimated that an expected loosening of restrictions on Chinese investors buying overseas property could see an extra US$10.9 billion or NZ$16 billion pumped into New Zealand property (which means of course Auckland property).
The new scheme known as Qualified Domestic Individual Investor 2, or QDII 2 for short, is expected to be announced later this month and will allow individual investors in six Chinese cities, including Shanghai, to legally invest in overseas real estate. Currently, the rules are that individuals can't exchange more than US$50,000 worth of yuan into foreign currency.
Juwai estimates that in theory US$6.6 trillion (yes trillion with a 't') could be invested in overseas assets under QDII 2, including US$2.2 trillion into real estate. It took a conservative estimate that Chinese investors would want to invest just 5% of their assets in overseas property and only 3.3% of that amount in New Zealand, which led to the US$10.9 billion estimate. A less conservative view that saw 20% invested in overseas property and 5% of that invested in New Zealand would escalate the potential for Chinese investment in Auckland to US$97 billion or NZ$142 billion. That equates to about 35% of the total current value of Auckland's property.
"With QDII2 in mind, within five years we might look back and think of the current levels of Chinese cross-border investment as quaint," Juwai CEO Andrew Taylor was quoted as saying.
The footnote for first home buyers and property investors is that the 22% slump in the New Zealand dollar against the renminbi over the last year has actually made Auckland even more attractive for investors from China.
So how could this apparent looming threat to demand for Auckland property be turned into an opportunity for first home buyers and renters?
A look across the Tasman suggests the flood of money coming from China could be put to good use if it is funnelled into new housing developments, in particular apartments off the plan. Australian developer Lend Lease sold 581 apartments off the plan for its latest Darling Harbour project in five hours on one weekend last month, including more than a third to overseas buyers. It sold A$600 million of property at a rate of A$2 million a minute.
If Auckland and the Government could only convince Aucklanders to allow the building of more overseas-funded apartments near the CBD then it might have a smidgen of a hope of filling that shortage of 60,000 homes. They would cost NZ$30 billion to build so that NZ$16 billion of overseas investment could come in very handy indeed, if it was directed into new homes rather than existing homes. 
-----------------
A version of this article has also appeared in the Herald on Sunday. It is here with permission.