Jen​ée Tibshraeny on the Singapore sling, a challenge for Paul Goldsmith, house flipping, a possible future PM, Indian students and more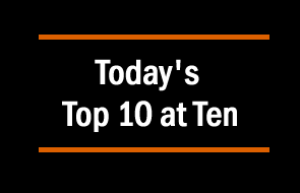 Today's Top 10 is a post from interest.co.nz's Jenée Tibshraeny.
As always, we welcome your additions in the comments below or via email to david.chaston@interest.co.nz.
And if you're interested in contributing the occasional Top 10 yourself, contact gareth.vaughan@interest.co.nz.
See all previous Top 10s here.

1. Have we scared off the Indian students?
The number of people arriving in New Zealand from India on student visas has plummeted.
Statistics New Zealand's latest migration data shows the number of Indian student arrivals fell 66% from August 2015 to August 2016, and 23% from the year to August 2015 to the year to August 2016. Meanwhile the number of students arriving from other parts of Asia has continued to rise.
I don't want to jump to conclusions, but this could indicate the bad press around sub-standard, and in some cases fraudulent, private tertiary education providers is deterring Indian students from coming to New Zealand.
Perhaps students have caught on to the fact the $30,000 Certificate in Hospitality they're being offered by a shonky Queen Street school won't give them the better life they're being promised.
The spotlight is continuing to be shone on corporate tax avoidance, but question marks remain over whether authorities have the power or inclination to do anything about it. The ABC reports:
The world's biggest miner BHP Billiton has vowed to keep fighting the Australian Tax Office over a $1 billion tax bill mainly involving its Singapore marketing office.

The ATO is chasing taxes dating back to 2003 from its Singapore operations and the now repealed Australian mining tax.

It has accused the big miner of avoiding paying tax by channeling iron ore sales through Singapore.
In May last year, the ABC reported the chair of the Senate References Committee, Sam Dastyari, saying: "Singapore seems to be the go-to place for a lot of international transactions, marketing hubs, and what is potentially serious multinational tax minimisation strategies."
New Zealand is also losing millions, and perhaps even billions, of tax dollars to Singapore.
IAG for example has been channeling its reinsurance recoveries for the Canterbury earthquakes through Singapore, inflating its losses in New Zealand and thus allowing it to legally avoid paying tax here.
3. Sour Apple
On the topic of tax avoidance or clever accounting - depending on how you see it - here's a cartoon from the New Yorker:
Government agencies are raising their concerns around high KiwiSaver fees, yet the Minister of Commerce and Consumer Affairs, Paul Goldsmith, doesn't seem to be doing anything about it. The Financial Markets Authority (FMA) has published an advertorial piece in the Herald, saying:
The average lifetime cost of KiwiSaver fees has been calculated at $40,000 by the Commission for Financial Capability. "Lifetime" means saving from ages 18 to 65, so over 47 years the fees will carry an average annual cost of about $850…

The level of fees charged and level of investment return make a big difference to the amount of KiwiSaver money available at retirement - and the FMA is on a mission to make sure investors understand that impact and can make well-informed choices…

The FMA, the CFFC and the Ministry of Business, Innovation and Employment are pressing KiwiSaver providers to make fees visible as a dollar value in annual statements, rather than just showing investment returns after fees and tax - to help members make better-informed choices.
The question is, should a Government-initiated retirement savings scheme, implicating New Zealanders with varying levels of financial literacy, be left at the mercy of the free market?
Why doesn't Goldsmith put some legislation in place to cap KiwiSaver fees and require providers to disclose these in a standardised, easy to understand format?
5. Future prime minister material
Auckland mayoral candidate Chloe Swarbrick has been turning heads, as her campaign gains traction.The 22-year-old has secured 5% support in the Spinoff's latest poll - a result that isn't too shabby alongside Vic Crone, who secured 11% and John Palino who mustered 6%.
Watch this Q + A interview and you'll see what the fuss is about.
Swarbrick approaches politics with refreshing sincerity. There appear to be no ulterior political or corporate imperatives holding her back.
She's the only candidate bold enough to call for house prices to fall. She isn't afraid of the NIMBYs when she addresses the issue of intensification. She's focused on getting the disenfranchised and disinterested involved in politics. She's an advocate for transparency and vows to simply listen.
While I consider Swarbrink's inexperience an impediment to her being mayor this year, she's given me hope around what a new generation of leaders could look like. 
6. Crowdfunding to house flip… It's a thing
Here's a report from Bloomberg that's cause for concern:
Alex Sifakis never raised this much money this fast.

The house flipper from Jacksonville, Florida, crowdfunded nine deals totaling more than $9 million through RealtyShares over the last two and a half years. A July deal for $1 million took him just 12 hours.

"Generally, raising money takes so much time,'' said Sifakis, 33. "This offers so much flexibility and time savings. It's so much better than going to family offices, banks or Wall Street firms.''

House flippers and property developers are increasingly crowdfunding -- tapping the virtual wallets of anonymous internet backers on platforms such as RealtyShares, LendingHome, PeerStreet and Patch of Land. For riskier ventures, such as building new homes and buying, renovating and selling existing ones, they're finding quick financing can be easier to get online than from banks. 

That's contributed to an increase in home flipping. In the second quarter, 39,775 investors bought and sold at least one house, the most since 2007, according to ATTOM Data Solutions.
7. Competition in NZ insurance market threatened by rumoured Tower sale 
Insurance heavyweights, IAG and Suncorp, are touted to be circling Tower, waiting to gulp up the struggling Kiwi insurer. The Australian Financial Review reports:
Tower is a long-talked about takeover target. It's digestible, has a decent market share in what is a small market across the Tasman [NZ], and was subject to what it coined an "unsolicited low ball offer" this time last month. 

Since then, Tower shares have dropped another 30 per cent in the past 10 trading days, following a double-bunger of bad news for investors; first it said it was increasing its outstanding claims provision relating to the Canterbury earthquakes, and then said it was in a legal dispute with one of its reinsurers. 
The Australian Financial Review's article is based on speculation and provides no hard evidence.
Yet the issue is, IAG and Suncorp already hold a combined 71% share of New Zealand's general insurance market. If either snatches up Tower, they'll have another 5% market share, further reducing competition and possibly enabling premiums to be hiked.
For more on what's been happening with Tower, see Interest.co.nz's coverage here. 
8. A force that refuses to be reckoned with
China has (unsurprisingly) refused to take Winston Churchill's advice that "Diplomacy is the art of telling people to go to hell in such a way that they ask for directions".
This interview, The Nation's Lisa Owen did with the Chinese Ambassador to New Zealand Wang Lutong, says it all.
Discussing how New Zealand might be implicated by China ignoring an international tribunal ruling against it, in regards to its territorial battle in the South China Sea, Lutong provides some interesting insights into China's diplomatic psyche.
He uses strong language, not tip-toeing around the fact "We will do anything we can to protect our own interests and rights in this region".
Lutong's demeanour is also fascinating. He refuses to be rattled and is (understandably) exceptionally calculated with his words.  
A bunch of the country's young visionaries, movers and shakers are gathering at Festival for the Future this weekend. Featuring inspiring speakers, workshops, performance, and entertainment, the event is aimed at "celebrating what's possible". Its website says:
As the search for meaningful and purpose-driven work increases, technology transforms our lives, and our social and environmental challenges become ever more visible – never has there been a better time to re-imagine, and create the future.
Here's a bit of light entertainment for your Friday afternoon - a throwback to Phil Goff on Jono and Ben pre the 2014 General Election. I'll endorse Goff's sense of humour and leave you to decide whether or not you'll endorse his policies in the Auckland mayoralty race.