Interest.co.nz spoke to each candidate and gauged how they planned to change the National Party if elected leader on Tuesday – there is a clear split in direction, says political reporter Jason Walls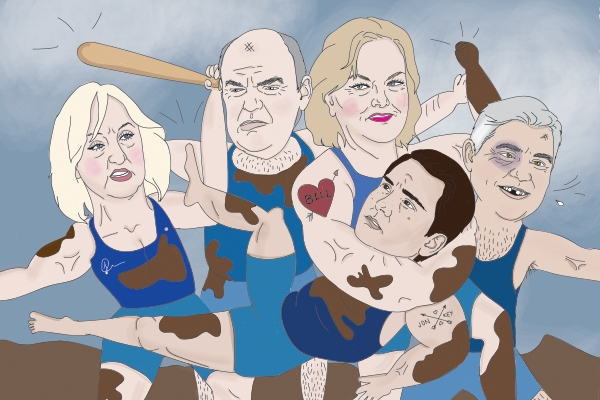 By Jason Walls
For the first time in almost 35 years, National Party MPs have been tasked with selecting their leader.
On Tuesday morning, each Caucus member will cast their vote, potentially several times, until one of the leadership hopefuls wins majority support.
National has seen new leaders over the last more than a quarter of a century but no Caucus leadership votes.
English was simply the last man standing in 2016 after all his leadership rivals dropped out of the race. It probably helped that he was anointed by John Key on his way out.  
When Key nabbed the top job, it was "pretty much an agreement," according to Judith Collins, and there was no Caucus vote – Don Brash rolled Bill English for the leadership in 2003.
In fact, you have to go back as far as the mid-80s – when Robert Muldoon was challenged for the leadership – to find a time when the National Party Caucus last voted on its leader.
On Tuesday, that streak will be broken.
English refused to publicly back any of his Caucus members for the job and, less than a day after his resignation, the leadership candidates came crawling out of the woodwork.
First Collins, then Simon Bridges last Wednesday morning and, later that day, Amy Adams threw her hat in the ring.
Almost a week later, Steven Joyce and Mark Mitchell announced they too were running for the leadership.
A real choice
National MPs have a real choice  – not just on their leader but on the direction the party will take over the next three years and potentially beyond.
They must choose between maintaining the status quo or giving their party a good shake-up.
Over the past week or so, I spoke to all five contenders about their plans for National over the coming years.
There is a clear split in direction.
Adams, for example, holds National's time in power as a benchmark of what a future National Government should strive for.
"I think, fundamentally, what we've been doing has been good," she says when talking about her party's almost decade-long stretch in power.
She hinted at some changes in direction but insisted it would not be dramatic – "It's not going to be a ground up, overturning of what we have done because I have been very proud of what we have done over the last nine years."
Joyce is also not likely to want to see a new-look party – he believes National was robbed of the Treasury benches by Winston Peters and seems more interested in attacking the Government than changing the party that he has been instrumental in shaping over the past 15 years.
A big change would essentially mean an admission of fault, given he chaired the campaign committee last election.
Moving on to Mitchell – the underdog.
Like Adams, he places a huge emphasis on National's economic record and is not likely to change tact in that regard.
But he wants to bring a "softer face" to National – that means exploring more Green initiatives and policies around getting kids outside.
Bridges' 'evolution' & something radical from Collins?
Now to the more radical end of the change spectrum; first we come to Tauranga MP Simon Bridges.
Bridges has told me on multiple occasions he wants to lead an "evolution" of the National Party, emphasising the need for generational change on his front bench.
At 41, he is the youngest candidate and he leaned on this fact heavily when explaining why he thinks he is the best person for the job.
Although keen to spearhead this evolution, Bridges insists it would not be "something radical."
She won't say the words, but "something radical" seems to be exactly what Judith Collins has in mind for National, if she wins the leadership vote.
'Crusher,' who actually would prefer to be known as 'Auntie Jude' says her party is too far to the left on some issues and would bring National "back to its base."
She would examine every policy and position of the party within weeks of taking the top job.
Winning 44.5% was a strong result, but Collins fears the party has compromised too much over recent years and is too far away from where it started and what National is meant to be.
Each candidate has been giving their pitches to media over the last week but, more importantly, have been lobbying National MPs at every opportunity they can get.
Adams, Joyce, Mitchell, Bridges and Collins' positions are clear, it now falls to Caucus to make the decision on what type of party National will be in three years' time.
The race for the 2020 election begins 10:30 am, Tuesday morning.