Chris Trotter says the Government's handling of the Tax Working Group has highlighted Grant Robertson's reliance on his mentor Michael Cullen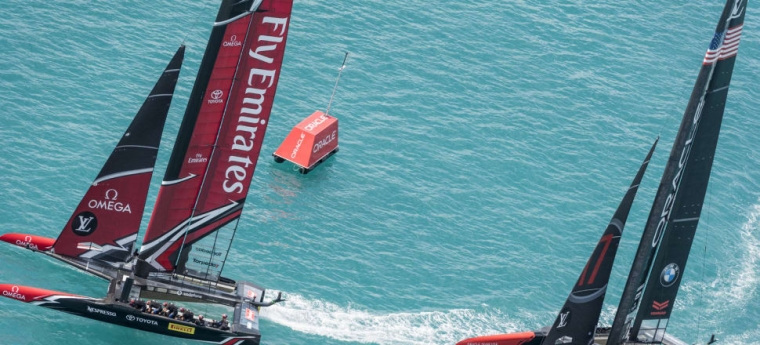 If Simon Bridges was in an America's Cup boat-race, we'd say he'd stolen the wind.
On TV3's Saturday morning current affairs flagship, The Nation, his spinnaker was puffed out like a pigeon's breast. And, oh my, how he was enjoying it! There was a light in his eyes. His voice was steady and the words poured out of him in the way they surely did when he was Tauranga's Crown Prosecutor and all the evidence was in Her Majesty's favour. Even Tova O'Brien was impressed.
What is this breeze that has sent National's yacht slicing through the waves? What has given its captain the confidence of Ahab in pursuit of the Great White Whale? The answer is, of course, the Coalition Government's extraordinarily inept handling of the Tax Working Group's (TWG) "comprehensive" Capital Gains Tax (CGT). The Prime Minister and her Finance Minister haven't so much put a breeze behind the National Opposition, as a Force-10 gale. Simon Bridges clearly can't believe his luck, but he's certainly making the most of it.
The Coalition Government's behaviour is so utterly inimical to both its short and long-term political interests, that there is a strong temptation to conclude that what's unfolding is a plan of such weasel-like cunning that ordinary mortals, too-clever-by-half economists and conventionally-wise political analysts simply can't see it.
This would seem to be the line that the Labour-friendly Sunday Star-Times columnist, David Slack, is running. That Jacinda Ardern and Grant Robertson are quite consciously fostering public confusion about the ultimate fate of the TWG's proposals. Their purpose? To encourage a climate of fear, so that, at just the right moment, the Coalition's heavy-hitters can step boldly from Simon Bridges' fire and smoke brandishing a clear, calm and surprisingly sensible solution.
"Oh ye of little faith!" Jacinda will chide the electorate. "How could you have allowed yourselves to be so bamboozled by Silly Simon? As if my government of kindness and wellbeing would ever impose so harsh a tax on so many aspirational and hard-working Kiwis. Honestly, New Zealand, I'm disappointed – and even a little hurt. Now, Grant, please explain to everyone what this government is really planning to do with Sir Michael's report."
The only problem with this scenario is that it in no way explains the Coalition's decision to keep the TWG Chair, Michael Cullen, on the payroll for an extra couple of months. Matthew Hooton's Exeltium PR confrere, Ben Thomas, put it best when he said it smacked of Jacinda and Grant asking "Dad" to step in and help.
It makes little sense to boast about Labour's torch being passed to a new generation when, the moment things get a bit sticky, New Zealand's dynamic Gen-X duo immediately thrust it back into the hand of an ageing Baby-Boomer!
Not that it would be the first time Robertson has been caught passing the tricky questions to his long-time supporter and mentor.
On Friday, 15 September 2017, in the midst of the election campaign, Don Richards and Sue Hamill from Positive Money, an organisation dedicated to "a money and banking system that serves a fair, democratic, and sustainable economy" rolled up to an election meeting organised by the Labour Party in Whakatane. They were keen to put some banking and finance questions to the aspiring Minister of Finance, Grant Robertson, who was sharing the stage that night with the local Labour candidate, Kiri Allan, and former Labour Finance Minister, Sir Michael Cullen.
Richards' described the encounter in the September 2017 edition of Positive Money's newsletter:
I asked Grant Robertson if he was aware of what was happening in Japan with the Central Bank buying up a significant portion of their national debt. Inflation in Japan was close to zero and the real economy was thriving. Had he considered instructing the Reserve Bank to do the same, thereby saving taxpayers money for social and infrastructure projects?

Grant asked Sir Michael to answer the question and he said that Japan had been experiencing negative growth for some time and so the two economies were not similar. I reminded Sir Michael that the Japanese economy was now thriving and the Central Bank was still buying up their national debt. I was told that a Labour government would not be doing that.

Sue then asked Grant Robertson if he had thought about doing what the first Labour Government did in the 1930s, using the Reserve Bank's balance sheet to fund the building of housing and infrastructure? The question received a few claps from the audience.

Sir Michael once again fielded the question. He said that we had to be fiscally responsible otherwise we could end up with an economy like Germany after World War One, Venezuela or Zimbabwe. Sue carried on with a second question stating that as private banks create most of the money in the economy, why not let the Reserve Bank do it as well. Sir Michael responded by saying the banks do not create money.
It is hard to distinguish which is the most dispiriting aspect of Richards' report: that Robertson cannot answer basic questions on political economy without reference to his mentor, Michael Cullen; or, that Cullen's grasp of these issues is so tiresomely traditional.
What the Positive Money witnesses' account does make clear, however, is that this master/apprentice relationship between Robertson and Cullen is far from new.
Following the resignation of David Shearer in 2013, it soon emerged that Robertson was widely tipped as Cullen's candidate in the first party membership-dominated leadership ballot. His support was even more plainly on display in the November 2014 contest between Robertson and Andrew Little. (That was the contest in which Jacinda Ardern agreed to be Robertson's running-mate.) The presence of the former Finance Minister was also noted during the coalition negotiations between Labour and NZ First immediately following the 2017 general election.
If the decision to extend Cullen's tenure as the TWG's chief explainer is not a manifestation of the present Finance Minister's longstanding dependence on the support and advice of the former Finance Minister, then we are looking at a very cunning plan indeed.
Judging by the Leader of the Opposition's confident performance on The Nation, National's strategists have yet to be persuaded that David Slack's analysis is the right one. The decision to keep Cullen on, far from being the cunningest feature yet of an extremely cunning plan, is being interpreted as proof of Robertson's loss of confidence: not only in the whole tax reform exercise; but also in his own ability to sell anything but a pale shadow of the TWG's CGT to the electorate.
Eventually, of course, Ardern and Robertson will emerge from the fire and smoke with a "solution". They are most unlikely, however, to emerge alone. That Winston Peters, the Coalition Government's other father figure, will be holding their hands will, quite justifiably, be presented (by all but the Government's most fervent supporters) as both a joint victory and a joint defeat.
The losers will be the Prime Minister and her Finance Minister. The winners, hands down, will be the Leader of NZ First – and Simon Bridges.
---
*Chris Trotter has been writing and commenting professionally about New Zealand politics for more than 30 years. His work may be found at http://bowalleyroad.blogspot.com. He writes a fortnightly column for interest.co.nz.