Since the RBNZ started cutting official rates hard, term deposit savers have been on the back foot facing diminishing returns. They won't have noticed the small cushion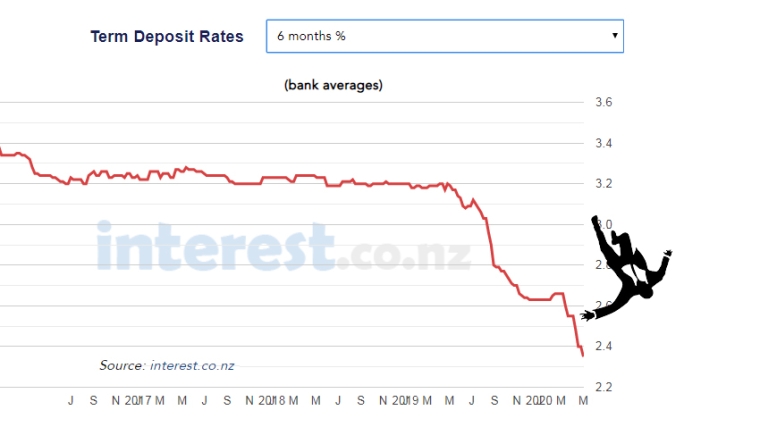 Readers of our end of day updates will know that banks have settled into the habit of making small, but regular trimmings to their term deposit rate cards.
Usually they are -5 or -10 bps. But they come regularly.
They add up. And a quick check of the chart at the base of this story shows how, on average, they have driven TD rates lower. And quickly.
At the start of this week, we have had two more such reductions, giving the trend solid momentum.
Yesterday, BNZ trimmed -5 to -15 bps from its offers of 1 month to one year.
And today, Rabobank has trimmed -5 to -15 bps for rates 1 month to 15 months.
Both banks also cut some at-call savings account rates as well.
The trend actually isn't new. It started about a year ago when the RBNZ cut its benchmark OCR rate by -25 bps, and picked up steam with the August -50 bps slash
But is has gotten new impetus as the regulator hacked off another -75 bps in March this year.
All up, that was -150 bps of rate underpinning that has been removed.
And as the chart shows, all this has flowed directly into retail term deposit rates. In the same time, 6 month term deposit rates have fallen -85 bps and the one year rate has fallen -100 bps.
It may be little comfort, but the retail banks haven't cut retail term deposit rates as hard as the Reserve Bank has cut the OCR.
Nor have they followed wholesale rates down as sharply. In the same time frame one year swap rates have fallen -167 bps - and now down to just 0.20%. And that makes wholesale money relatively cheaper than retail rates. Fortunately, bank treasurers have long memories and recall that wholesale funders became very unfriendly in the GFC. Margins became predatory. They learned that retail funding can be counted on whereas the 'smart money' can't. Since then, they have made efforts to protect their retail funding bases, encouraged by the RBNZ Core Funding regulations.
The latest headline rate offers are in this table and marking the changes so far this week.
for a $25,000 deposit

Rating
3/4 mths
5 / 6 / 7
mths
8 - 11
mths
  1 yr  
18mths
2 yrs
3 yrs
Main banks
 
 
 
 
 
 
 
 
ANZ
AA-
1.80
2.30
2.30
2.30
2.30
2.30
2.30
AA-
1.80
2.30
2.45
2.30
2.25
2.25
2.25
AA-
1.75

2.30

2.40
2.40
2.50

2.40
2.40
Kiwibank
A
1.80
2.30
2.30
2.30
 
2.30
2.30
AA-
1.85
2.30
2.35
2.40
2.45
2.40
2.40
Other banks
 
 
 
 
 
 
 
 
Co-operative Bank
BBB
1.40
2.30
2.40
2.25
2.30
2.40
2.45
BBB
2.25
2.60
2.65
2.55
2.50
2.50
2.50
HSBC Premier
AA-
1.20
1.45
1.45
1.45
 
1.60
1.60
ICBC
A
2.25
2.80
2.65
2.65
2.65
2.65
2.65
A
2.30

2.55

2.50

2.50

2.50
2.50
2.50
BBB
2.00
2.40
2.40
2.45
2.45
2.50
2.40
A-
2.00
2.40
2.40
2.45
2.45
2.50
2.40