CEO Chris Lamers says Flexigroup doesn't anticipate merchant service fees charged by its buy now pay later service would be included in any government regulation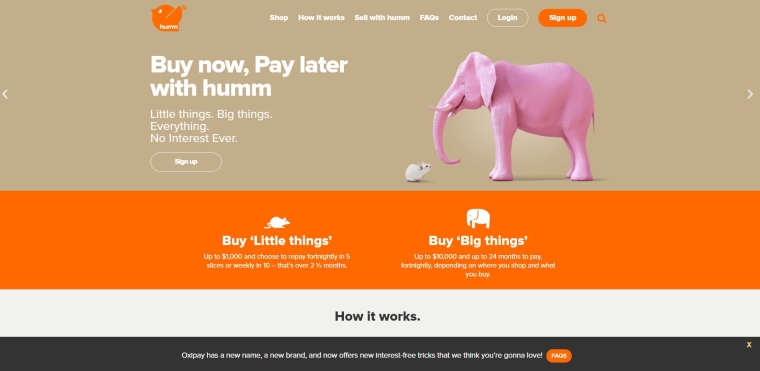 The CEO of Flexigroup NZ, which offers a buy now pay later (BNPL) service, doesn't anticipate the Labour Party's plan to regulate merchant service fees charged to small business for accepting card payments, would apply to the BNPL sector.
Labour last week said, if returned to government, it will regulate merchant service fees charged by card providers, enabling small businesses to retain more of their sales revenue.
Retail NZ CEO Greg Harford told interest.co.nz last year that most merchants pay "north of 5%" for BNPL transactions. That's much more than the about 0.6% charged by banks for in store contactless debit transactions and 1.4% charged for in store credit transactions.
Flexigroup operates BNPL service provider Oxipay, which is metamorphosing into humm - the brand Flexigroup uses in Australia - from September 14 (Monday). Asked by interest.co.nz whether he expected Labour's regulation to capture humm's merchant fees, CEO Chris Lamers said he didn't.
"Our read of that is it wouldn't. Our read is they are looking primarily at the fees charged on interchange, which is through schemes such as Visa and Mastercard, and that this [BNPL merchant fees] wouldn't be included in that regulation," Lamers said.
Labour hasn't specified whether the BNPL sector would be included in its regulation. Lamers, meanwhile, declined to say whether the fees are around 5%, saying they are a commercial agreement between Flexigroup and merchants. Lamers did say, however, that merchants can choose whether to pass this fee onto consumers.
"There are some merchants who surcharge for a credit card fee now. They can surcharge for a buy now pay later fee if they choose, it's completely their choice," Lamers said.
'That cost would have to be borne by somebody'
Currently BNPL services aren't captured by the Credit Contracts and Consumer Finance Act (CCCFA), which is designed to protect the interests of consumers. Earlier this year Commerce and Consumer Affairs Minister Kris Faafoi said he was keeping a close watch on the burgeoning BNPL sector.
Asked what impact it would have on Flexigroup's BNPL business model if humm was hauled under the CCCFA umbrella, Lamers said it wouldn't be an overly significant change.
"What it would do is it would make it harder for customers. And there's a cost with that and that cost would have to be borne by somebody whether it be us, the retailer or the customer. And whether that would provide any benefit to the customer, or better outcomes, I don't know," said Lamers.
The cost, he said, would relate to humm being required to verify customers' income and expenses.This would take more effort and more time than the credit checks currently done.
Via humm customers will be able to borrow up to $10,000 through its "big things" service. Also on offer with be a "little things" service offering credit of up to $1,000. Oxipay has offered up to $1,500 of credit.
For big things humm must satisfy responsible lending requirements by requiring customers to go through a full affordability and suitability assessment. This means verifying a customer's income and expenses and completing a credit assessment to ensure any limit provided is affordable and suitable. This is required under both the CCCFA and the Responsible Lending Code.
Humm customers will also need to be verified under the Anti-Money Laundering and Counter Financing of Terrorism Act.
Meanwhile Lamers says Flexigroup is keen on open banking.
"We would like to see much more pace on the move to open banking. Because the biggest part of the CCCFA is actually verifying income and expenses and open banking allows that. And if we had true open banking in this country then those issues would actually be really easy to resolve," he said.
The Ministry of Business, Innovation & Employment is currently consulting on establishing a consumer data right, saying there's a case for government intervention to enable people to make more widespread use of their own data across a range of sectors such as banking.
'That model would be challenging to do in New Zealand'
As reported by interest.co.nz on Friday, ASB and BNZ's Australian parent banks have launched no interest credit cards. Neither ASB nor BNZ currently plan to do the same in New Zealand. Lamers, for his part, isn't sure thy could. That's because under the CCCFA, consumer credit contracts legislation sets out that lenders are only permitted to recover their costs in the fees they charge customers where those costs are closely connected to the activity for which the fee is charged.
"So I think currently that model would be challenging to do in New Zealand, but it does certainly have some advantages for the customer," Lamers said.
"Customers want transparency and customers want certainty. And traditionally financial services hasn't always provided both of those things. And so going to a fee rate, charging $10, $15, $20 depending on what your balance is, is obviously more transparent than compounding interest. So there's an advantage to that."
"Neobanks in the UK use fees to make money. It actually costs the customer less and provides more certainty for them but that's not possible in New Zealand at the moment. There tends to be a reliance on interest in this country, and whether that's as transparent to the customer as a fee, our research would suggest not.," said Lamers.
You can see more detail on what's offered by all NZ's BNPL service providers here.
*This article was first published in our email for paying subscribers early on Monday morning. See here for more details and how to subscribe.