Labour Party unveils commitment to reduce fees small businesses pay their banks for accepting debit and credit cards through regulation of merchant service fees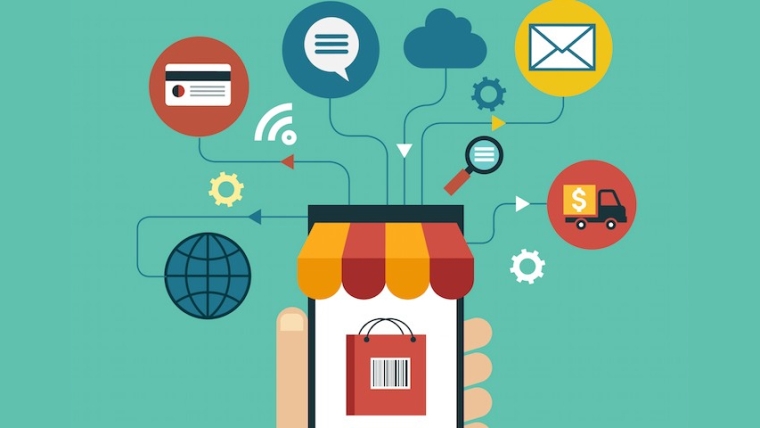 The Labour Party says if returned to government it will regulate merchant service fees charged to retailers and other small businesses by their banks, enabling small businesses to retain more of their sales revenue.
"We will tighten regulations around merchant service fees charged by banks to retailers. Retailers are estimated to pay on average $13,000 more than their Australian counterparts each year on merchant service fees.1 This needs to change," Labour's small business spokesman Stuart Nash said.
"The point where customers transact with businesses is a source of both health and economic concern. Contactless payments give customers and businesses greater peace of mind as we all work to eliminate the virus [COVID-19]."
For small and medium sized businesses (SMEs) card acceptance fees can be the third highest cost of doing business after wages and rent. The idea is that reducing these fees should flow through to consumers, thus providing some stimulation to a COVID-19 ravaged economy with small businesses said to generate 28% of New Zealand's Gross Domestic Product and employ more than 600,000 people. Labour's announcement, ahead of the October 17 election, doesn't detail exactly how merchant service fees would be regulated. 
Merchant service fees are charged to retailers for debit and credit card transactions, typically as a percentage of the transaction. New Zealand has a domestic EFTPOS network that's fee-free for the merchant, driving strong uptake of EFTPOS in the 1990s. However, following the rise of contactless debit and credit cards, the cost of payment systems to retailers has significantly increased.
"Recently, COVID-19 has emphasised the need for contactless payment options to help protect both businesses and customers...Retail NZ's 2019 Payment Survey showed retailers were paying 1.1% of the value of every transaction on a contactless debit card and 1.5% on credit cards to their banks. This is nearly twice as much as Australian retailers pay for debit and credit card services. Based on average sales volumes, this costs New Zealand retailers on average an estimated $13,000 per year more than their Australian counterparts, " Labour said.
"In 2003 the Reserve Bank of Australia mandated that interchange fees be set on a cost-based benchmark. In 2010, the US Federal Reserve was given the authority to cap interchange fees for debit cards. These regulations have reduced costs on retailers while continuing to enable investment in payment infrastructure."
"Labour will regulate the cost of merchant service fees charged by a retailer's bank to reduce costs on retailers. In developing the regulations, Labour will take into account New Zealand's largely fee-free EFTPOS system and the ongoing work towards open-banking," Labour said.
An interchange fee is a fee charged by the financial institution on one side of a payment transaction to the financial institution on the other side of the transaction. A typical card transaction involves four parties the cardholder, the cardholder's financial institution (the issuer), the merchant and the merchant's financial institution (the acquirer). For most card transactions, the interchange fee is paid by the acquirer to the issuer. 
Interchange is typically the biggest part of a broader fee known as the merchant service fee. Each bank sets its own interchange rates within a cap set by Visa and Mastercard. The merchant service fee is set by banks. Through these fees a percentage of each sale is paid to the merchant's bank for the processing of the merchant's monthly transactions. Visa and Mastercard point out interchange doesn't generate revenue for them. However it underpins and grows their networks. And it drives up costs for merchants, or retailers, and ultimately consumers too.
Reductions last month
Early last month retail sector lobby group Retail New Zealand and some of the country's major banks revealed reductions to interchange rates, and thus lower merchant fees for contactless debit transactions. At the time Retail NZ CEO Greg Harford said the precise fees charged would depend on the size of the business and the kind of cards used by customers. 
"However, in broad terms, on a weighted average basis, a merchant should generally be paying no more than around 0.6% for in store contactless debit and 1.4% for credit transactions. If a retailer is paying more than this, then he or she needs to have some solid conversations with the bank to understand why that is, and what can be done about it," Harford said.
The interchange reductions should flow through immediately to merchants on an interchange plus arrangement, and merchants on a bundled rate should talk to their bank about what it will mean for their pricing, Harford added. Historically merchant service fees have been bundled together into a single flat charge for all transactions, but banks are increasingly moving towards an "interchange plus" arrangement.
At the onset of the COVID-19 crisis earlier this year, all five major banks waived fees for contactless debit transactions for small business customers. They have all now resumed charging these fees. Additionally, the PIN limit on contactless card payments was raised to $200 from $80 in April. As interest.co.nz highlighted in April, moves by the banks plus Visa and Mastercard to waive fees and increase the PIN limit, had the potential to permanently win market share off EFTPOS.
This appears to be what has been playing out. ANZ, the country's biggest bank, says in both January and February an average of 350 of its customer retail sites added contactless payment capability. In March this increased to 1,112, and then to 2,235 in April. Then, in the first four days of May, nearly double the number of retailers signed up for contactless than in the whole of January or February.
"Before COVID, the split of ANZ merchant-processed debit transactions in a card present, face to face, environment between contactless and EFTPOS was 20% contactless and 80% Eftpos.Today, the split is 30/70," ANZ said recently.
Meanwhile, key EFTPOS provider Paymark this month increased the monthly fee it charges EFTPOS payment terminal users to connect to its network. Merchants now pay $18 plus GST per EFTPOS terminal per month, up from $14 previously. This is the fee merchants pay to connect their EFTPOS terminals to the Paymark network. EFTPOS card payments remain free to the retailer/merchant.
Oversight roles for the RBNZ, FMA and probably Commerce Commission
Labour's announcement points out regulating merchant service fees will require legislation via the usual Parliamentary processes, providing an opportunity for public and payments industry consultation.
"Agencies like Retail NZ have demonstrated that NZ retailers are paying nearly twice the fee that banks charge Australian retailers. Based on average sales volumes, this costs NZ retailers an estimated $13,000 more than a similar business dealing with a similar bank across the Tasman. Major banks did voluntarily suspend fees during the earlier COVID outbreak but have since reinstated them," Labour said.
The promised regulation is likely to be overseen by both the Reserve Bank and the Financial Markets Authority, with the Commerce Commission potentially also having input to the proposed legislation because it has oversight of regulating other prices, Labour said.
Developing merchant fees regulations would be undertaken through agency baselines as part of the normal policy process, Labour added.
Earlier this year I argued the economic hit from the COVID-19 pandemic could and should finally push the Government into regulating retail payments, an area where New Zealand lags comparable countries such as Australia and the European Union including the United Kingdom. I also reported that Labour could count on support from their governing partners, New Zealand First and the Green Party, should they decide to regulate to force down the credit and debit card acceptance fees SMEs pay their banks.
The diagram below also comes from Retail NZ.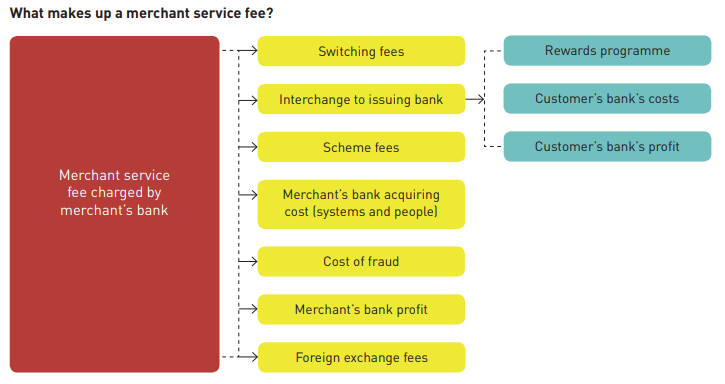 The headlines, and links, to my series on retail payments are detailed below.
In the first part of a series on NZ's retail payment systems, Gareth Vaughan details the scale of key players Visa & Mastercard, looks at how & why they pay a miniscule amount of tax & how interchange works
In the second part of a series on NZ's retail payment systems, Gareth Vaughan looks at how New Zealand's regulatory oversight of retail payments is behind where Australia was at in 2001
In the third part of a series on NZ's retail payment systems, Gareth Vaughan looks at the complications of interchange & merchant service fees and finds a government minister still waving a regulatory stick
In the fourth part of a series on NZ's retail payment systems, Gareth Vaughan looks at EFTPOS and COVID-19, and finds banks in charge of implementing some of the key technologies that could crimp their revenues
In the fifth and final part of a series on New Zealand's retail payment systems Gareth Vaughan lays out a roadmap for regulating the retail payments sector and outlines why this should be done
And the major political parties' positions on retail payments, as of April this year, are detailed here.
1) Labour says the $13,000 figure comes from Retail NZ's 2018 Dynamic Retail Report. This recorded $92.3 billion in sales across 35,000 retail outlets at an average of $2.6m per store. $13,000 is based on the difference between the weighted average Merchant Service Fees in Australia and New Zealand on average sales.