Kiwibank economists have been tracking our spending - and we are still doing our best to make up for the lack of tourist dollars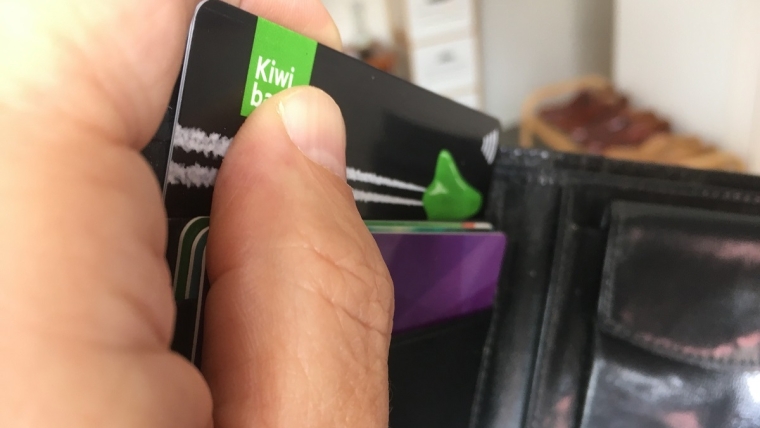 The borders may be closed. The tourists are not here. But WE are keeping our wallets open and the wheels of the economy turning.
The Kiwibank economics team - chief economist Jarrod Kerr, senior economist Jeremy Couchman and economist Mary Jo Vergara - have been tracking the spending patterns of Kiwis again through Kiwibank customers' transactional data.
Once again the levels of spending continue to defy expectations of what might happen when we all went into lockdown last March.
In the event, we came out of lockdown in the mood to spend and that mood has stayed with us.
The Kiwibank spending data for the December quarter show that spending was up 6% last quarter.
"It doesn't sound like much, but it does follow a massive 27% spike in the September quarter," the economists say.
"On an annual basis, spending is up a whopping 47.5%."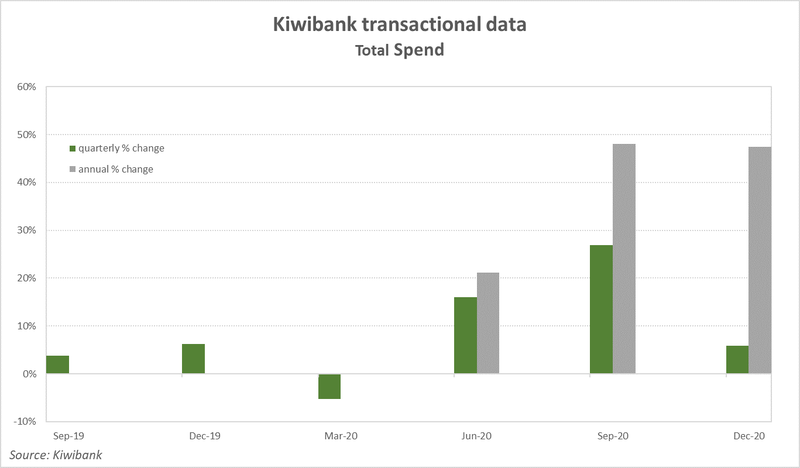 Kerr, Couchman and Vergara say the holiday season helped to keep the momentum going.
"Retail spend was strong during the December quarter, with many of us getting our Christmas shopping done early. Spending on alcohol and Meat was notably high, up a combined 22% quarter-on-quarter. Please note, Kiwibank's strong domestic data may also be inflated by gains in market share across debit and credit cards. That's a home-grown problem we want. We have also seen a surge in the use of cards over cash."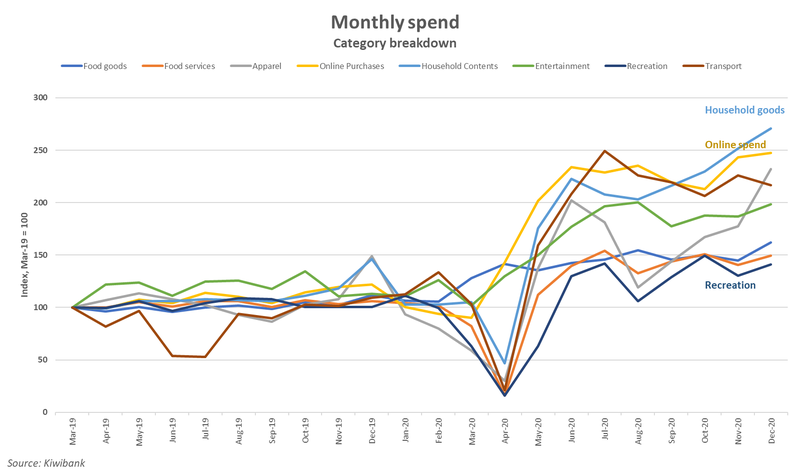 The rampant housing market has underpinned much of the strength in household-related spending.
"A reduction in overseas holidays also means there's money left in the jar for revamping the home. Demand is especially strong for durable items including household contents and furnishings. Spend was up 24% in the December quarter and up 92% on an annual basis. The holiday break also freed up time for repairs and renovations around the home. DIY spending continues to outpace 2019 levels and is up an annual rate of 91%."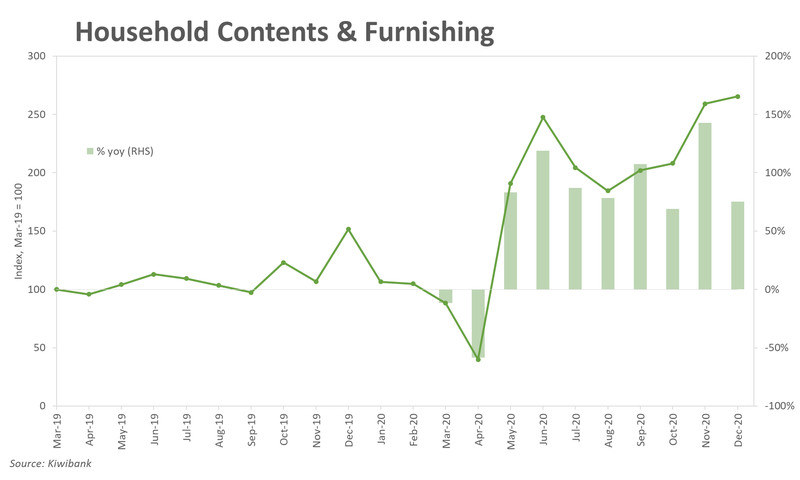 The economists note that with our border still closed, we're holidaying at home.
They say despite prices for domestic accommodation returning to pre-covid levels, "our data show no signs of a slow down in spending".
"The value of Kiwibank transactions for hospitality and accommodation were up 71% and 149% respectively on the 2019 December quarter. Strong domestic tourist flows suggest Kiwi are helping to keep the 5% of our economy reliant on foreign tourists still running. But it's hard to make up for the lack of foreign tourists. Official StatsNZ data reveal that spending in these areas is down 3.7%.  A vaccine should help drive the recovery in the tourist sector."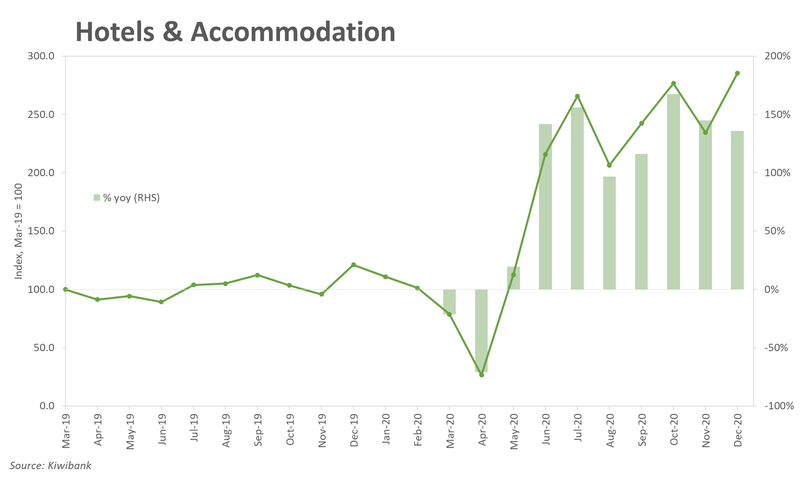 The economists stress that it's important to note that Kiwibank transactional data does not include foreign tourist spending.
"So, while overall spending could be flat, or down, on the year, we've seen a surge in kiwi-related domestic spending."
The Kiwibank economists note that supply chain issues caused by bottlenecks at our major ports made it tough for many retailers to ensure shelves were stocked for Christmas. Recent media reports suggested that supply chain issues may get worse in the coming months too, impacting March quarter growth.
"But these shipping delays may have a lagged effect on spending. Recent behaviour clearly shows no loss of demand. So once the shelves are full again, those on the waitlist can proceed to checkout."
The economists note that everybody is now on tenterhooks awaiting updates on the latest Covid community cases.
"We're hoping no clusters are forming. Because clusters mean lockdowns. And our vaccines are still in transit. 
"But should another lockdown take place, the hit to the economy may not be as severe. We've adapted to living with alert levels. 
"In the meantime, a sneak peak at the data for January suggests another strong month. The America's cup might see particular strength in the Auckland's hospitality and accommodation scene."