Green Party's Russel Norman hits out at Government's 'Cyprus style' bank failure solution, pushes Aussie style deposit guarantee scheme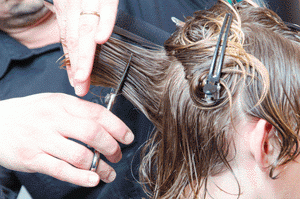 The National-led government ought to force the Reserve Bank to abandon its "Cyprus-style solution" to any bank failures in favour of an Australian style deposit insurance scheme, Green Party co-leader Russel Norman says.
Over the weekend financially stricken Cyprus said it would impose a levy of 6.7% on bank deposits of up to €100,000 and 9.9% thereafter as part of a €10 billion bailout by the European Union. Here in New Zealand the Reserve Bank is moving to add an Open Bank Resolution Policy (OBR) to tools it could potentially use in the event of a bank failure.
The implementation of OBR would see all unsecured liabilities that rank equally among themselves, including deposits, having a portion frozen. The Reserve Bank says the OBR policy could save taxpayers' more than NZ$1 billion regardless of whether there is a bank failure or not.
However, Norman points out that if a bank fails under OBR, all depositors will have their savings reduced overnight to help fund the bank's bail out.
"(Finance Minister) Bill English is proposing a Cyprus-style solution for managing bank failure here in New Zealand - a solution that will see small depositors lose some of their savings to fund big bank bailouts," Norman said.
"While the details are still to be finalised, nearly all depositors will see their savings reduced by the same proportions"
"Bill English is wrong to assume everyday people are able to judge the soundness of their bank. Not even sophisticated investors like Merrill Lynch saw the global financial crisis coming," added Norman.
"If he (English) insists on pushing through this unfair scheme, small depositors can be protected ahead of time with a notified savings threshold below which their savings will be safe from any interference."
But Norman questioned the Government's insistence on pursuing OBR given few other Organisation for Economic Co-operation and Development countries use it, instead opting for deposit insurance schemes. In Australia bank deposits are protected up to A$250,000 per person per institution. The Aussie scheme evolved out of the country's retail deposit guarantee scheme, which was introduced at the height of the global financial crisis in October 2008.
Aussie depositors also benefit from the preferred status granted to Australian depositors over other unsecured creditors in the event of the insolvency of an Australian authorised deposit taking institutions. This legislative provision is referred to as depositor preference.
New Zealand's own Crown retail deposit guarantee scheme ran for 38 months from October 2008 until the end of 2011 and cost taxpayers' around NZ$1 billion largely due to the demise of South Canterbury Finance.
"A deposit insurance scheme is a much simpler, well-tested alternative to Open Bank Resolution. It rewards safe banks with lower premiums and limits the cost to taxpayers of a bank failure," said Norman. "Deposit insurance will, however, require the Reserve Bank to oversee and regulate our banks more closely, a measure that is ultimately the best protection against bank failure."
Debt for equity swap
Christian Hawkesby, Harbour Asset Management's head of fixed income, points out that although the Cyprus levy on bank deposits is being described as a special tax on deposits, in practice it's actually a debt for equity swap. This means the depositor exchanges a proportion of their deposit for a shareholding in their bank.
"This helps the bank recapitalise its balance sheet. The depositor shares the burden of the bank failure, but can benefit from an eventual recovery in the banking sector," said Hawkesby.
He said this type of debt for equity swap is one tool the Reserve Bank wants at its disposal as part of its OBR policy.
"The beauty of having this tool available in peace time is that provides depositors with a strong incentive to ensure their bank is sound, and this acts as a discipline on banks. It reduces the moral hazard of expecting a government funded bailout," Hawkesby said.
Making policy on the hoof
"The problem with the Cyprus rescue is that it is highly unusual for policymakers to introduce new policies to deal with moral hazard in the middle of a bank collapse, when their priority is normally crisis management and minimising spillovers to the rest of the system," added Hawkesby.
"In fact, as well as sending depositors into Cyprus onto the streets to withdrawal their funds, international markets are now worried that bailout conditions for other countries could be renegotiated on these tough terms."
All locally incorporated banks with retail deposits of more than NZ$1 billion are required to pre-position their technology and banking systems to meet Reserve Bank OBR requirements by the end of June this year. This includes banks ranging from newcomers the Co-operative Bank and Heartland Bank right through to the country's biggest bank, ANZ New Zealand. See all our OBR related stories here.
The Reserve Bank says the key processes of OBR would include the following phases:
• imposition of statutory management;
• closure of access channels and freezing liabilities;
• freezing a portion of pre-positioned customer accounts and freezing all other creditors' claims in full (overnight process);
• bank re-opens for core transaction business and allows customers to access the non-frozen portion of their funds;
• release of an equivalent portion of all other liabilities in due course;
• release of additional frozen funds, if available, following more accurate assessment of losses; and
• decisions on the bank's final resolution.
The chart below, sourced from the Reserve Bank of Australia, shows deposit guarantee arrangements in selected jurisdictions.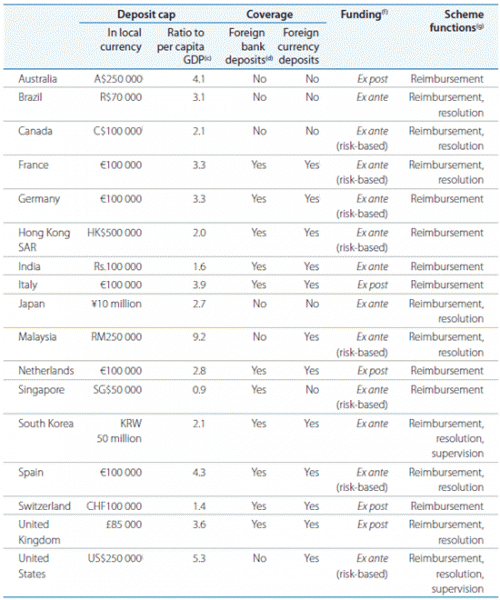 (Updates add RBA chart, comments from Christian Hawkesby, detail on the Australian deposit guarantee scheme).