By Gareth Vaughan
With the Reserve Bank expected to increase the Official Cash Rate (OCR) on Thursday for the third time this year, one mortgage broker is predicting banks could pass the increase on to fixed-term mortgage rates as far up the yield curve as three years.
John Bolton, principal of mortgage broker Squirrel, told interest.co.nz in a Double Shot interview in two and three-year fixed-term home loans banks have been "competing away margin."
"I think if there's another OCR increase to come through maybe in June, or if not in June maybe at the next announcement (July 24), realistically these margins have come down to a level now where the next OCR increase is definitely going to get passed through in the rates, the one, two, three-year, the short end of the curve," said Bolton.
This would see two-year rates above 6%.
"I think the margins have been competed down to a level that any further increase in the wholesale interest rates will definitely pass through to those customer rates," added Bolton.
Bolton, a former general manager at ANZ National Bank, said banks weren't offering much in the way of discounts to carded, or advertised, rates in the two and three year space.
"The rates at that point now are so competitive, and the margins are so tight there, that pretty much the best rates you see advertised are the best rates available for that term," said Bolton.
"Out at four and five years, where the bank margins are a lot bigger, I think there's more room to negotiate. Maybe three or four months ago you could get 30, 40 points, as much as half a percent, off some of the carded rates, I think that's less of a reality now. That said if you look at the carded rates across lenders you'll notice there are some big differences there."
"As a rule of thumb I think you can generally expect to be able to negotiate a bank down to the best (rates) of its competitors. It's a very competitive environment, the banks are very focused on retention, they're certainly not wanting to lose any clients, so they're pretty much going to match anyone else in the market," Bolton added.
Down but not out
Despite the margin compression banks are facing, interest.co.nz's charts below show margins over swap are still well ahead of where they were before the global financial crisis. That said, home loan growth rates were much higher then than now. The latest Reserve Bank sector credit data has housing lending up 5.4% in the year to April. A steady rate of growth, but well down on the double digit growth from January 2003 until April 2008, which peaked at 17.5% in April 2004.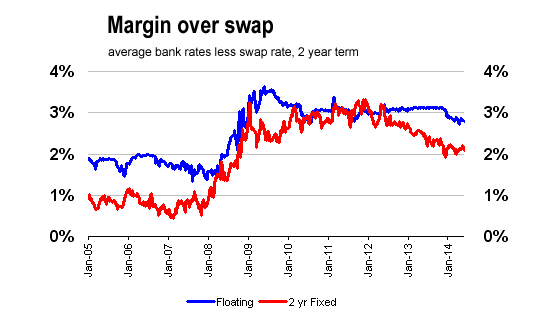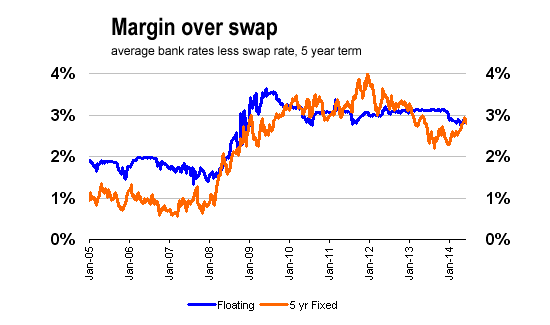 The Reserve Bank has increased the OCR twice so far this year, by 25 basis points each time, to 3%, and is expected to lift it another 25 basis points on Thursday.
"There's two things going on," Bolton said. "Obviously we've had the increasing OCR at the short end of the curve, which has been driving up the swap rates and the bank bills. But at the same time in a low growth environment, the banks are competing away margin. So bank margins are probably the lowest that I've seen them in four or five years now."
"So literally banks have absorbed the increase in wholesale interest rates, and ironically some of the rates that we're seeing at the moment are more competitive than they were before the last OCR change."
"Two year (mortgage) rates down to 5.75%, 5.8% where they were around 5.95% before the last OCR change, so odd. That's a function of a low growth market and a lot of banks competing aggressively for growth," Bolton added. See all banks' carded, or advertised, mortgage rates here.
"Some of these smaller players have come into the (Auckland) market more recently. TSB's back in competing aggressively, you've got SBS Bank, you've got Kiwibank that's always there competing against the big banks. In a low growth environment not all banks can win. So you are going to see quarters where banks are going to be losing marketshare, or potentially even their books will be decreasing in size. And that's going to keep the competitive pressure on those two and three year fixed rates," said Bolton.
Not surprisingly with banks recent special offers favouring the two and three fixed terms, that's where the bulk of home loan growth is occurring. The latest Reserve Bank figures show the value of fixed-term mortgages rose $3.3 billion during April, or 3%, to $125.6 billion. Within this, the value of mortgages fixed for one to two years increased by $2 billion, or 6%, to $37.6 billion, and the value of mortgages fixed for two to three years rose $1.6 billion, or 11%, to $16.8 billion. In contrast the value of floating rate mortgages fell $2.6 billion, or 4%, to $67.4 billion in April.
The Reserve Bank increased the OCR on March 13 and again on April 24. On both occasions banks followed with increases to their floating mortgage rates, with some shorter fixed-term rates also increased. Here's an overview of how all banks reacted to the March OCR hike.