'Semble', formerly known as the Trusted Service Manager, eyes 'early 2015' commercial mobile wallet launch with just 2 banks onboard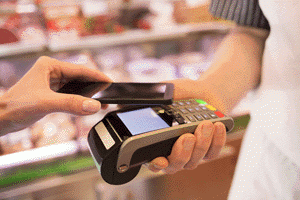 By Gareth Vaughan
"Semble", the rebranded trusted service manager (TSM) project to enable contactless payments via smartphones, says it'll go live sometime early in 2015 but only to customers of two banks.
Prior to that Semble plans a pilot in November for about 250 staff from Semble and its shareholders Paymark, 2degrees, Spark and Vodafone, and "banking partners" ASB and BNZ. The two banks are two of Paymark's four shareholders alongside ANZ and Westpac.
Semble CEO Rob Ellis told interest.co.nz no launch date has been set with all of the partners needing to be comfortable the pilot has met its objectives before that can happen. He expects a commercial launch to be "early in 2015", but probably not before February.
The TSM project was unveiled in April 2012 and touted as creating the infrastructure, or ecosystem, to enable contactless payments via bank cards, loyalty cards and transport tickets from near-field communications (NFC) technology enabled Android smartphones. Semble will store consumers' personal information encrypted on a "secure element" contained within the SIM card, like the chip embedded in credit cards.
The pilot will "road test all the functionality of the wallet to make sure everyone's happy to press the go button to roll it out nationally with a full commercial launch," Ellis said.
However, Semble is not going to be the only game in town. Westpac announced in July it's undertaking a mobile payments trial using host card emulation (HCE) technology, which stores and transmits payment card information such as cardholders names and card numbers in the cloud. Westpac also said it wouldn't be part of the TSM from launch as customers want their mobile wallet from their main financial institution rather than a TSM/Semble style white label product. Westpac's also targeting a mobile wallet launch early next year.
And in August interest.co.nz reported ANZ, was not committing to TSM either. Yesterday an ANZ spokesman would only say: "Bringing TSM to market is a significant accomplishment and we applaud TSM in its achievements. ANZ continues to assess a number of developments in the payments space, remains in contact with TSM and will watch the launch with great interest."
Finance company GE Capital has also been involved in a mobile wallet trial with 2degrees.
Loyalty cards, vouchers, coupons, and public transport to come in 2015
From day one Ellis said Semble would enable consumers to use smartphones to make contactless payments with ASB and BNZ contactless credit and debit cards (not EFTPOS cards with Paymark working on a separate online EFTPOS initiative), and with a number of Air New Zealand airpoints earning global plus cards. Additional services and service providers will be added through 2015 in areas such as loyalty cards, vouchers, coupons, and public transport.
"We'll be looking to bring these service providers on through the course of next year, (but) timing's yet to be determined," said Ellis.
A Semble app will be available for download from Google Pay early next year. Semble expects New Zealanders to have about one million NFC enabled android smartphones by Christmas, up from 700,000 to 750,000 now.
Currently Semble estimates around 16,000 out of about 130-140,000 payments terminals in New Zealand allow contactless payments. The contactless terminals are in use by merchants such as BP, Bunnings, Countdown, Glassons, Hallenstein, Mobil, New World, PaknSave, the Warehouse, and Z.
Semble estimates by August this year about 20 million contactless transactions had been made since the technology's launch in New Zealand three years ago through the likes of Visa's payWave and MasterCard's payPass "tap and go" cards. To put that in context, there were 1.4 billion electronic transactions in total in the year to August. Smartphone payments will clearly be a small drop in the ocean of overall electronic payments to begin with.
Ellis, however, expects strong growth in contactless payments and says New Zealand's about two years behind Australia, which is seen as a leading adopter of contactless payments, and tracking in the same direction. And last year MasterCard's then New Zealand country manager, Albert Naffah, told interest.co.nz he estimated 30% to 50% of all New Zealand payments transactions will be done via a smartphone within two to three years.
'Absolutely delighted' with launch partners
Asked how disappointed he was to only be launching with two banks on board Ellis said he was "absolutely delighted" with Semble's launch partners.
 "It's a unique collaboration that has brought Semble to fruition, and I'm really excited about the range of  companies and service providers we're talking to and engaged with that are keen to introduce their services into the wallet. Not just payment providers, other banks but loyalty companies, gift card businesses, retailers and so forth. I think it's a great start," Ellis said.
He said Semble was in talks with several banks, including ANZ and Kiwibank.
"We're in discussion with a number of banks including continuing positive conversations with ANZ about their interest in offering service into Semble. And they'll make a decision about whether they'll do so at some point in the future," said Ellis.

"There's certainly other banks that are interested in offering their cards into Semble that we're in conversation with. Kiwibank have been engaged in conversation with us for some time right back to the very beginning of the initiative."
Samsung partnership, but what about Apple?
Semble also has a marketing partnership with smartphone maker Samsung to support its initial launch and rollout.

"Samsung has a large share of the market for Android-NFC compatible devices," said Ellis. "They will be providing marketing support, pre-loading Semble onto new devices and offering Semble as an update to customers who already have compatible phones."
However, Ellis said Semble was yet to talk to Apple about any potential for access to its new NFC enabled iPhones. He estimates android phones comprise about 68% of the New Zealand smartphone market.
The name "Semble" was chosen because it represents collaboration and the assembling of partners and services into a mobile wallet, Ellis said.
Here's Semble's full press release, and here's some questions and answers that were also provided by Semble.