Tax Working Group members Craig Elliffe and Robin Oliver discuss the challenges of creating a comprehensive Capital Gains Tax that excludes the family home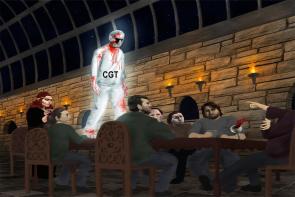 Complex and complicated. These two words featured prominently in talks on Tuesday by two Tax Working Group members on the potential introduction of a comprehensive Capital Gains Tax.
Auckland University professor and tax specialist Craig Elliffe and Robin Oliver, a tax advisor and former IRD deputy commissioner, both spoke at an Auckland University Business School conference on options for tax reform contained in the Tax Working Group's interim report.
Both spoke on or about the taxation of capital income, and the challenges of defining the family home which the Government has said must be excluded from any comprehensive Capital Gains Tax that could be introduced.
"Politically our terms of reference exclude that [the family home] and so there isn't much point in talking about it," said Elliffe before doing exactly that.
"The family home will not be taxed, but it raises all sorts of complex issues which we are trying to deal with," Elliffe added, noting these issues include if a family has more than one home, how to deal with non-New Zealand residents, and if the home is being used to generate income and is thus a business asset as well as a private home.
"So there are complex issues to do with apportionment and those are matters in which we have to deal with the detail," Elliffe said.
'When you come to legislate for it, it becomes more difficult'
Oliver said the Tax Working Group is looking at how to legislate for the family home having decided they don't like the Bright-Line Test definition, partly because it's for a limited period of time.
"Everyone knows what the family home is, but when you come to legislate for it, it becomes more difficult. We looked at the Bright Line Test definition of a family home. We didn't like that and that's partly because the Bright Line Test is for a limited period of time, two years initially [and] now five," said Oliver.
"Basically we redesigned the definition of what is a family home."
Firstly, he said it is a place where one lives. However, Oliver acknowledged people can live in more than one place. For example, someone might own an apartment in the city and also have a country home and live between the two.
"So it [the family home] must also be the centre of family interests. If you've got two homes your family home is where the family is centred," said Oliver. 
A couple can have two family homes & they can be owned by trusts or companies
In addition the Tax Working Group has decided there can be only one family home per person, but a couple can have two family homes. Non-NZ residents are not allowed a NZ family home "because how can this be a home in New Zealand if you're not even a resident," Oliver said.
The Tax Working Group has, however, decided to allow a family home to be owned by a trust or a company.
Oliver joked that the Tax Working Group had thought about defining what a family is but decided this was a no go area.
Then there's the scenario of a home "mainly" being used as a family home, but also - for example - for Airbnb rental accommodation, an office, or if a granny flat's included.
"We are looking at options around this area. For example, if the home is mainly used as a family home you can treat the whole thing as the family home even though you rent it out on Airbnb. But we are attracted to something like the Canadian rule that says you cannot get any deductions related to the costs of that home that you are treating as a family home - no deductions on Airbnb income, no deductions on home office expenses," said Oliver.
And in terms of a granny flat; "If granny is paying rent that could cause some Capital Gains Tax issues."
"We are looking through these issues. They are quite complicated," said Oliver. 
Meanwhile, Elliffe also discussed the advantages and disadvantages of taxing capital and said Tax Working Group members "are on the spectrum," meaning they have a range of views on capital gains tax.
Advantages include increasing revenue and improving fairness and integrity of the tax system. Disadvantages include it being complex.
"Let's be absolutely blunt about this. It's complex, it's going to be a heavy cost to bear. It could lead to the possibility of reduction in the overall level of savings and investments in the economy. But to the extent to which it's possible in terms of the design, we have tried very hard to minimise the compliance costs and reduce the distortionary effects," said Elliffe.
He said the Tax Working Group is "actively considering" both the option of an extended tax on realised gains, and a risk-free rate of return method that would deem a notional return from assets.
No adjustment for inflation
Income from the realisation of assets would be taxed at the person's usual marginal tax rate with no indexation for inflation. But losses would be available for immediate offset against other income, said Elliffe.
"[There's] no principled reason to include an adjustment for inflation. You might say 'that's terribly harsh. You're taxing me on that notional gain, not on the real gain because of the effect of inflation.' But the reason that we've reached that conclusion is we don't inflation adjust any other forms of income, and why should we only index income from the sale of capital assets when other income doesn't receive that compensation, [and] nor do you make the adjustment on expenditure either."
Assets that would be taxed include residential property (excluding the family home), baches and holiday homes, commercial and industrial property, agriculture property, business assets including goodwill, shares, and collectively owned assets - such as managed investments, KiwiSaver, PIEs, superannuation funds, and insurance.
The Tax Working Group's final report is due out in February. The Labour Party wants legislation enabling any comprehensive Capital Gains Tax settled on to be passed before the 2020 election meaning it would require NZ First's support. Changes wouldn't, however, come into force until April 1, 2021.
*This article was first published in our email for paying subscribers early on Wednesday morning. See here for more details and how to subscribe.